After months of off-the-field positivity in the Auburn football program, coaches, players, fans, and the rest of the world were ready to see if any of it would translate to on-the-field success. Recruiting wins are big, but they usually don't come to fruition for usually over a year. In the age of the transfer portal, wins of that nature can come much quicker.
With 40+ new players on Auburn's roster, we definitely had a quicker chance to see if these gains would show what they were made of on Saturdays.
Auburn took the opening kick and marched it down the field with nary a negative play. It ended with the backup quarterback scoring easily. UMass then took the ball and looked like Auburn as it drove down the field for a pretty simple score. So it quickly looked like an almost all new offensive line, a new quarterback, a running back with little playing time, and many new receivers were great additions, while the defense, who returned a decent amount, were not showing what they were made of.
And then Auburn destroyed UMass in every facet for the rest of the game.
Seven Auburn Tigers rushed the ball for 289 yards and six touchdowns. Three of those were Robby Ashford, who was mostly used for redzone packages until the game was in hand and he got some actual quarterback reps.
Six Auburn Tigers caught the ball for 203 yards and one touchdown. Jay Fair appears to be the top target, but I have a feeling Rivaldo Fairweather and Shane Hooks are going to make many catches that make us glad that we are pulling for Auburn.
Despite that first drive, and the late touchdown given up by a squad of backups, the Auburn defense were consistently in the backfield, which disrupted literally everything. There was a sack-fumble caused by Donovan Kaufman, picked up by Jaylin Simpson. Then there was a pick-six from Jaylin Simpson, who might be the most prototypical DB of prototypical DBs on the team. He's cocky in a good way and he backs it up.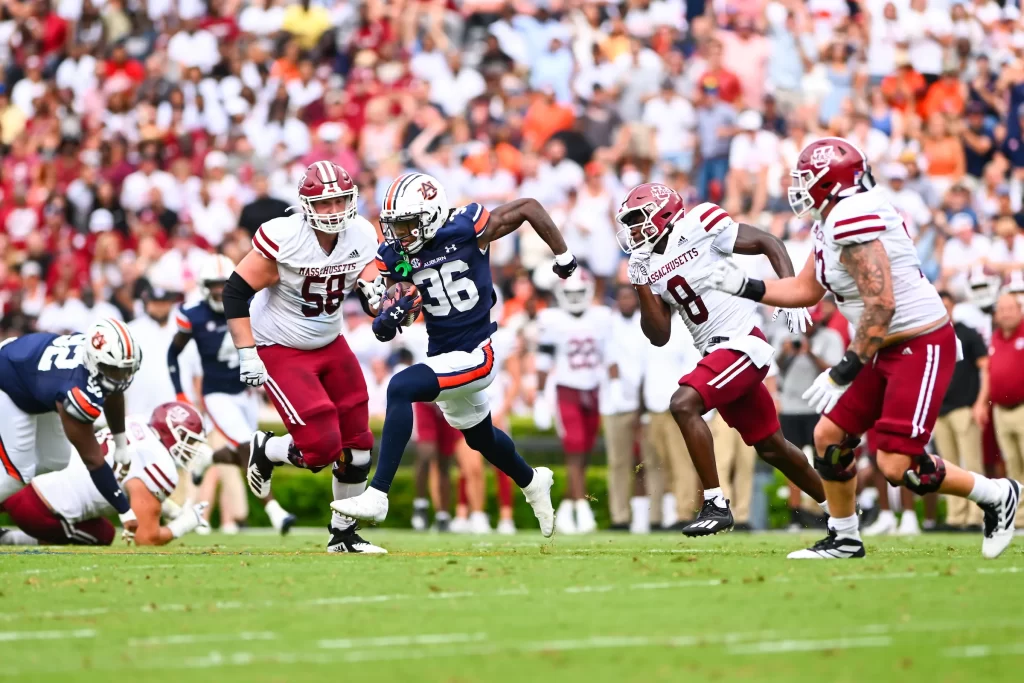 Special Teams might be the most obvious improvement on the team from the last few years. Every return was a tackle away from taking it to the house. The one field goal attempt wasn't the easiest angle, but it was down the pipe. Nearly every UMass punt was nearly blocked.
It felt like Tuberville special teams. Maybe even a little Malzahn/Corey Grant now that I think about it.
There were things that us normal fans don't see that Hugh Freeze has alluded to being problems, like alignment and such. Those things don't matter as much against a team like UMass, who is a much better team than your mom's UMass, but they will be an issue if not fixed.
However, Auburn won 59-14 in an opener and there wasn't much to complain about. The defense did something after the first drive and turned the rest of the game into what it should've looked like. The offense had 500 yards and only punted twice. Special teams had 150 return yards and were perfect on field goals. Kickoffs could've been a little deeper, but the coverage was the best I've seen in years.
Again, there wasn't much to complain about, but this will obviously be one of the easier tests the Tigers will face all season. Next up is a slight step up in competition, but Auburn will also be dealing with travel and an extremely late start for a college football game.
Either way, the basics looked good. The vibe looked good. The coaching looked good. The whole thing looked good. Unless you're an idiot. (beAU knows is coming for you)