Stop me if you've heard this one before…
Auburn, in need of rejuvenation to one of their programs, takes a swing on an accomplished coach with a checkered past and brought NCAA violations to the program he previously coached, but won games and recruited well, so he got another shot at coaching.
Years later, Bruce Pearl has built Auburn into the Mecca of SEC West basketball. True, nobody really cared for basketball that much, but we can all agree that it would be nice to make the tourney every now and then. Today, the standard has risen to "it would be nice to make the elite eight now and then".
The expanded playoff is coming, whether we like it or not, so the window for a talent-rich program like Auburn to make the playoffs is wider than it's ever been in the CFB Playoff's eight year existence. The defense has always played at a championship level since Kevin Steele's total makeover of the unit, so the offense was all that needed work in order to have more Novembers to Remember.
Enter Hugh Freeze.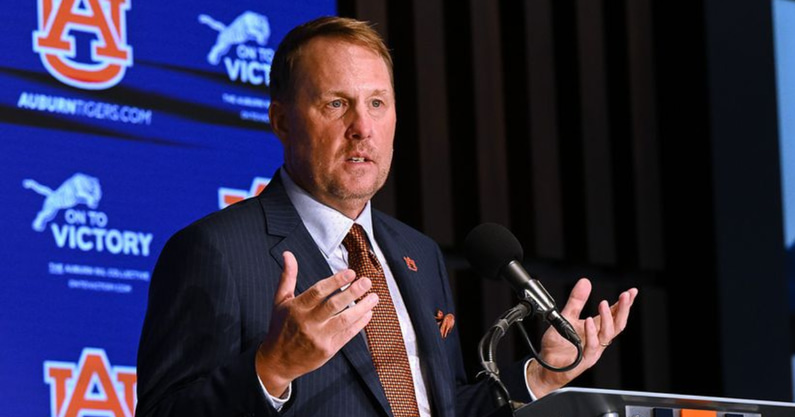 Gus Malzhan 2.0? More like Bruce Pearl 2.0.
No, he isn't the flashiest hire Auburn fans were wanting, and yes, he has done some questionable things and comes with baggage. There are some things he could do better, but for the most part his focus has been on recruiting.
Which is exactly why John Cohen hired him.
Lane Kiffin was "the guy" ever since Harsin was shown the door. If it hadn't been for his family wanting to stay in Oxford (his daughter is going to school there now), then I fully believe he would have agreed to come to Auburn. However, I can respect a man who puts family above football, so no harm-no foul (there is a strong rumor, however, that Kiffin wanted his contract fully guaranteed even if he left for the Alabama job or the NFL. If true, then credit John for doing the right thing and telling him to go kick rocks.)
Whatever the reason, Freeze was always a top choice for Auburn. Even if he was number two, two is a high number (ask Ohio State) and Freeze and his family absolutely want to be at Auburn. That should be a trait we appreciate, because of he translates that passion into recruiting, Auburn is about to throw a wrench in Georgia and Bama's recruiting plans. Hell, he started recruiting for Auburn approximately twenty minutes after he got the job. Not even an appearance on ESPN's Gameday could stop him from making pitches to recruits to come to Auburn. He wants the job, and he wants to win big while here.
Also ask yourself, do you really think Lane would've kept Cadillac Williams if he got the job?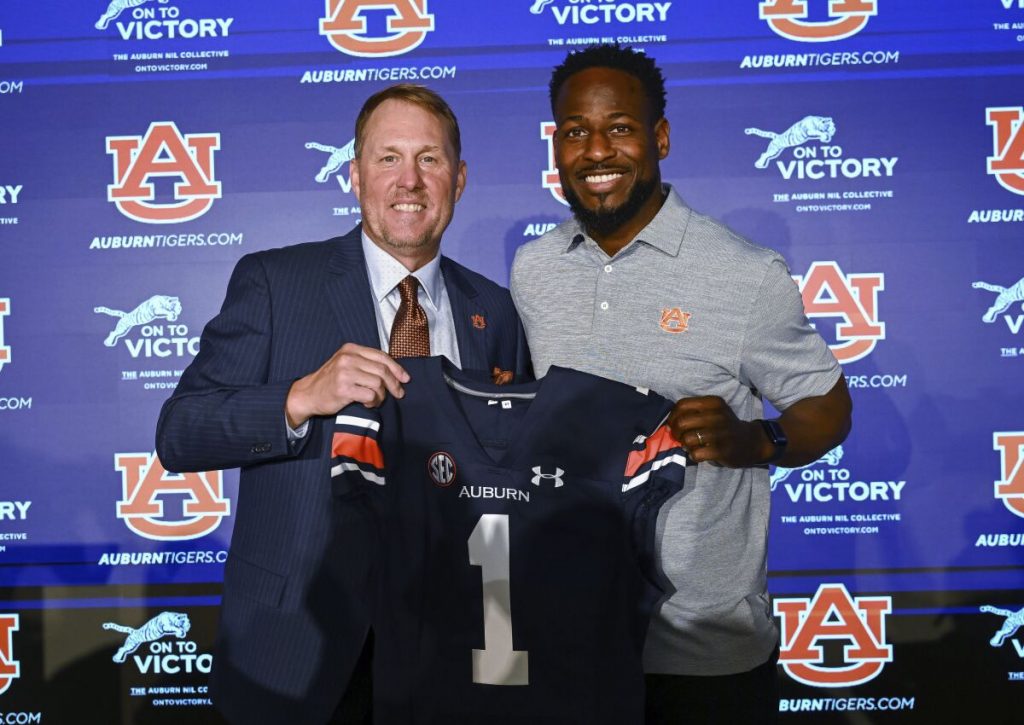 The players are behind the hire. The coaches are behind the hire. Bruce Pearl is behind the hire. Some of our top talent, such as Landen King and Tar'varish Dawson, have withdrawn their name from the transfer portal to stay at Auburn. The only reason it's not as exciting to the fanbase is because of either A, focusing on only his negatives or B, they believed in Lane so much they trash talked Ole Miss to the point where they have enough egg on their face to make a grand-slam breakfast.
The most common dispute is that Hugh Freeze is just a lesser Gus Malzhan, however, if you take away the 2013 season, where Gus already had his recruits in place, the win total for both coaches sits at 83 exactly. And even if Gus could recruit the state really well, Hugh seemed to do more with less, and develop the talent rather than count on their star-rankings to keep them competitive.
After all, he beat Alabama with Bo Wallace. Who else could say that?
At the end of the day, both Hugh Freeze and John Cohen know what's at stake. For Freeze, he knows that this situation is what it was for Bruce Pearl all those years ago when Auburn took a chance and he took the job. Last chance.
And after all, look at what Bruce has done with that chance since then. The NBA draft now has a road through the Plains and the tournament is a place Auburn can call home.
A little gratitude for the opportunity does indeed go a long way.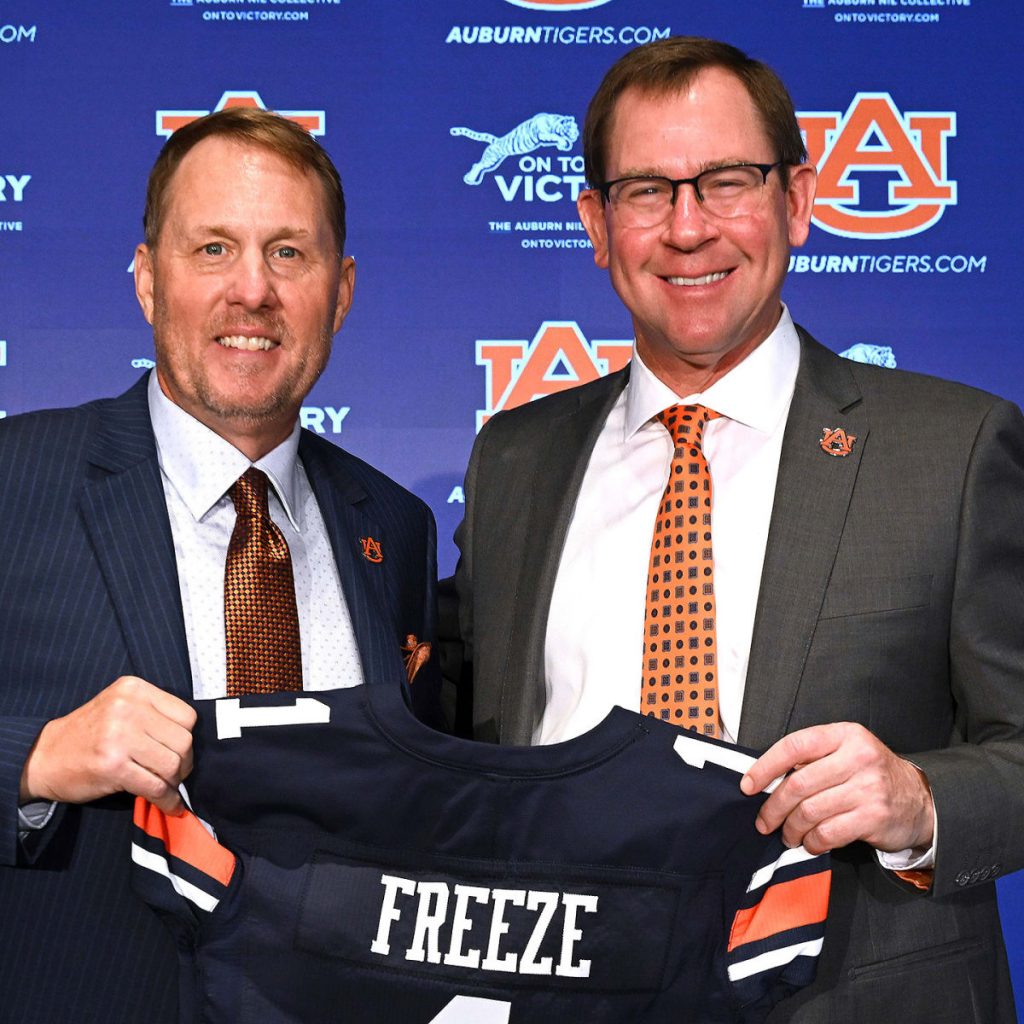 The war chest is ready and the team is hungry to compete on the national stage deep into January. There should be no room for excuses now. Auburn can, and will, compete for titles, and Hugh Freeze was right when he said that he's "leapfrogged several jobs" with accepting this position. If he fails however, that's all she wrote for both him and Cohen.
Which, there's no way Cohen did more than his due diligence to make sure Hugh was the right guy for the job. After all, look what happened to the last guy to bungle a head football coach hire. Never before has so much been at stake for Auburn football, and he knows it.