Just like every single bowl season, it's tough. Who can pick a virtual MAC game played at 11am on a Monday? Who knows who's going to show up? These games be bringing down my average, man.
Bowls: 15-11 (57.7%)
Regular Season: 119-26 (82.1%)
Overall: 134-37 (78.4%)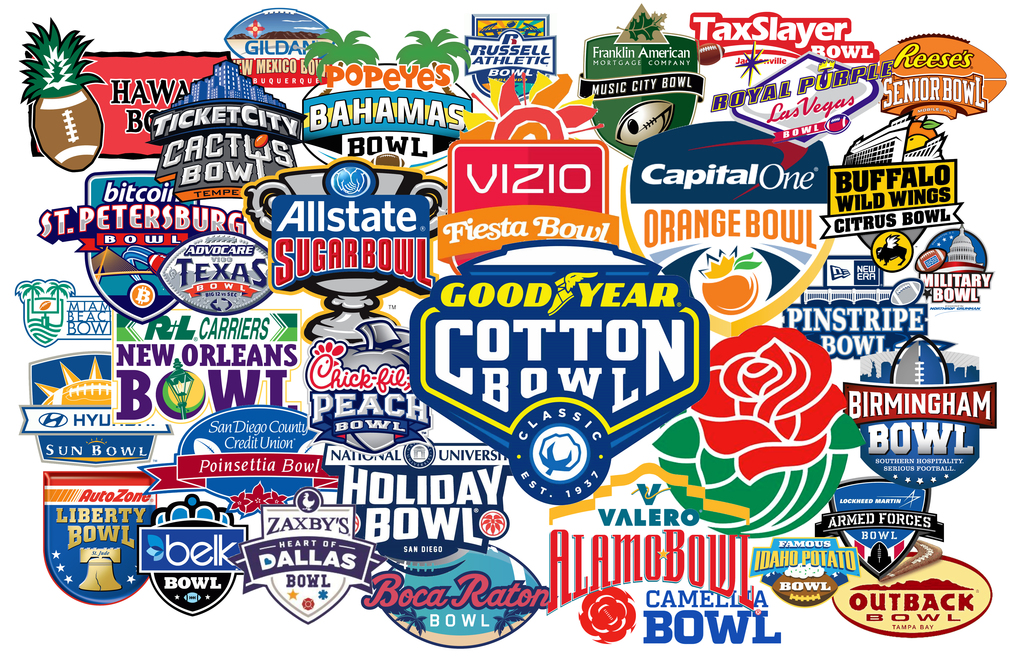 Since Week 2 has so many games, I've decided to split them up. Since we're dealing with better teams, maybe I can do a little better with my picks. Let's go.
12/27
Military Bowl Presented by Northrop Grumman (11 a.m. ESPN)
North Carolina vs. Temple – The Tarheels could've beaten Clemson and then lost to Appalachian State. I don't like that Temple is decent at football. I don't know why. I just don't. So, I'll go with Mack Brown. You know, to help Auburn's SOS next season.
North Carolina 31, Temple 17
North Carolina 55, Temple 13 – SUCCESS!
New Era Pinstripe Bowl (2:20 p.m. ESPN)
Michigan State vs. Wake Forest – This is a bizzaro matchup. Michigan State is usually solid, but this year they are trash. Wake Forest is usually trash, but this year they are solid. You have to think the talent leans in Michigan State's favor, but Wake Forest was actually okay. But even in a good year, they lost to Clemson 52-3. Go Sparty.
Michigan State 28, Wake Forest 21
Michigan State 27, Wake Forest 21 – SUCCESS!
Academy Sports + Outdoors Texas Bowl (5:45 pm ESPN)
Oklahoma State vs. Texas A&M – Pretty good matchup here. Old Big 12 rivalry. Texas A&M has the pieces to be good, and all of their losses were to top 12 teams. But that last one was BAD. Okie State was under the radar this season, but apparently they had a Heisman candidate on their team. It's pretty even. I guess I'll stick with the SEC.
Texas A&M 45, Oklahoma State 35
Texas A&M 24, Oklahoma State 21 – SUCCESS!
San Diego County Credit Union Holiday Bowl (7 p.m. FS1)
USC vs. Iowa – USC kept their coach. Iowa is Iowa. There's no way a good team from Los Angeles will lose to a team as boring as Iowa.
USC 34, Iowa 20
Iowa 49, USC 24 – FAILURE
Cheez-It Bowl (9:15 p.m. ESPN)
Air Force vs. Washington State – Mike Leach takes on a branch of the military. What could go wrong? Air Force has played above themselves this year. Washington State started hot and then fell way off. But I still think the talent level is in Wazzu's favor.
Washington State 31, Air Force 14
Air Force 31, Washington State 21 – FAILURE
12/28
Goodyear Cotton Bowl Classic (11 a.m. ESPN)
Memphis vs. Penn State – What a Cotton Bowl. We think Penn State is good because they play in a weak conference. Memphis doesn't have their coach, and they were good in a Group of 5 conference. This one comes down to who wants to be there. I think James Franklin has the better players and won't let his team take this game off.
Penn State 21, Memphis 13
Penn State 53, Memphis 39 – SUCCESS!
Camping World Bowl (11 a.m. ABC)
Notre Dame vs. Iowa State – Notre Dame is playing in the Camping World Bowl, which is basically just the minor league version of the Citrus Bowl (it's playing at the same stadium)? My how the mighty have fallen. Iowa State had a decent season and surely they are happier about going to Orlando than Notre Dame could dare be.
Iowa State 27, Notre Dame 17
Notre Dame 33, Iowa State 9 – FAILURE
Chick-Fil-A Peach Bowl (3 p.m. ESPN)
Oklahoma vs. LSU – Both offenses have power. Both defenses have weaknesses. LSU's offense is a tad better. LSU's offense is a tad better. It's pretty easy. But I think it will be close.
LSU 38, Oklahoma 31
LSU 63, Oklahoma 28 – SUCCESS!
Playstation Fiesta Bowl (7 p.m. ESPN)
Clemson vs. Ohio State – This is the mostly evenly matched CFB Playoff game of the two. Ohio State has been tested a little more this season, and it's hard to say how good Clemson's squad is against tougher competition. We've seen them show out in the Playoffs, though. This is a toss-up to me. It's all about which team scores the most points. Really, Blogle?!
Clemson 34, Ohio State 28
Clemson 29, Ohio State 23 – SUCCESS!
12/30
SERVPRO First Responder Bowl (11:30 p.m. ESPN)
Western Kentucky vs. Western Michigan – Battle of the Westerns! I'll go with Kentucky!
Western Kentucky 41, Western Michigan 21
Western Kentucky 23, Western Michigan 20 – SUCCESS!
Franklin American Mortgage Music City Bowl (3 p.m. ESPN)
Mississippi State vs. Louisville – This is a perfect matchup. Both teams show flashes every few years, but then they'll just be really bad the rest of the time. Mississippi State only kept their coach because that Ole Miss receiver lifted his leg. And I thought Louisville was okay, but they got killed by Kentucky. Again, SEC.
Mississippi State 34, Louisville 20
Louisville 38, Mississippi State 28 – FAILURE
Redbox Bowl (3 p.m. FOX)
California vs. Illinois – I remember that time Illinois played in the Rose Bowl. The Redbox Bowl is so close. Cal gets to play nearly a home game, so will they care? Eh, probably and they're better than Illinois (who beat Wisconsin).
California 28, Illinois 13
California 35, Illinois 20 – SUCCESS!
Capital One Orange Bowl (7 p.m. ESPN)
Florida vs. Virginia – Florida would've lost to Auburn by two touchdowns if the game was in Auburn or played any other date on the schedule. Virginia double dribbled. NEVER forget.
Florida 24, Virginia 14
Florida 36, Virginia 28 – SUCCESS!
Now that I've picked the bowls, you should go join the bowl pick'em. Just make sure you have them in prior to each game, but go ahead and do them all so you don't have to worry about it. There's prizes and stuff.