Auburn's winning run continued last week as the Tigers defeated Alabama and Ole Miss on the road. The Tigers are on a 13 game unbeaten streak are now ranked second in the AP Poll.
This week Auburn hosts the Georgia Bulldogs and the Kentucky Wildcats as they look to keep this magical run going. Let's recap last week's games.
Game 16 vs Alabama
Auburn defeated Alabama 81-77 to earn their first win at Alabama since 2019. Both teams brought their best  as they traded blows early in the game.
Jabari Smith made a statement early in the game, scoring thirteen points in the first half alone. Smith would go on to score 25 points with seven rebounds and two blocks.
Wendell Green Jr. continued his fine form with 19 points off the bench, including a pair of long three-point shots in the second half.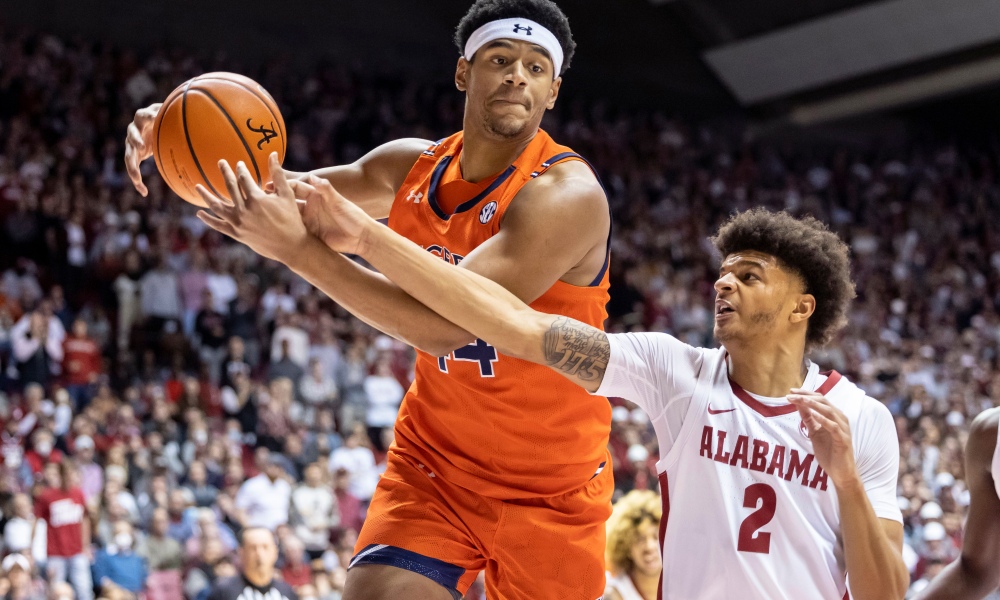 Auburn stormed out to a 14 point lead in the second half, but would lose it late as the Crimson Tide would tie the game at 73. Jabari Smith and K.D Johnson would make some crucial shots down the stretch as the Tigers would barely hang on to win against their in-state rivals.
At the end of the game, Auburn players mimicked Alabama's "Karate Kid" pose after the Alabama football team had adopted that during the 2021 season. Allen Flangan commented about that saying, "That's actually Alabama's thing, man. The football team did it to us. We were all right behind the end zone in the final seconds, and when he scored the touchdown they came right there to the end of the end zone and did the little karate kick. So we stole their move on them again."
Game 17 vs Ole Miss
Auburn escaped Oxford with an 80-71 win over the Ole Miss Rebels who have usually given the Tigers trouble during the regular season.
Auburn fell behind by as much as 14 points, but was able to cut the lead to just seven going into halftime. The Tigers took over from there, using an 11-0 run to gain their first lead since the 13th minute mark in the first half. That would be enough for the Tigers to win their 13th straight game.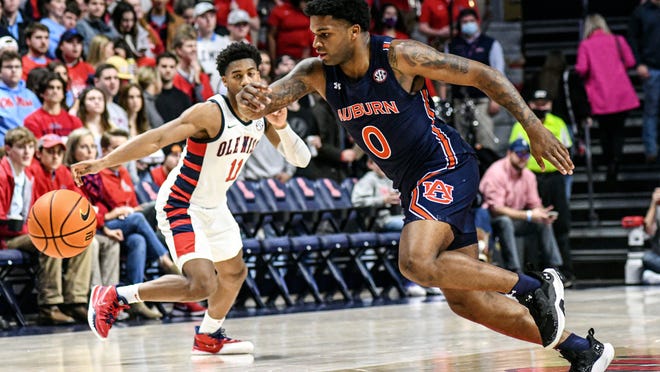 Walker Kessler had another double-double scoring a team high 20 points. He also added 10 rebounds and seven blocks. "Kessler was dominant. We don't win without him," Auburn coach Bruce Pearl said. "He rebounded, blocked shots and finished around the rim. It was just a great job. And we needed it tonight."
Wendell Green had another solid performance with 14 points, 7 assists, and three rebounds. Green currently has nine straight games where has scored more than ten points in a game.
Looking Ahead
Auburn matches up with Georgia and Kentucky this week as they look to defend their home court. On Wednesday, Georgia comes into town as a big underdog.
The Bulldogs are not having a good season. They are currently 5-12 overall and 0-4 in the SEC. Auburn is 97.3% favorite to win the game according to ESPN's Matchup Indicator. Tip-off for that game will be at 8pm with TV coverage on ESPNU.
Saturday will be Auburn's biggest matchup of the season as the 12th ranked Kentucky Wildcats visit Auburn Arena. Kentucky hasn't had too much success at Auburn. The Wildcats have won just one out of the last five matchups at Auburn Arena.
This Kentucky is playing some of their best basketball so far this season. The Wildcats are currently 14-3 overall and 3-1 in SEC play. The Wildcats have had quality wins against North Carolina and Tennessee, but have losses against Duke, Notre Dame, and LSU.
This week is a big week for the SEC regular season picture. Auburn leads Texas A&M by a half of a game. The Aggies and Tigers are the only undefeated teams left. Kentucky is just one game back at 3-1 and can give Auburn some breathing room if they beat Texas A&M on Wednesday night.
Depending on the result against Georgia, Kentucky could tie or take the lead in the SEC standings if they beat Auburn on Saturday. A win for Auburn may put them in the driver's seat to win the regular season title. The Tigers are a 55.4% favorite to win the game according to ESPN's matchup indicator. Tip-off for the Kentucky game is at Noon with TV coverage on CBS.