When I did my pre-season predictions for this team, I thought we would have about the same record as last year, my official prediction was 21-10. I thought we'd miss the outside shooting of Jared Harper and Bryce Brown, and to that extent I was right. But to be sitting here in early February with 21 wins on the season and being at the top of the conference is something I don't think anyone saw coming. At least that's the excuse I'm going with to justify my incorrect predictions.
With the latest AP Poll, it appears that voters still haven't bought into the hype, keeping Auburn at 11 again this week. You're going to see on Twitter and Facebook that rankings don't matter. And to an extent, those people are correct, but the voters shouldn't get a pass for being wrong because a majority of people don't believe in the poll.
Here's the facts, Auburn's only NBA prospect is a defensive first wing, and the team isn't sexy. Auburn doesn't make a lot of threes, or have highlight dunks every night, so most of America doesn't get to watch Auburn play. If you kept the players, coach, and record all the same and you just replace the name Auburn with Kentucky, Duke, North Carolina, or even Kansas, that team would be #1 or #2 in the country. Three years later, Bruce Pearl still can't get any respect, and that's the way we like it.
Game 22 @ Arkansas
If you didn't see an ugly slugfest of a game coming, you haven't been paying attention. The Cardiac Cats (patent pending) escaped with a 79-76 overtime victory over the Arkansas Razorbacks. Auburn couldn't stop Mason Jones who dropped a 40 burger, but the Tigers were able to put the clamps down on Jimmy White Jr. The senior guard couldn't get it going, not even getting on the scoreboard.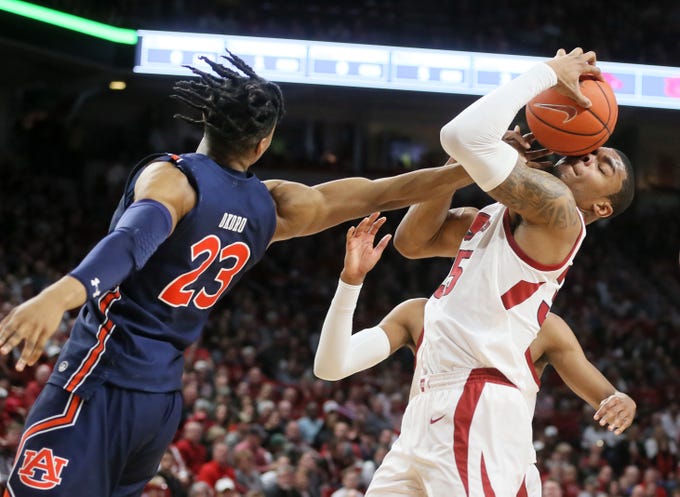 Auburn dominated on the boards on Tuesday night, outrebounding Arkansas by a 44-27 margin. 10 of those 44 came from Anfernee McLemore (more on him later). Auburn has been so good this year at getting second chance points off of offensive rebounds, and that's the kind of thing a team has to do when you can't shoot very well from deep, which Auburn hasn't been able to do consistently this year.
Samir Doughty led the way for the Tigers with 23 points, including 4-4 from the free throw line. The senior has played much better since the week long collapse against Alabama and Florida a couple weeks ago, which is looking more and more like a distant memory. Samir had one of his more efficient games of the year on Tuesday, shooting 8-13 from the field. He also continued to play some nice defense.
The unsung hero of this game is Anfernee McLemore. He's been the best bench player all season for Auburn, often times logging more minutes than Austin Wiley who he backs up. Anfernee provides a calming presence on the road, which this teams needs more than anything else. The senior had a double-double off the bench with 11 points and 10 rebounds in 34 minutes before fouling out. McLemore is going to be huge down the stretch if Auburn is going to keep winning games on the road.
J'Von McCormick didn't have his best game of the season against Arkansas, but he did have his most interesting game. Toward the end of the second half, J'Von had his jersey ripped by an Arkansas player (and J'Von was called for the foul by the way.) Up to that point, McCormick had really been struggling, only scoring 4 points in the contest. An equipment manager brought him a backup jersey with the number 55 on the back so J'Von could get back in the game quickly.
I'm not sure what Bruce does to those jerseys, but don't tell the NCAA. McCormick went on to score 12 points in the back half of the second half and the overtime period. I said it at the beginning of the year that this team is going to go as far as J'Von and Samir can take them, and they both look like they are hitting their strides.
Game 23 vs. LSU
I've never seen a team as resilient as this Auburn basketball team. They just do not quit. That's the scariest kind of team to face in March, the team that you know you're going to have to hit them in the mouth for 40 straight minutes. If you don't, that's when they strike.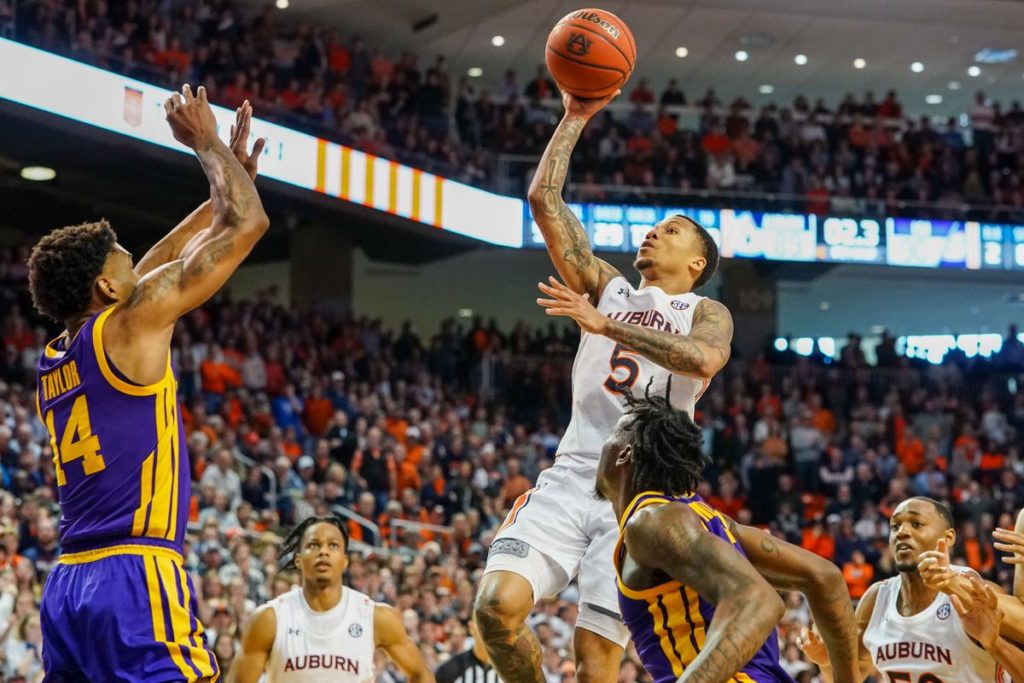 I'd also like take this time to say that Will Wade is the biggest clown in the entire conference. Showing up the Auburn student section at a job HE SHOULDN'T EVEN HAVE ANYMORE BECAUSE THE NCAA HAS TAPES ON HIM DOING DIRTY THINGS. People forget that Will Wade's own lawyer told him it would be in his best interest to not comply with the investigation being done by LSU. But sure, Bruce gets labeled a cheater for life because he has a barbecue.
Back to the game, how about J'Von McCormick this week? My goodness, the man was one assist and one rebound away from a triple double, and he had the game winner in overtime! I'm so happy to see J'Von playing to his full potential. If he starts going up a level, we become an even better squad heading into the second half of conference play. It's really fun to sit back and watch him set up other teammates. I know Bruce has said on the record that J'Von can drive him crazy at times, but I have to imagine that yesterday was not one of those days.
Samir once again led the team in the scoring department, scoring 26 points on 10-19 from the field. Doughty only got to the line once on Saturday against the Tigers, which is well below his average, but the refs weren't calling any fouls that game. Even though Auburn lives at the free throw line, it was nice to see the refs swallow their whistle so the game could actually have some pace.
Doughty and McCormick combined for 49 of the starting five's 68 total points. Just an incredible game for the Auburn backcourt, who almost everyone had as a question mark headed into this season.
Welcome back Devan Cambridge!! The Auburn freshman had 21 points off the bench Saturday on 7-11 from downtown. Devan really was the one that kept us in the game for stretches in the first and second half. I love Devan's game; I wish he would be more aggressive on a nightly basis because he should be the first guy coming off the bench every game.
A look ahead
Auburn is at home this upcoming Wednesday against Alabama, and you best believe Bruce will have the squad ready for this one. After the beatdown the team took in Tuscaloosa a few weeks ago, I expect everyone to be locked in and ready to go.
Next weekend has the Tigers traveling to Missouri, where the other Tigers are currently 3-7 in conference play. Auburn can't afford to look ahead, because with only a few games left the team needs to get a few more wins under their belt to secure a top 4 seed and the covetous double bye in the conference tournament.