Blogle here. Following Alabama's loss to Texas A&M, I was so excited that I loaded up the wife and kids and drove to Disney World. Not really, well I did drive to Orlando after the Georgia loss and that's where I am now. So in my stead, I got a guy, we'll call him Hunter, to review the game. Don't worry, I won't go out of town again.
---
This past Saturday, Auburn faced their second Top 10 opponent in a month's time. After totally breaking LSU's spirit and will to compete last week, they came in with momentum.
UGA came in with wins against an overrated Clemson and an overrated Arkansas team. We had already seen Auburn rise to the occasion once this season against a team that might be #2 in the country right now had their starting quarterback not been injured this weekend. Could the Dawgs really be that much better? Probably not. Auburn was capable and had the talent to make this a game. You know this.
So what happened? Auburn came out and immediately drove the ball 68 yards down the field and put up points. It was good, almost perfect. The offensive line got a decent push, the play calling was balanced. It looked almost like the drive had been rehearsed a thousand times in practice during the week.
Follow that up with a strong defensive hold, forcing Georgia to their first 3-and-out on an opening drive this year. Auburn found themselves in a 3rd-and-2 situation on the following drive. Bo threw a short pass to an open Shivers that could have easily picked up the 1st down, but instead the ball bounced off Sean's fingertips/hlmet and fell right into the outstretched arms of Georgia's Nakobe Dean. It was the correct read by Bo, it would've worked. It didn't.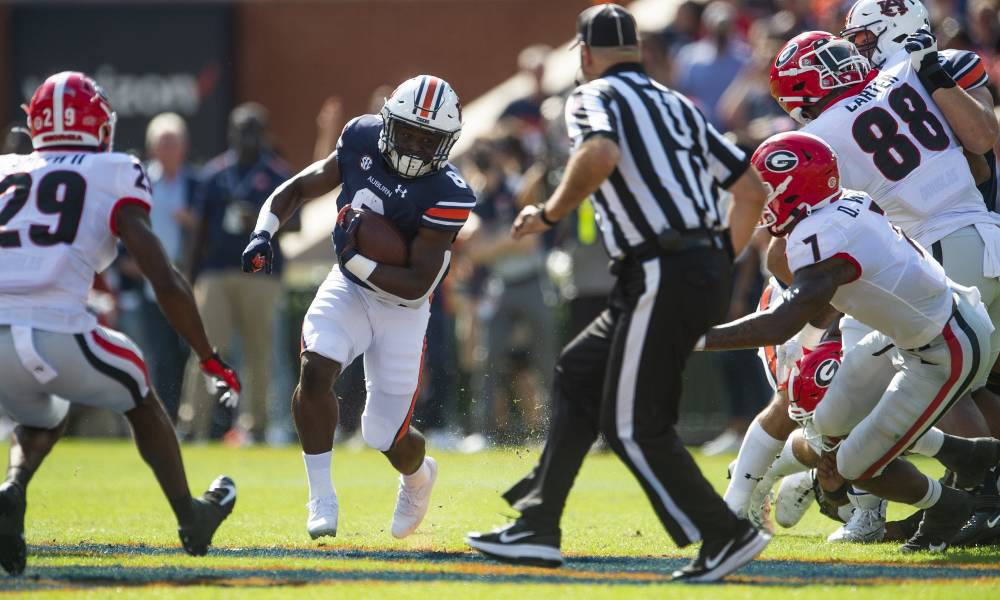 That's where things began to turn. Even after a respectable stop, holding Georgia to only a field goal. Dumb mistakes continued… Auburn would lose Smoke Monday to a questionable targeting call and the defense would begin to buckle, but that wasn't even the biggest problem this weekend.
The game plan was good, the play calling was good. The execution? Not so much. PFF counted 7 drops for Auburn, but it seemed like twice as many. Some will find a way to blame that on the quarterback.
Momentum shifted as the game progressed, the offensive line began to lose the edge that they had on the first drive. It turns out, dropping passes leads to short drives, which leads to tired defense. Even after shooting themselves in the foot, Auburn still hung around and had an opportunity to keep it a one score game at the half.
Who knows what happens if Auburn catches some of those balls? On a crucial 3rd-and-9 Bo hit a wide open Shedrick Jackson right in the numbers, only to be dropped. That one stood out, It felt like deja vu.
Even with those drops, Auburn still had more passing yards than any other team Georgia has played this season. If a few of those passes are caught, we may be talking about a different game.  If the official called a pass interference on Auburn's last drive of the half like they did against McCreary earlier in the game, maybe Auburn sticks around.
Does it suck? Yeah. Is the season ruined? Nope. In fact, (thanks to some Aggies) Auburn is the only team in the SEC West without a division loss and is still in control of their own destiny. Auburn has the perfect opportunity to redeem themselves this weekend in Fayetteville and keep their position at the top of the West.