As I'm sure you've heard by now, Arkansas State has announced that they will be traveling back to Auburn (they were the first team Cam Newton beat as a Tiger in 2010) on September 7, 2013. It will be both teams' second game of the season.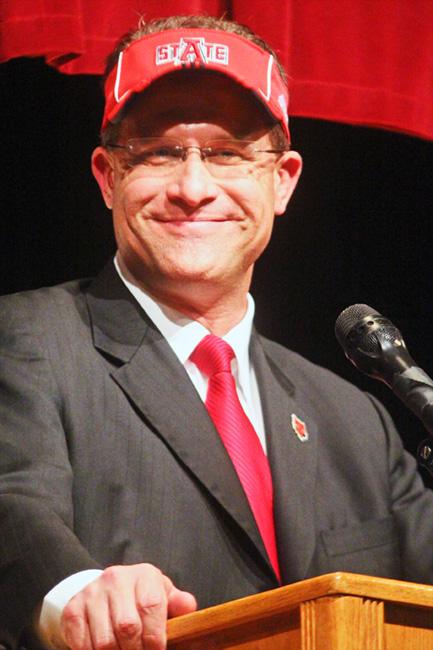 At first, I think of Gus Malzahn and his return to Jordan-Hare. I have no problems with it – it scares me – but I will have no bad feelings towards him. It's sort of like the Samford game last year. I love Pat Sullivan and wanted his team to be competitive, but not actually win the game. They ended up being a little too competitive for my liking, but it was still good to see one of our guys still out there coaching and doing his thing.
Malzahn will be in his second year, and will have another year's worth of athletes that didn't want to go to Arkansas, or at least wouldn't have gone to Arkansas State unless Gus wasn't there. Of course, by then Arkansas will have their real choice as a head coach, and will get anybody they want from the state. We have no idea how good his team will be, but we know what he's capable of. At least we have three year's worth of practices and games and playbooks to study.
It's a little bit different of a situation for me when it comes to Michael Dyer. The next great running back in Auburn history, who will be have to sit out 2012 per transfer rules, has quickly turned into someone I'd love to forget. I know most of you wish him well, and I by no means wish him harm, but I'm not going to wish him well… as a collegiate football player. He is now an opponent. He is now someone who could have been an Auburn legend.
He had the chance to admit his mistakes, take his lumps, and get back in the good graces of the coaching staff. Instead, he left. He didn't want to do what Chizik laid out for him to do to get back on the team. What that plan was we'll never know, but I'm sure it involved running, more running, and any variance of a curfew and GPA minimum.
Bottom line: he quit on Auburn. He left. He could have gone down as one of the greats. Bo held his hand high, kissed his forehead, and Dyer threw that away. How can you wish that well?
In terms of his life, I hope he turns it around. I hope he becomes the guy he looked like he was going to be prior to 2011. But I do not hope that he comes into Jordan-Hare and gains more than one yard. I would hope that Auburn fans will be better than to boo him as he comes on the field, but I would also hope that no one cheers him either. As I said, he is now an opponent.
Now after saying all of that, it's possible that one or even both won't be making the trip.
Gus Malzahn is an Arkansas native, and I'm sure his dream job wasn't Arkansas State. I've never asked him this, but I know that his college dream job is Arkansas. I'm positive. That being said, unless John L. Smith takes Arkansas to the SEC Championship Game next year, the Razorbacks will be looking for a more permanent solution. Gus Malzahn could be that solution. If he shows that he can run a team, and not just an offense, Arkansas could very well give Mr. Malzahn his dream job following next season.
Some think that Malzahn would be too honorable to leave Arkansas State after one year, but honor has nothing to do with it. He saw how his head coaching job possibilities went from Vanderbilt and Maryland to Arkansas State in one year, so he's going to be quick to jump on a job in the SEC. You don't hold off on a dream job just to be nice. I'm sorry. Malzahn wouldn't be honorable to himself or his family to turn down Arkansas to stay at a Sun Belt school.
If this does happen, then we'll see Malzahn every year when Auburn takes on the Razorbacks, so I'm not sure how I feel about that. I'm scared of him at Arkansas State because we know what he can do and if, heaven forbid, Auburn lost, it would be terrible on multiple levels. Think about it. It's not just a loss to Arkansas State. It's fuel to the "Malzahn is the reason Auburn was so good, and Chizik sucks" fire.
But if Malzahn is at Arkansas, a loss to him then would be more respectable, given the talent he'd be coaching. But then the Chizik/Malzahn debate would just go on forever. It doesn't matter, but it would.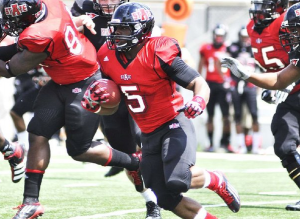 As far as Dyer is concerned, as I mentioned earlier, he will have to sit out the 2012 season. NFL rules state that a player must be three years removed from high school to enter the draft. Even though Dyer will only have two years worth of playing time in college, he would be eligible to go to the NFL because next year would be his junior year of college. Most, and I am one of them, think that he'll sit out this year, workout, continue to practice with the team, and then enter the draft. It would not surprise me at all.
It's going to be strange to see either or both on the other sideline. Malzahn and Dyer are forever etched in Auburn history because of the National Championship and to see them somewhere else so quickly (maybe) is just going to be weird. I can't think of a coach and a superstar moving to the same team and then playing their old team ever. It's probably happened, but not that I'm aware of. Anyway, what are your thoughts?