The 2020 Iron Bowl is over. Everybody has moved on, right? Alabama fans definitely don't care about it. They are worried about bigger and better things. Oh well, here are the bullet points.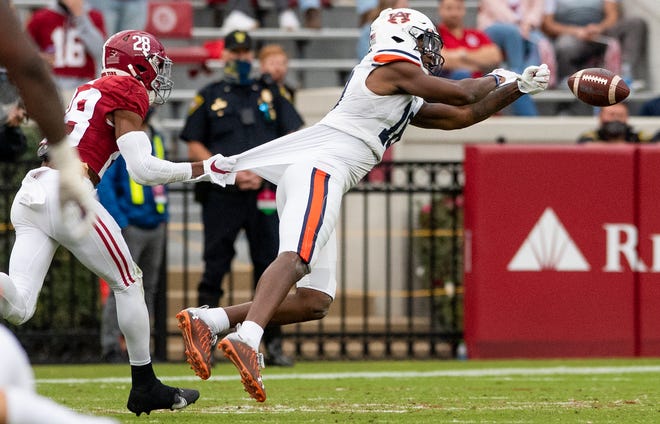 Nick Saban was not there. The crowd looked sparse even for COVID times. It was maybe a good day for a win.
Both teams started off shaky on offense. Then Mac Jones found Devonta Smith for the first time of many for the day.
Auburn held Najee Harris in check for the most part. I remember one long run. He looked sorta hurt.
Tank was hurt. He looked fine at first, but you could tell he wasn't running at 100%. After his first Tank-style tackle-breaking rumble, he went to the sideline and slightly shook his head. He didn't return.
DJ Williams got hurt, too, which left Shaun Shivers until the last two drives when Mark-Antony Richards. He looked good, but the game was over by then so who knows what he was really going against.
There were some questionable calls and non-calls. They weren't the sole reason Alabama won, but they definitely helped them knock out those first few scores.
Bo Nix threw two interceptions. I can't say that either was a terrible throw. The first one was one play after Seth Williams dropped a for sure touchdown. It was a tough pass and the defender made a great play beating Schwartz to the ball. The 2nd one was a hurried screen, the defense recognized it was supposed to go to Eli Stove and they blew him up early. It was really good defense. Nix is not why Auburn lost. Not even close.
The defensive line did alright. The secondary couldn't cover Smith. They blew two assignments on the first touchdown, which made them look silly. They didn't play awful as a whole. They just gave up big plays at important times.
The offensive line was beaten up. The running backs were down to 1 or 2. It was already tough sledding.
Auburn should've scored 20 for sure, and probably 27 or 30 had it been more of a game in the 4th quarter.
Mac Jones throws the ball well when he has 10 seconds to throw a wide open receiver. He does a good job of distributing the ball to his play makers. A good job of managing the game.
It was going to take a great effort by Auburn and lackluster effort from Alabama. The effort was there for Auburn, but the execution was not for the most part. Alabama didn't really make any mistakes aside from a late fumble after their 2nd interception.
Auburn has another Top-5 team this week as Texas A&M comes to town. I am a lot less worried about this game.