TO HELL WITH GEORGIA. You've undoubtedly seen this all over twitter thanks to the likes of @grahamcarr2 and @Joshdub_. Yes, it's the Lord's work they're doing. Georgia is so easy to hate. From Kirby Smart's morose press conference undermining the talent his team has (which, by the way, LOL), to grown men barking at people in public; Georgia is without a doubt the most repeatedly overhyped team year in and year out to have not won a National Championship since 1980. It's not just now, either.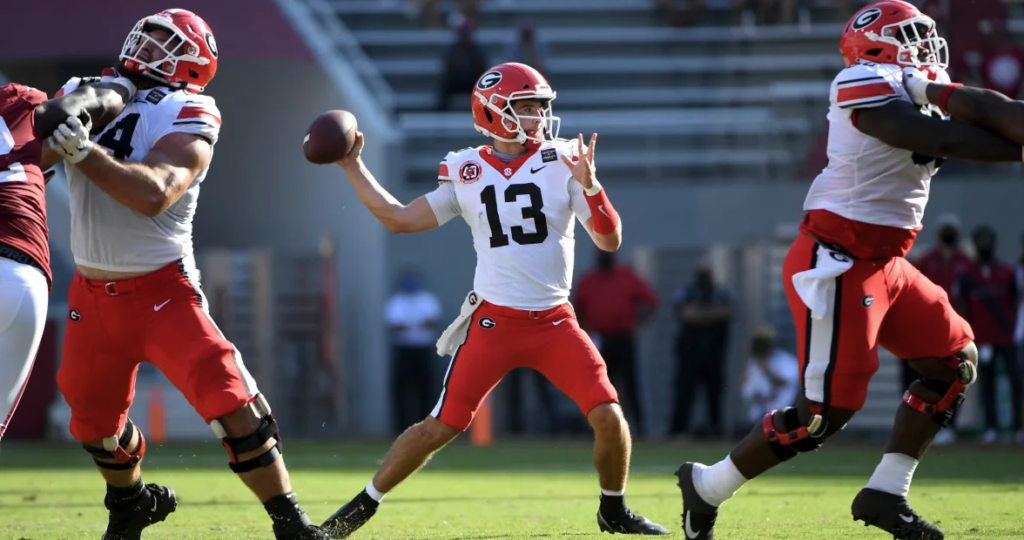 Georgia has benefitted for 2 decades from an underwhelming SEC East where their only real competition is Florida. Think about it, Tennessee has been down since Peyton Manning left. Kentucky and Vanderbilt are, well, Kentucky and Vanderbilt. South Carolina had a few good years around 2010. AND SOMEHOW, THEY LET MISSOURI WIN THE EAST NOT ONCE, BUT TWICE. Auburn would never. As we turn our attention to the First Look at Georgia, it's important to remember – TO HELL WITH THEM.
OFFENSE
Scoring Offense – (23rd) 37 PPG
Rushing Offense – (53rd) 121 YPG
Passing Offense – (25th) 266 YPG
Total Offense – (44th) 387 YPG
Okay, so national rankings don't mean much right now as far as the SEC goes. It's a weird season that has multiple start times and very little out of conference play; and with one game under their belt most teams are still establishing their identities. Georgia's offense numbers are an enigma in and of itself. They aren't bad, per se – they could be much better given the inferiority of the opponent they played last week. That said, it impressive to put up essentially 300 yards in one half on the road(ish) in the SEC.
Who is Georgia offensively? Are they a Stetson Bennett lead passing attack? Are they a D'wan Mathis led train wreck? Is JT Daniels going to come in and win a Heisman? I have no idea and neither does anyone outside of the Georgia locker room. Odds are it's a regular pedestrian Georgia offense.
DEFENSE (2019 Rankings)
Scoring Defense – (6th) 10 PPG
Rushing Defense – (11th) 77 YPG
Passing Defense – (24th) 203 YPG
Total Defense – (10th) 280 YPG
Whew baby is this defense nasty. Auburn will have their hands full yet again with a stout defensive team. The question is, have there been enough changes in Auburn's offensive philosophy to put up enough points to snag a win. Auburn held up well against a decent Kentucky defense, but we all know Georgia is on a different level. Auburn will have to have a good mix of plays to keep the Georgia defense on their heels. If Auburn kept the Kentucky gameplan vanilla in hopes to open up the offense against Georgia, it could mean Auburn will put up some numbers on Saturday.
@AuburnEinstein's PREDICTION
This game is a litmus test for the rest of Auburn's season. With a shortened schedule and Ohio State clearly getting love for being a name brand, Auburn can really only afford one loss this season. There are still plenty of tough games on the schedule that include at Alabama, two trips to revamped Mississippi schools and LSU bringing Cajun magik back to the plains, Auburn has to make The Deep South's Oldest Rivalry theirs.
I think this game looks like the last few LSU games. Auburn will make plays and create opportunity, but Georgia will keep it close. Call me a Homer all you want, but Gus has the pieces in place to not fall apart like he has done against LSU the last 3 years. I like Auburn 24-17.