As of right now, today, in the year of our Lord, 2020, we are thirty days from Auburn's first ever pandemic-laden, shortened, all-SEC season.
Way back in 2010, yes, Cam Newton led Auburn to a national championship ten years ago, I led up to the first game by ranking the top 30 games of the last 30 years that were played at Jordan-Hare Stadium. Five years later, I updated the list. Now five years after that, I am updating it again.
As I see it now, there will be around 5-6 new entries, but you'll just have to come back here every day to see which games those are and where they fall. Let's get to it.

30. Auburn 37 vs. Syracuse 34 (3 OT) – Sept. 28, 2002
How I Remember It: This game was supposed to be a blowout. Syracuse came in with a lousy record. Auburn had the close loss to USC, but had won three straight and was nationally ranked. I had no doubt going into Jordan-Hare Stadium that night that Auburn would easily exact revenge over the 2001 loss to the Orangemen (they were still the Orangemen at the time).
My only visual memories of the game were Syracuse returning a punt for a touchdown in the first half and watching Cadillac run around left end (I think) in triple overtime to win it. I also remember the game ended around midnight as a result of the free football.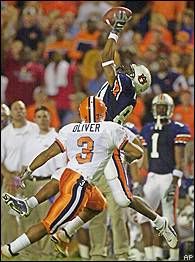 What Really Happened: Auburn came into the game heavily favored and should have blown Syracuse away, but after the Orangemen kicked a field goal, returned a punt 85 yards, and tacked on a 68-yard rushing touchdown, things looked pretty bleak for the Tigers. That's when backup quarterback Jason Campbell and Company scored 24 straight points, taking the lead 24-17 with seven minutes to play.
Syracuse ended up driving down the field, with their own backup quarterback, and scored to the tie the game with 25 seconds left. That's when things really got crazy.
In the first overtime, Syracuse had to settle for a field goal attempt. They ended up fumbling the snap, giving Auburn the chance to win with just a field goal. As if the 2010 Outback Bowl gods were watching, Auburn ended up having their field goal attempt blocked to send the game into double overtime.
Both teams scored rushing touchdowns in the next overtime period, Cadillac scoring his first of two for the game.
In the final overtime, Syracuse had to settle for a field goal and was successful, giving Auburn the chance to win with a touchdown. That's when Cadillac ran around left end for a 7-yard score to give Auburn the win.
Fun Fact: Auburn and Syracuse have played three times in football and two of the three ended regulation with a tie score.
Why did I pick this game? After going down 17 points, the game seemed lost, but Auburn battled back, and won it with a wild finish in three overtimes. Most Auburn fans still talk about this game, even though there were no national or conference implications, because of how crazy the comeback and finish were. The after-midnight finish was also pretty unique.
The week after the game, a Syracuse journalist wrote an article titled "Go to Auburn, Be Changed Forever" about his trip to the plains and how it changed his perception of college football in Auburn and how it compares to football in upstate New York. If one game's atmosphere can leave that kind of impression on an outsider, then it definitely deserves to be in the top 30 games every played at Jordan-Hare.
Play of the Game: Cadillac's touchdown-scoring run in triple overtime.
Player of the Game: Obviously, this go to Cadillac. 202 rushing yards and two rushing TD's in overtime, including the game-winner, will get you "player of the game" honors any day.
Quote of the Game:"This game was a character builder for us. We didn't play well the first half. We were down 17 points, but our guys fought back and we did a good job in the second half. We played better after the half and we just outlasted them. It was a tough game with a lot of obstacles, but this game shows the strength of our program." – Tommy Tuberville
National stories: ESPN | USA Today
Other game notes and quotes: Auburn | Syracuse
You can view the rest of the 2020 edition of this list here.