Rivalry week is usually a tough one for predicting. Not this year. I'm a combined 19-2 over the last two weeks. B average!
Last week: 9-2 (81.8%)
This week: 8-0 (100.0%)
Overall: 119-26 (82.1%)
Championship week is usually tougher than Rivalry week, but wait until you see these games. All but one or two should be simple.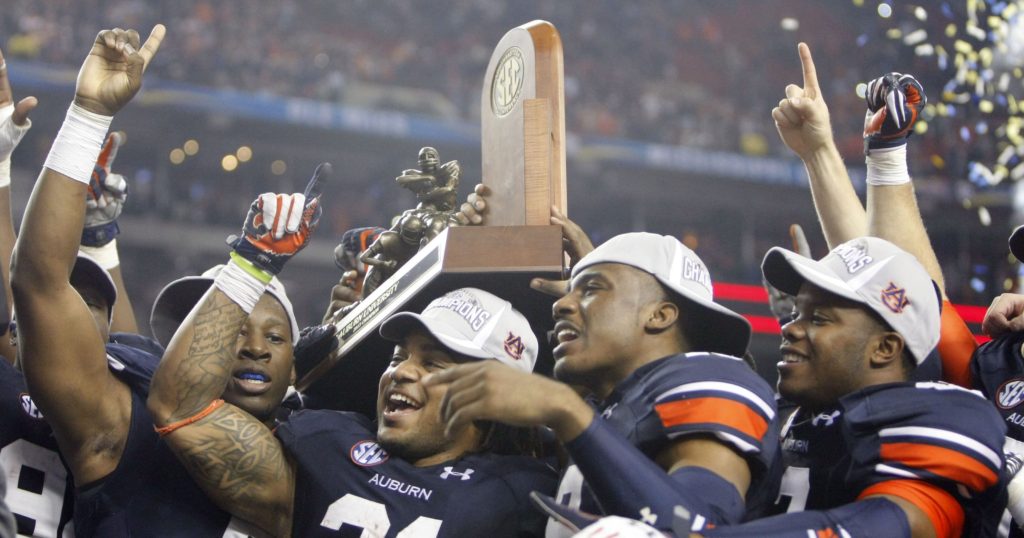 12/6
Utah vs. Oregon (Pac-12 Championship) – I don't want Utah in the Playoffs, but I do want them to get killed in the Playoffs. I don't want Oregon to win because they'll likely jump Auburn in the polls, but Auburn would have their 2nd consecutive transitive Pac-12 championship. Oregon has faltered as the season went on, but Utah has played one ranked opponent that is now 7-5. I'm going with the Ducks.
Oregon 24, Utah 20
Oregon 37, Utah 15 – SUCCESS!
12/7
Baylor vs. Oklahoma (Big 12 Championship) – We've already seen this game. Baylor was good enough to get a big lead, but also bad enough to lose that lead and lose the game. Oklahoma has the upper hand because they know how to not let the big lead happen again.
Oklahoma 38, Baylor 21
Oklahoma 30, Baylor 23 – SUCCESS!
Louisiana-Lafayette at Appalachian State (Big 12 Championship) – Louisiana-Lafayette thinks they can just call themselves Louisiana. Nah, you must respect my 2nd favorite team, UL-Monroe. You ain't getting all of Louisiana. App State wins big.
Appalachian State 31, Louisiana-Lafayette 7
Appalachian State 45, Louisiana-Lafayette 38 – SUCCESS!
Cincinnati at Memphis (AAC Championship) – Memphis beat Cincinnati by 10 just one week ago. The game was played in Memphis. They will do it again in the same stadium this week for the conference championship. I don't see a reason to pick a different winner this time.
Memphis 28, Cincinnati 14
Memphis 29, Cincinnati 24 – SUCCESS!
Georgia vs. LSU (SEC Championship) – The easy answer is LSU. The less-infuriating answer is LSU. The better team is LSU. So I'll go with LSU.
LSU 34, Georgia 20
LSU 37, Georgia 10 – SUCCESS!
Hawai'i at Boise State (Mountain West Championship) – They'll play this one on the blue rug. Hawai'i is going a long way, and into the cold, for them to win this one. The first meeting between these two teams went 59-37 Boise State, so we'll go ahead and claim another championship for the Broncos.
Boise State 41, Hawai'i 30
Boise State 31, Hawai'i 10 – SUCCESS!
Virginia vs. Clemson (ACC Championship) – Clemson will play their 2nd ranked opponent of the season and it only took the conference championship game to get it. Virginia has been okay, but there's no way they'll be able to keep up with the complainin' Tigers.
Clemson 42, Virginia 13
Clemson 62, Virginia 17 – SUCCESS!
Ohio State vs. Wisconsin (Big Ten Championship) – The Buckeyes beat the Badgers by 31 a month or so ago. Auburn wants Wisconsin to lose to help their bowl chances. There's no reason to think Ohio State will lose to a team they pummeled earlier this season.
Ohio State 48, Wisconsin 17
Ohio State 34, Wisconsin 21 – SUCCESS!
Now that you know who will win, head on over to the 2019 War Blogle Pick 'em and get your picks in. There will be weekly prizes and an overall winner at the end of the season. It's easy. Do it.