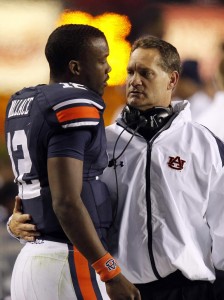 There is really nothing left to say about this season. It was another game. It was another loss. It felt exactly like the Texas A&M game. Auburn couldn't stop Georgia from scoring and it was over early. By the time the 3rd quarter was done, the stadium was almost empty. I was there until the bitter end. It's something I like to do to myself. I call it strengthening.
The whole game was so much of a blur that there weren't any specifics that really stuck out. I mean, the whole thing could be summed up as 3-and-outs for Auburn and dink-and-dunks, setting up explosive runs (ew, gross) for Georgia. That's it. Game over.
I guess if I could make one observation from the game, it would be the complete lack of confidence that the coaching staff showed in the first two drives of the game. Chizik has always been a field position coach and a very safe coach, but Auburn had nothing to lose.
I'm speaking of the 4th-and-short Auburn had in the very first drive of the game. Yes, they were still pretty deep in Georgia territory, but you have to go for it if you're in Auburn's shoes. Again, they had nothing to lose. We knew Georgia was going to score eventually. Why not?
In Auburn's next drive, they got inside the Georgia 40-yard line where they were presented with another 4th down. Auburn could have gone for it and risked giving Georgia the ball around the 35-yard line, or kicked the field goal and tried to score a few points. Nope. They punted. The game was over then.
I understand Chizik's stance, but that stance should be reserved for a team that needs to be careful knowing that they'll get another chance. Auburn is not in that position. They are in the position of needing to take advantage of every opportunity to try and score points. If you fail and lose again, then who cares? It's another loss. But you aren't going to win if you don't step outside of your comfort zone and go all out.
That's all that I have to say. We know changes are coming, and I hate it because I like Chizik. I'm not going to be one of those that are angry or act like he did something to me personally. But he knows it's coming. We all know it's coming. It's just the way business works.
All Auburn can do now is make sure they get one more win next week and try to keep it somewhat respectable the following week. I have not given up on anything, but after nine losses, even I can't expect too much.