Unless you arrived at 7 am, the view at Auburn's Heisman statue ceremony was lacking. To their credit, Auburn did warn us that good views would be limited and advised the common folk to watch the ceremony on the video screens inside Jordan-Hare or Auburn Arena. Around 10,000 people just couldn't stand it, and had to see it in person. I was one of them.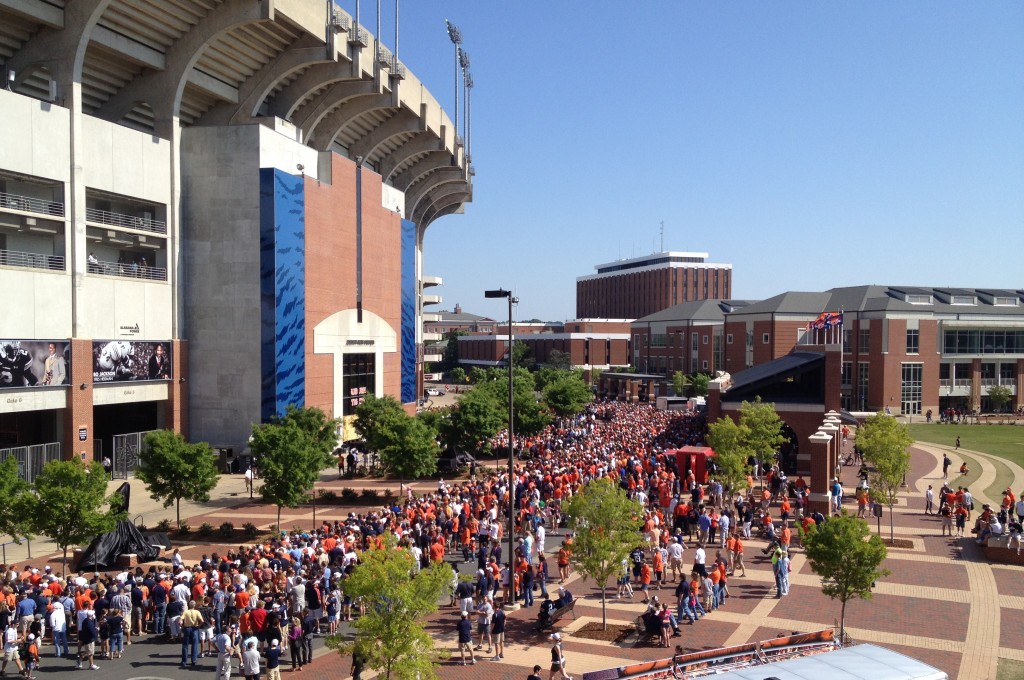 I posted up by Cam's statue and waited out the ceremony there. Apparently, a poem was read, tears were shed, and all claims of Auburn being used as a stepping stone were laid to bed. You can watch all of that in the official recap from Auburn Athletics here.
But if you want to feel what it was like to be among the commoners, watch this. The video also includes the pregame introduction of all three Heisman winners, along with a video of highlights put to some glorious music that is sure to make you weep.
If you read my A-Day preview/rant, you know that I don't put much stock into what happened Saturday, but here are a few thoughts:
Kiehl Frazier looks more than capable to run the offense. Given his talent level, and the amount of time he has left on the Plains, give him the keys.
Zeke Pike is better than I thought he would be. I'm not sure why I didn't expect much, he's big and athletic and can throw the ball well. He even had a good run or two.
Mike Blakely and Corey Grant are both going to be an integral part of the offense. Auburn should have a 1-2-3 punch with them and Mason.
We all know what he can do, but when given the ball on Saturday, McCalebb didn't do much. He may need to be the outside sweeper that we all know and love.
The defense was noticeably better even though they were running a base set for the entire game.
There were a few deep passes given up, but most were very good catches.
Aside from allowing Blakely to bounce outside for a long run after he seemed to be swallowed up, the tackling was already better.
Corey Lemonier and Dee Ford are going to have lots of sacks this year.
Steven Clark can still boom it. Cody Parkey's absence on kickoffs was noticed.
All in all, I was impressed with almost all aspects of the game. I love seeing these new guys that were highly rated coming out of high school finally getting their chance. Those impressive recruiting classes are starting to show.
Oh, and one last video. This is the pregame intro video that was shown before the game. Lots of the bowl game in there. I'm guessing because there were no Michael Dyer highlights to cut out.