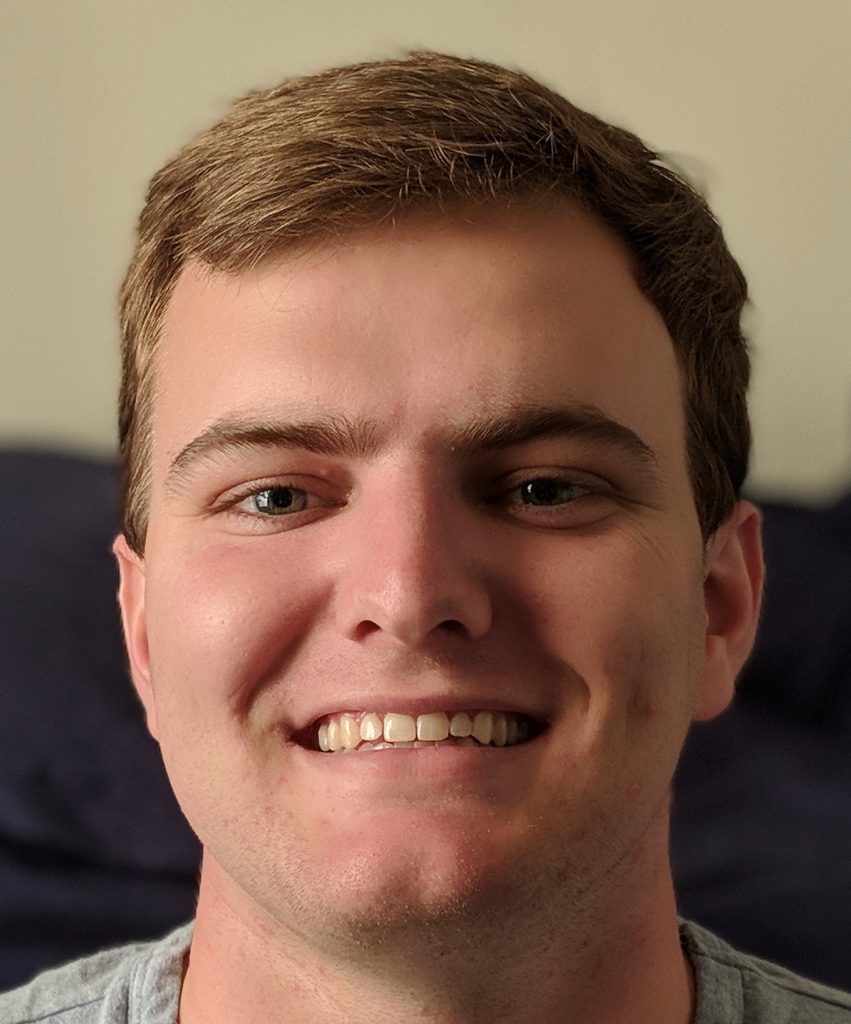 Jason Beede is a multimedia journalist for Knights247.com (@Knights247). In addition, he covers high school sports for the Orlando Sentinel. Originally from Key West, Florida, Beede is a current journalism student at the University of Central Florida, minoring in Political Science. For more sports coverage and photographs, follow Jason Beede at his personal website, Beedefoto.com and on Twitter at @therealBeede.

1. What is a common UCF fan's thought of Auburn football as a whole?
UCF fans consider Auburn to be very strong defensive team, but a beatable one. When fans think of the Auburn program they think of the explosive nature of SEC football and are excited for the matchup against the Tigers.
2. Who are your two favorite Auburn Tigers of all time and why?
My favorite Auburn Tiger of all time is Bo Jackson. The greatest running back in school history and one of the greatest all-around athletes of all time, Jackson tops the chart for me. The two-time All-American and 1985 Heisman Trophy winner is just an unbelievable athlete.
My second favorite Tiger and a more recent Heisman Trophy winner is Cam Newton. From his explosive plays on the field to his flashy outfits in postgame press conferences, Newton steals the show. The 2010 BCS National Champion is still so much fun to watch in the NFL as he leads the Panthers to the postseason.
3. We've heard some interesting comments from UCF players and coaches over the last few weeks. Is that common for this team? Are you surprised?
Typically, trash talk is quickly shot down by the UCF coaches, so public comments like this aren't common for most of the team. UCF has been modest for most of the year taking this season one game at a time. I was somewhat surprised by some of the comments, but I will say this, it makes this game that much more exciting. We'll find out on January 1st if the Knights can "walk the talk". Overall, I love it.
4. What's the feeling on Frost coaching the bowl despite hightailing it to Lincoln? Do some wish he would just go?
Overall, the feeling about Coach Frost is very good. Look, you can't please everyone, and Frost was a big part of UCF's perfect regular season and will be a big part in capping it off with a New Year's Six Bowl victory. At the end of the day, it's up to the players and which team is hungrier to bring home the hardware.
5. What's the realistic vibe within the fanbase? Are they expecting victory? Are some actually feeling slighted by only playing Auburn?
The fans truly feel that UCF can win despite being 9 1/2-point underdogs. It certainly is a David vs Goliath scenario, but that's what it was when the No. 15 Knights upset No. 6 Baylor 52-42 in the 2014 BCS Fiesta Bowl. There are some fans that feel UCF should be playing a conference champion, but the majority are happy to face an SEC school in Auburn, who has beaten two No. 1 ranked teams this season.
6. Name two Knights that Auburn fans should look out for and why?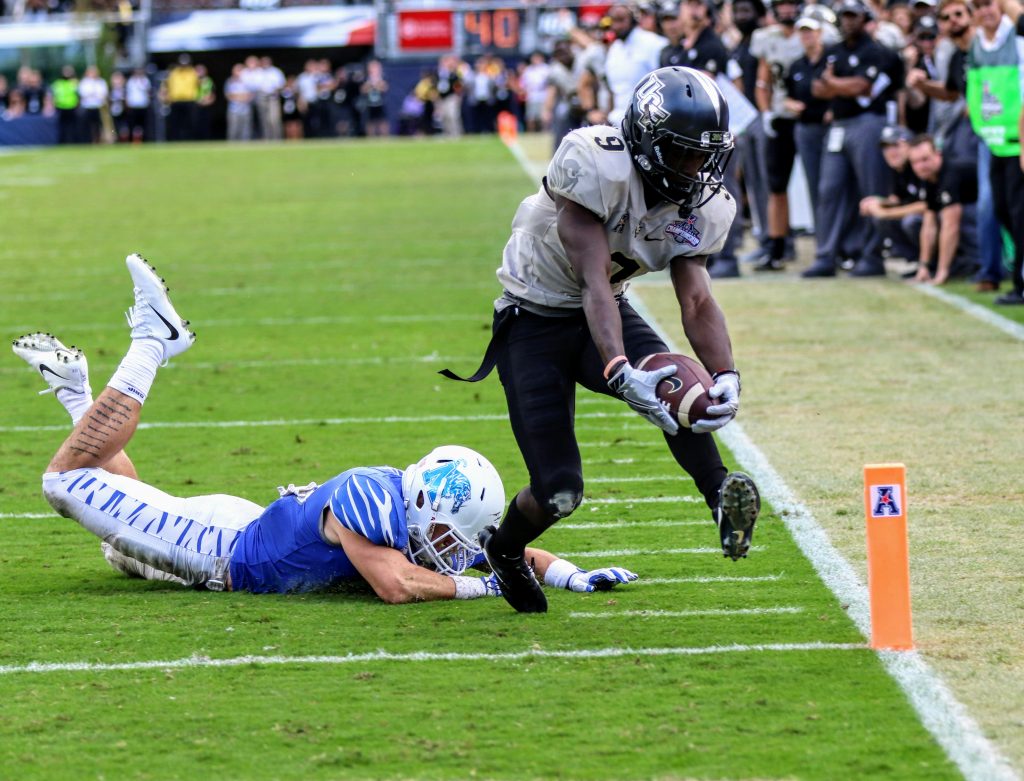 Adrian Killins: The self-proclaimed fastest player in college football. Auburn fans will want to keep their eye on Killins, if they can as he jolts down the sidelines. Killins has rushed for 762 yards and ten touchdowns, his longest being a school-record 96-yard touchdown against Memphis on September 30th. The versatile running back is a big part of the UCF fast offense. Killins said it himself, "Auburn hasn't seen any speed like we have here, so I would say they're in for a rude awakening."

Mike Hughes: Another UCF speedster Tiger fans should watch out for is Hughes. The UCF fan-favorite cemented his name in program history on Black Friday when he returned a kick-off for 95-yards as UCF beat USF 49-42 thanks to Hughes' late game heroics. Described as a "gift from God" for the Knights by his former Garden City Community College coach Jeffrey Sims when Hughes transferred to UCF, the cornerback wasn't even on the roster when training camp began back in August. He certainly has delivered not only on special teams but also on defense where's he tied for 21st in the nation in Passes Defended adding four interceptions on the year.
7. Name two Tigers that worry you the most and why?
Kerryon Johnson: The Tigers' star running back injured his ribs and right shoulder against Alabama and was limited in the SEC Championship, but Gus Malzahn said on Wednesday that Kerryon Johnson is "going to play" in the Peach Bowl. Johnson has made some amazing plays this year and may cause havoc for UCF's defense, which has allowed 165.7 rushing yards per game.
Auburn's Front Four: I think of the defensive line as one solid unit. The Tigers' front four has been dominant all year long. Not necessarily getting a sack every play, but affecting every play. As Auburn defensive coordinator Kevin Steele explained, "they have the ability to affect the run game on the other side of the line of scrimmage." Led by Jeff Holland, who has nine total sacks in 2017, Auburn's defensive line may cause problems for UCF quarterback McKenzie Milton and company.
8. Which matchup will decide the game?
The battle in the trenches will decide the game. If UCF's offensive line is able to hold up against Auburn's front four and give McKenzie Milton enough time to create plays, the Knights will score. It could be a long day for the nation's number one scoring offense if Auburn's defensive line applies pressure and gets to Milton.
9. What is your score prediction and analysis for the game?
Score Prediction: UCF 38, Auburn 35 (Charge On!)
Analysis: The Knights have a been playing with pride the last few games and will come to Atlanta ready for a shootout against Auburn. If UCF can play at their fast-paced tempo, they will put up points. However, there's a reason Auburn's defense is ranked 13th in the country in total defense. The Tigers play in a much tougher conference and will present UCF with their most challenging task this season.
McKenzie Milton has been outstanding the whole season for the undefeated Knights. The sophomore ranks second nationally behind Heisman Trophy winner Baker Mayfield in completion percentage and passer rating while averaging 315 passing yards per game. It will take a perfect game from Milton and the Knights to manifest an upset on New Year's Day in front of a sold-out Mercedes-Benz Stadium, but I believe in the team and know it can be done. Just ask Baylor.
10. Where will Auburn and UCF be at this point next season?
At this point next season, UCF may very well be back in a New Year's Six Bowl game. With Frost on the way out and Josh Heupel and his staff, which includes defensive mastermind Randy Shannon, on the way in, Knights will be a team to watch for in 2018. Did I mention McKenzie Milton is only a sophomore? He will certainly be a dark horse candidate for the Heisman Trophy. Adrian Killins, Otis Anderson, Marlon Williams and Gabe Davis are all returning as well. The number one scoring offense in 2017 will be back in the kitchen cooking up potentially another American Athletic Conference Championship.
Undoubtedly, Auburn will be competitive once again in the SEC next season. The only reason the Tigers aren't playing in the College Football Playoff for a shot at a national title this year is because of their loss to Georgia in the SEC Championship. This time next season UCF and Auburn will likely have only a few losses on their resume between the two squads.