I told you in Week 1 that I would step it up this year. 13-4 is stepping it up, I'd say. Some of the big boys had big games last week. Now the other big boys have big games this week. It's a good one.
Last week: 13-4 (76.5%)
This week: 12-2 (86.0%)
Overall: 25-6 (81.0%)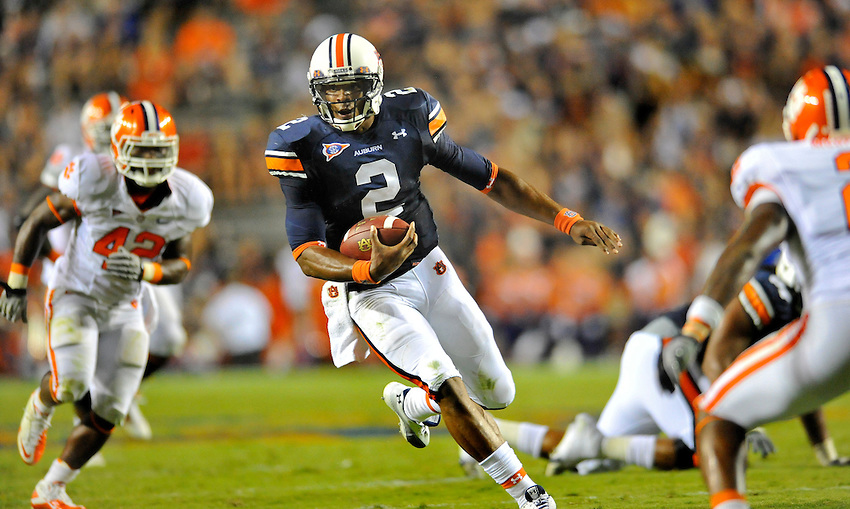 9/9
Eastern Kentucky at Kentucky – Who remembers the near upset from this storied rivalry in 2015? No one? Y'all don't remember these two going to overtime two years ago. Yeah, they did. Kentucky won then, and they'll win bigger now.
Kentucky 34, Eastern Kentucky 10
Kentucky 27, Eastern Kentucky 16 – SUCCESS!
UT-Martin at Ole Miss – It's the 2nd greatest uniforms in sports versus the beginning of the end Rebels. They'll feast for a while as they rack up points on these lower teams, but that soon will end. Oh yes, it will end.
Ole Miss 48, UT-Martin 13
Ole Miss 45, UT-Martin 23 – SUCCESS!
Northern Colorado at Florida – Florida returns half their team from suspension after looking completely inept against Michigan a week ago. Will they be back to form? I don't know. They're playing something called Northern Colorado.
Florida 51, Northern Colorado 7 – Game cancelled
Fresno State at Alabama – Fresno State was pretty good for a while, but over the last two seasons they've won a combined 4 games. Now last week they beat a team 66-0, but that team's name is Incarnate Word. Not sure if it's a good idea to beat a Catholic school by a score that close to 666, but it can't end well. As their punishment they get to play a guy with a name that closely resembles, well, you know.
Alabama 38, Fresno State 0
Alabama 41, Fresno State 10 – SUCCESS!
TCU at Arkansas – TCU is not the team they once were, but they are ranked in the Top 25 this week. Arkansas should not be that great this year, but I just have a feeling they'll beat the Horned Frogs in Fayetteville. Arkansas is always good for a win that seems big at the time to garner hype, scare some people, and then lose 6 games. This fits perfectly with their typical seasonal flow.
Arkansas 28, TCU 23
TCU 28, Arkansas 7 – FAILURE
Indiana State at Tennessee – The Volunteers won a game they shouldn't have last week, now they get a cupcake to go 2-0 and look better than they are. Where have I heard this before?
Tennessee 38, Indiana State 17
Tennessee 42, Indiana State 7 – SUCCESS!
Alabama A&M at Vanderbilt – The Bulldogs travel an hour up 65 to face your typical Vanderbilt football team, and they just lost to a brand new football team by a lot. This won't end well for them.
Vanderbilt 38, Alabama A&M 14
Vanderbilt 42, Alabama A&M 0 – SUCCESS!
South Carolina at Missouri – Both teams should top out around 4th in the SEC East, but both teams somewhat impressed in Week 1. I mean, giving up 43 to Missouri State isn't impressive, but scoring 72 is. And beating NC State seems to be impressive at the moment. I still don't trust anything about Missouri.
South Carolina 45, Missouri 28
South Carolina 31, Missouri 13 – SUCCESS!
Nicholls at Texas A&M – What do you need after collapsing with a 34 point lead? You need Nicholls. But they almost beat Georgia last year… hmm… nah.
Texas A&M 41, Nicholls 17
Texas A&M 24, Nicholls 14 – SUCCESS!
Georgia at Notre Dame – This game would be a whole lot different if Jacob Eason wasn't hurt. It's a very cool matchup by the names, but Georgia starting a freshman quarterback at a shell of what Notre Dame should be? Not so much. Georgia is still much bigger, stronger, and faster. They'll win a close one.
Georgia 21, Notre Dame 17
Georgia 20, Notre Dame 19 – SUCCESS!
Mississippi State at Louisiana Tech – Mississippi State wants to be a big dog, but then they schedule games at Louisiana Tech. In previous years, they've gone to South Alabama and Southern Miss. Be SEC please.
Mississippi State 31, Louisiana Tech 9
Mississippi State 57, Louisiana Tech 21 – SUCCESS!
Chattanooga at LSU – The Mocs hung with Jacksonville State two weeks ago, now they go to Baton Rouge and play the team Jacksonville State stole their helmet design from. Inception, man.
LSU 42, Chattanooga 7
LSU 45, Chattanooga 10 – SUCCESS!
Auburn at Clemson – Check back tomorrow for my prediction in the game preview, but SPOILER ALERT: taking the training wheels off.
Auburn 27, Clemson 17
Clemson 14, Auburn 6 – FAILURE
Other Games of Note
Oklahoma at Ohio State – I'll be honest. Pretty big matchup here. Both teams should be very good and should win their respective conferences. Ohio State has played in a "hostile" environment last week, but ended up blowing out Indiana. Oklahoma has the team that could make this one interesting. They will.
Oklahoma 27, Ohio State 21
Oklahoma 31, Ohio State 16 – SUCCESS!
Stanford at USC – Did Stanford get back from Australia yet? After beating Rice 62-7, I may have just stayed there. USC didn't absolutely obliterate Western Michigan last week, so I'm not fully sold yet. I'll go with the home team.
USC 20, Stanford 10
USC 42, Stanford 24 – SUCCESS!
Now that you know who will win, head on over to the 2017 War Blogle Pick 'em and get your picks in. There will be weekly prizes and an overall winner at the end of the season. It's easy. Do it.