Let's be honest, it was a little more fun not starting the season against Louisville in the Georgia Dome, and not hosting the eventual nation champion in Week 1.
I've come to enjoy easing into a season, and I bet the team does, too. Those big bowl-like games are kind of dumb to me. They are fodder for the offseason, and by midseason they mean nothing. That said, Auburn opens with Washington in Atlanta next year and Oregon in Arlington the next. But whatever.
Georgia Southern may not be the greatest tuneup for Auburn's season given their triple option attack, but Auburn could not have defended them much better. The Eagles did not have a first down until just before halftime, and it occurred on a facemask penalty.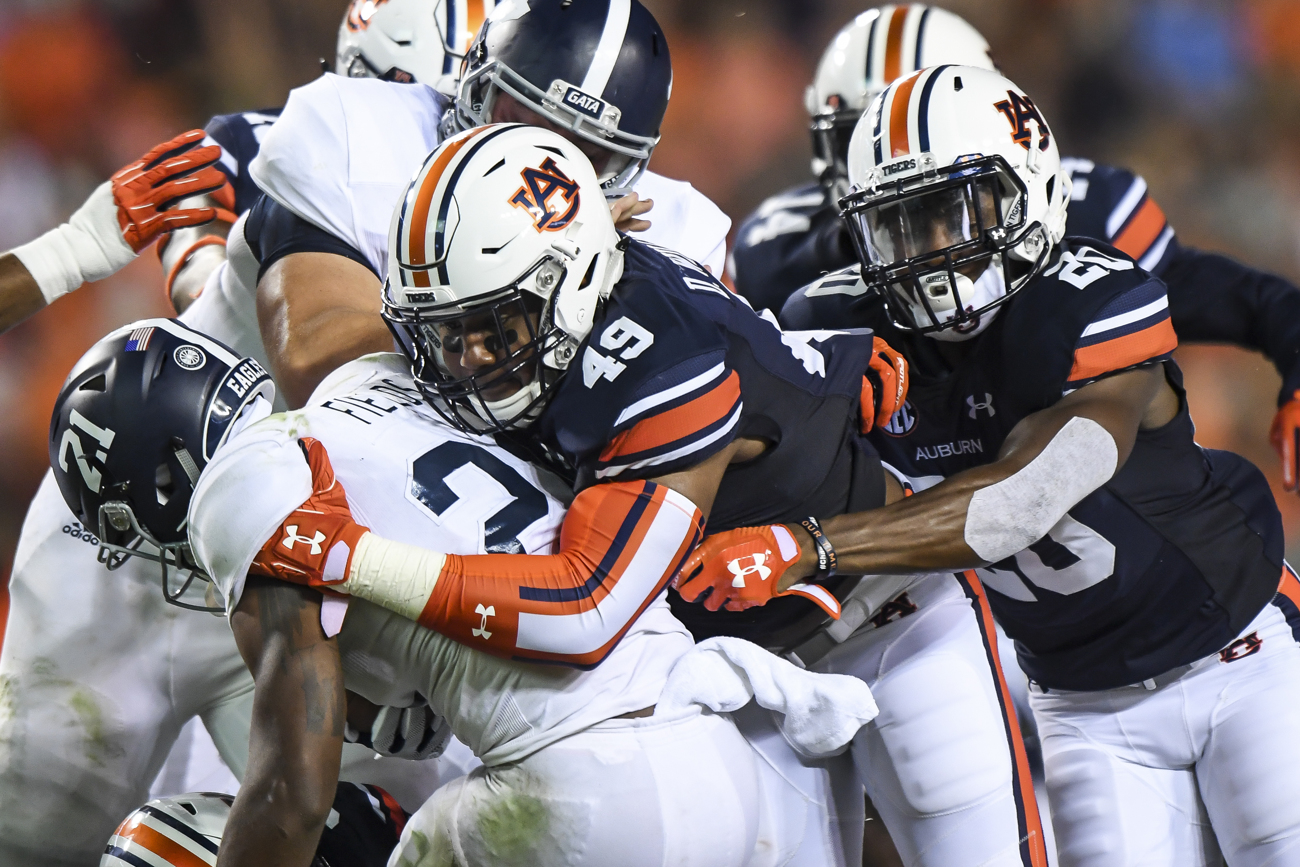 Auburn's defensive line was in the backfield all night. The linebackers were flying from sideline to sideline. The secondary, while they weren't tested too often, did everything they needed to do. Plus, Daniel Thomas recorded his 3rd interception in Auburn's last three games (2 in last year's Iron Bowl) on the final play.
I don't know if Auburn's defensive performance will translate to more of a pass-happy opponent or a Power 5 offensive line, but there's a difference in just playing well against a lower opponent and being historically dominant.
I mean, just look at these notes:
Auburn held Georgia Southern to 78 total yards of offense, the fewest by an Auburn opponent since Ole Miss had 9 total yards on Oct. 5, 1985.
It tied the fewest yards by an opponent in a season-opener since UT-Chattanooga had 78 yards in 1967.
With 8 passing yards, it was the fewest by an Auburn opponent since Vanderbilt had 7 yards passing in 1993.
It was the first time an opponent was held under 100 yards since Ball State had 92 yards in 2001.
Georgia Southern was held without a third-down conversion (0-15); last time for Auburn to accomplish that feat was 2014 vs. LSU (0-13).
Historically dominant. I don't care who you're playing.
For Auburn's offense, everybody was there to see the shiny new toy. No, I'm not talking about the DJ in the pressbox or the Allstate field goal net in the North endzone. I'm talking about Jarrett Stidham. Duh.
It didn't take long for him to show what he can do and what made him highly coveted. It also didn't take long for us to remember that he hasn't played in about 18 months.
After some really nice passes, he tried to force one across the middle which was subsequently intercepted on a nice play by the defender. Of course, Auburn's defense didn't let them score despite the short field, but it seemed like for the next few quarters, Stidham was a little skittish in the pocket. He started waiting until receivers were absolutely open instead of throwing them open.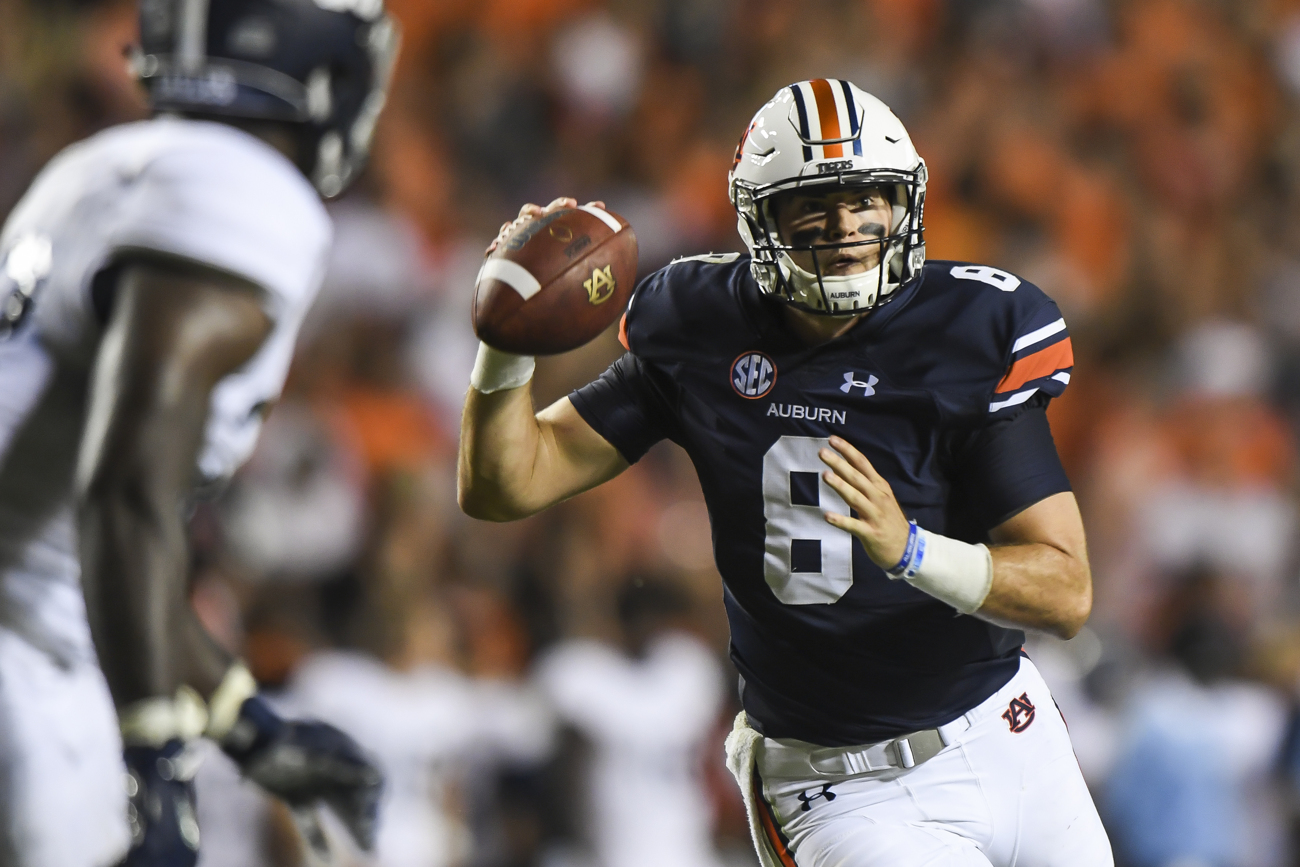 So he started holding on to the ball, which then caused him to use his feet a little more. That wasn't a bad thing. It ended up scoring Auburn a touchdown. It wasn't until he started to find Will Hastings streaking across the field that he started to get a little confidence back. Nothing showed this more than the absolute DIME that he threw to Hastings in the corner of the endzone.
You may notice that I've only mentioned Will Hastings out of Auburn's deep receiving corps. Sure, Sal Cannella caught a few, but dropped one right in his hands. Darius Slayton had a fumble. Nate Craig-Myers was non-existent. Kyle Davis was suspended.
Regardless, once Jarrett showed that there was some rust, and once Auburn's running backs showed that they were all that were needed for the night, the game plan wasn't really worried slinging the ball around the yard. Still, though, the receivers will need to be there a little more.
All I'll say about Daniel Carlson's two missed field goals is that it's actually probably a good thing that they happened in game 1. You'll remember last year that he had a streak going late into the season and the pressure mounted and mounted and once he finally missed one, it felt like the world was ending. He missed two field goals and they weren't needed. Who cares? It won't happen again.
All in all, the game was probably a little better for the offense in terms of preparation, but there's not too much to complain about. Stidham will need to remain confident that he can sling it, but he knows that. The receivers will need to get more separation to help Stidham with that, but Kodi Burns knows that.
As long as the running backs will stop pulling things while running unhindered towards the North end zone, Auburn will be just fine there. As long as the defense can keep up the intensity they showed this week, Auburn will be just fine there.
Now it's time for big boy football. It's time to show the nation that Auburn is for real this season, and as the team motto says this season, it's "Our Time."