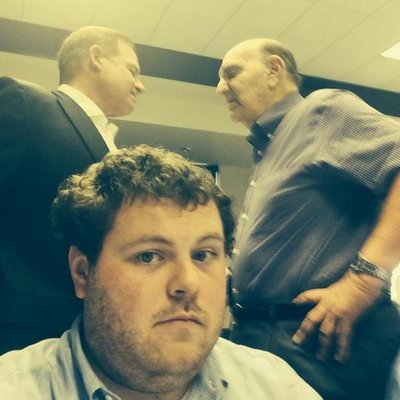 James Moran (@SmartestMoran) is the associate editor of Tiger Rag Magazine in Baton Rouge, where he covers the LSU football and baseball beats. This is his third appearance on the 'Blogle, and he's understandably high on LSU football right now, but won't deny the use of chicken blood in voodoo-related sacrifices on the campus of Louisiana State University.

1. What do LSU fans think of Auburn football right now?
I think people consider Auburn to be the toughest game on the schedule so far, despite the fact that Auburn lost at Florida. Particularly the perception is that Auburn is the strongest team LSU has faced along the offensive and defensive lines, and that the team is battle tested from its early season schedule.
2. Is this the most confident the LSU fanbase as ever been? Any doubts?
It's certainly the most confident they've been going back to the 2011 season when LSU was blowing the doors off everyone who isn't Alabama. There is supreme confidence in Joe Burrow and the offense. There is some doubt in the defense, however, as that unit has been shaky at times.
3. Is Ed Oregon a good football coach or has he assembled a staff that's just working right now?
Part of the head coach's job is to hire the best staff possible, and I think Ed Orgeron has certainly done that. But I do think he deserves more credit than he's gotten in some circles. For someone with a reputation as being a cave man coach, Orgeron has been as extremely progressive in terms of bringing in people to modernize the offense and add more analytics to the staff's decision making progress. Motivation and recruiting are still his bread and butter, but Orgeron has become a complete coach.
4. Which two unheralded LSU Tigers should Auburn fans look out for and why?
I'd say Rashard Lawrence and Glen Logan, the starting defensive ends. They're not necessarily devastating pass rushers (K'Lavon Chaisson and the speed rush package are more disruptive in that regard) but they might be the key to the game in terms of combating the Auburn running game. They've looked increasingly like themselves the past couple weeks coming back from ankle injuries suffered back in the Texas game.
5. Which two Auburn Tigers worry you the most and why?
You absolutely have to start with Derrick Brown. He's a grown man and maybe one of my five favorite football players to watch in the nation. The interior of LSU's offensive line has been awfully good this year, but blocking Brown will be a different beast altogether.
I'll also go with Anthony Schwartz because anybody who is that fast must be accounted for on every offensive play.
6. Where do you see each team having an advantage over other?
I think LSU has an advantage in terms of receivers against defensive backs on both sides of the ball. LSU's wide receivers are the best in the country this side of Alabama, I think, and while Auburn's secondary seems legit, the return of Terrace Marshall to go along with Justin Jefferson and Ja'Marr Chase makes them almost impossible to cover. Flipped the other way, the way to attack the LSU defense is from the slot and down the middle of the field. Auburn is a downfield passing game that operates outside the hash marks, and that means going after Derek Stingley Jr. and Kristian Fulton. That's not easy to do.
I think Auburn has the advantage over LSU at the point of attack. That defensive front, led by Derrick Brown, is going to be a nightmare for LSU's offensive line to block. The LSU running game has been more productive in recent weeks, but I don't see them being able to get much going against Auburn. The ultimate question will be if they're also able to get pressure on Joe Burrow, which would give the secondary a much better chance to slow down those receivers.
7. Is chicken blood still the preferred sacrificial liquid before all LSU-Auburn games in Baton Rouge?
All I know is you should never ask what's cooking in pots in Louisiana if you know what is good for you.
8. What's your score prediction and analysis for this game?
I do think LSU wins this game at home, but I'd take Auburn with the 11.5 points. Game probably ends up somewhere in the 31-24 range if I had to make a guess.
9. Where will Auburn and LSU end up this season?
LSU seems headed for the College Football Playoff at this point, particularly with the Tua injury situation looming over that game in two weeks. I'd think Auburn makes it into a New Year's Six Bowl game as a strong two- or three-loss team.
10. Is Joe Burrow planning on showing any other body parts this weekend? Just need to warn the kids.
I wouldn't think so, but keep that remote handy. There has been some talk this week of investing in a better belt.