It's a been a while — three years almost to the date (my daily BlogleSpots have sorta put this thing on life support) — but at least for this one special week, the WarBlogle.com Podcast is back. And it's a good one. Since there were some changes at al.com this year in regards to football podcasts, it meant that the future of ever-popular Iron Bowl podcast was in question.
Well, I wasn't going to let that stop me. So I brought the band back together. That's right. We have moderator and subdued Bam, Matt Scalici. We have the Auburn graduate/half-Bam lib, Blake Ells. And we have the King Bam of the Internet, Hunter L. Johnson.
It's exactly what it's always been: a beatdown of mass proportions.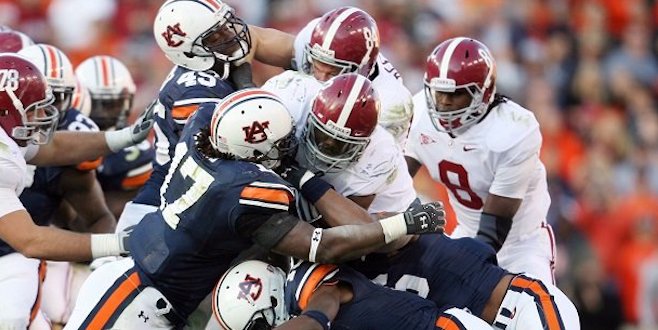 The podcast can be heard on three different platforms:
1. On an iPhone, download the Podcasts app, and then subscribe to the podcast on iTunes. If you're an Android bro, and know how to subscribe to an RSS feed of podcasts, use this: https://warblogle.com/audio/podcasts/WarBloglePodcast.xml.
2. On an iPhone, download the War Eagle Sports app (WarEagleSportsRadio.com). This app is part of the VSporto internet radio network, and includes multiple shows from the Auburn sports community. You can listen to a live stream of the most up to date podcasts or listen to each on demand. Working on this.
3. Listen right here within the friendly confines of the Blogle.
[audio:https://warblogle.com/audio/podcasts/BloglePodcast_11.22.16.mp3|titles=War Blogle Podcast #7: Iron Bowl, Basketball, and Thanksgiving Sides]
Download the podcast here (right-click to save).
If you have any questions or topics that you want my next guest and I to discuss next week, leave them in comments.