Unlike Auburn's bad luck performance in their ungodly 11 am game, my predictions last week were pretty strong. If not for the upset that Auburn needed, it would've been close to perfection.
Last week: 8-2 (80.0%)
This week: 4-5 (44.4%)
Overall: 76-34 (69.1%)
This week it's all SEC West vs. SEC West and SEC East vs. SEC East, which will do nothing but add losses to SEC West teams' records that would never come from an SEC East team.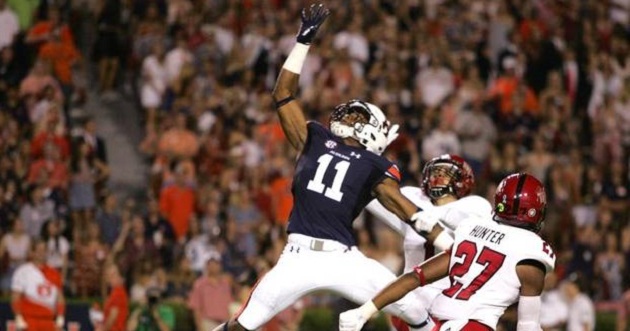 11/12
Mississippi State at Alabama – The Maroons got a little swagger after handling a mostly Knight-less Texas A&M last week. Alabama beat LSU by 10. Meh. You know what's going to happen.
Alabama 38, Mississippi State 14
Alabama 51, Mississippi State 3 – SUCCESS!
South Carolina at Florida – The Gators finally met a decent team last week and it went exactly as expected. They lost to a middle of the road Arkansas team by three touchdowns. Now they get to play a Gamecock team with a little bit of life. It probably won't be enough life, though.
Florida 17, South Carolina 13
Florida 20, South Carolina 7 – SUCCESS!
Kentucky at Tennessee – Tennessee finally hits their Amen Corner. It's the Wildcats, Missouri, and the the Commodores. How do they do it every year? Kentucky ain't bad, but Tennessee ain't that bad.
Tennessee 31, Kentucky 20
Tennessee 49, Kentucky 36 – SUCCESS!
Vanderbilt at Missouri – The bottom two teams in the SEC face off to determine the worst team in the SEC. It's not even close.
Vanderbilt 34, Missouri 10
Missouri 26, Vanderbilt 17 – FAILURE
LSU at Arkansas – LSU always seems to fall off after losing Alabama, and like always, Arkansas surges at the end of the season. Coach O no mo' after this one.
Arkansas 28, LSU 20
LSU 38, Arkansas 10 – FAILURE
Ole Miss at Texas A&M – Both teams just lost their starting quarterbacks for the rest of the season. Both teams are literally nothing without those quarterbacks. A&M is actually worse at home somehow, but they are still playing for a spot in the SEC championship game, sorta. Ole Miss has nothing.
Texas A&M 41, Ole Miss 28
Ole Miss 29, Texas A&M 28 – FAILURE
Georgia at Auburn – Check back tomorrow for my prediction in the game preview, but SPOILER ALERT: a needed road beatdown.
Auburn 34, Georgia 13
Georgia 13, Auburn 7 – FAILURE
Other Games of Note
Baylor at Oklahoma – If Auburn beats Georgia, but loses to Alabama, they'll probably play in the Sugar Bowl against Oklahoma. Interesting. Oh, Baylor is now getting hit by karma. Sooners big.
Oklahoma 44, Baylor 17
Oklahoma 45, Baylor 24 – SUCCESS!
USC at Washington – This is about the best chance we have to see a Washington loss. Too bad USC is not cheating like they used to. The Huskies will win.
Washington 49, USC 24
USC 26, Washington 13 – FAILURE
Now that you know who will win, head on over to the 2016 War Blogle Pick 'em and get your picks in. There will be weekly prizes and and overall winner at the end of the season. It's easy. Do it.