29. Auburn 24 vs. Georgia 6 – Nov. 13, 2004
Note: This game was #28 in the 2010 edition of this list. The 55-0 win over Pacific (1989) was #29.

How I Remember It: There are lots of plays that stick out in my mind from this game. I remember Junior Rosegreen nearly decapitating Reggie Brown. I remember Cadillac throwing a touchdown pass to Anthony Mix. I remember David Pollack blocking a punt, Will Herring picking it up, and pump-faking before getting tackled. However, the number one thing that I remember is how Auburn completely dominated Georgia from start to finish.
ESPN's College Gameday was on campus because this should have been one of the best games of the season. It was the first time Auburn and Georgia had played while both were ranked in the top 10 (AU-#3, UGA-#5). Auburn was undefeated and Georgia had one loss.
One thing I don't remember about this game is being worried…at all…not once, which is a true sign of just how good Auburn was in 2004.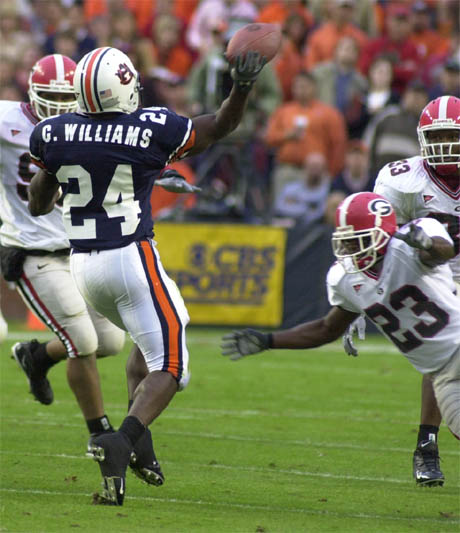 What Really Happened: Auburn drove down the field on their first possession, ending the drive with a 1-yard option pitch from Jason Campbell, who was halfway to the ground with a Georgia defender hanging on to him, to Cadillac for a touchdown.
In the 2nd quarter, as I remembered, Cadillac took another pitch to the right, but this time he threw it to a wide-open Anthony Mix for the score. That's about when it became apparent that Auburn was good enough to play around and still dominate a one-loss Georgia.
Ronnie Brown scored on a 15-yard pass early in the second half, a few moments before the aforementioned near-decapitation. Rosegreen's huge hit caused Brown to fumble, which was recovered by Herring, ending Georgia's only real threat to get back in the game.
Georgia scored a meaningless touchdown, with a failed 2-point conversion, to ruin the shutout late in the 4th quarter in about the only negative of the day for Auburn.
Fun Facts: The Georgia loss was only the second for quarterback David Greene in seventeen games at an opponent's stadium. After the win, Auburn moved up to #2 in the AP poll, tied with Oklahoma.
Why did I pick this game? I'll be honest, this game almost missed the cut. The ho-hum outcome, caused by Auburn's dominance, is why this one just barely made the list. However, the dominance is, in fact, why it did make the list. Auburn hasn't beat down a top-10 opponent like it did Georgia in any other game at Jordan-Hare that I can remember.
Play of the Game: Cadillac's pass? Rosegreen's hit? Let's say both.
Player of the Game: Cadillac had one rushing touchdown and one passing touchdown, so for the second time in three days, Caddy takes the honor.
Quote of the Game: "When coach called that play [halfback pass], I said, 'Mix, touchdown. Let's get ready to celebrate.'" – Carnell Williams
National stories: ESPN | Sports Illustrated
You can view the rest of the 2015 edition of this list here.