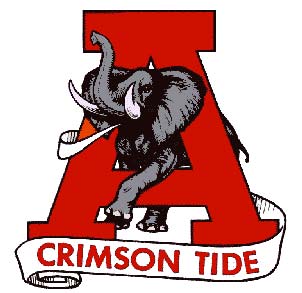 The Alabama Crimson Tide will roll into Jordan-Hare Stadium this Saturday afternoon boasting a 10-1 record. Their one loss, of course, came to Ole Miss way back in September on the same day that Auburn lost at LSU.
The Auburn Tigers will come in with a disappointing 6-5 record featuring wins that were nearly terrible losses, many one touchdown losses, and a surprising win or two. Needless to say, Alabama has had the better season.
Does that mean they will win the Iron Bowl this Saturday? Not necessarily, and you wouldn't expect me to say anything different.
Auburn has had many, many reasons that things haven't gone as planned this season. Some of those things are gone, some of those things are a little better, and some of those things are back and making things better. You should be able to figure out what those three things are, but that's for the postseason review. Those three things have been in their current state for the last few weeks, and won't be some huge surprise for this game. They're just why we are where we are.
So let me give you the reasons and ways that Auburn can beat Alabama this Saturday.
1. Alabama is good, but they ain't THAT good. After Alabama lost to Ole Miss, the hype surrounding the Tide took a major hit. There were questions about Nick Saban's squad before the season, and a lot of those questions seemed to be answered in a game where the Alabama defense gave up 43 points (after giving up 44 points in the last SEC game before that – 2014 Iron Bowl). Jacob Coker didn't seem to be anything special and the offense, while scoring 37 points, was somewhat meh.
After that loss, Alabama hovered around #10 in the polls for weeks. That was reason enough to know the nation wasn't viewing Alabama the same as they had in recent years. But as the weeks rolled on, other teams started losing, meaning Alabama moved up in the polls. But another team in the SEC was already up there. That team was LSU, and their running back was Leonard Fournette. It seemed as though Alabama and LSU were poised for another SUPER BOWL TO END ALL WORLD HUNGER: PART XII.
Before that, though, Alabama had to host their biggest rival, Tennessee. The Volunteers were 3-3 at that point, but the rivalry must be really big or something because Alabama needed a last-minute touchdown to score 19 points and win the game. Is that a great team?
Quickly back to LSU, who had built their hype on beating a downtrodden Auburn (at home) in their worst game of the season and a one touchdown win (also at home) against what is turning out to be the worst SEC East Champion of all time, Florida. That was it. We were led to believe LSU was elite because of that.
So then Alabama beat LSU and it immediately meant BAMA'S BACK BABY! Wait, didn't they lose to Ole Miss, who later lost to Memphis? Didn't they barely beat Tennessee? And now hasn't LSU lost two more games by deficits larger than that of the Alabama game?
Why is Alabama all of a sudden elite again? Is it because they have the best record in the SEC? I think this year has proven that literally anybody can beat anybody in the SEC. Your SEC East champion nearly lost to Kentucky and Vanderbilt. Five-loss Arkansas beat LSU by 17. Arkansas beat Ole Miss in OT. Ole Miss beat LSU by 21. This year is weird, and being the best team doesn't mean you are a great team.
Again, Alabama is good, but I'm not sure why beating LSU all of a sudden vaulted them back to the top of the mountain, especially since we've learned what LSU really was.
2. Gus Malzahn knows how to score on Nick Saban. As a head coach, Gus Malzahn is 1-1 against Nick Saban. You know what the one win was, but some of you may have forgotten that the one loss included Auburn scoring 44 points on the Tide last season. Malzahn has proven, and really most hurry-up teams have proven to be Nick Saban's Achilles' heel. Saban boasts great stats against teams he's built to stop like LSU, Georgia, and maybe Arkansas. But he's given up points to Auburn and Texas A&M. Even Texas A&M at their worst still outscored Alabama's offense in their matchup a few weeks back.
It's weird, but even though Jeremy has started the last three games, ever since Sean White took over, Auburn's offense has gotten better. You can forget that Georgia performance. That was a mixture of Jeremy Pruitt, who has proven he can hold Malzahn's offense in check, and Mark Richt's voodoo spell he has over Auburn. It was anomaly to what's been getting better for a month now. I know it was just Idaho, but all of the stuff that didn't click against Georgia was back the next week.
But speaking of back, if Auburn had half a defensive performance in last year's Iron Bowl, the game wouldn't have been close. About that…
3. Will Muschamp can keep Alabama from going off. Throwing out the number of points scored by Idaho because most of the 2nd half was played by walk-ons, since the return of Carl Lawson, the Auburn starting defense is giving up around 16 points a game. That's a major improvement. But even I'm not homer enough to pretend that Alabama won't beat that average. So let's say they score 24. If Gus Malzahn's offense can score like it's been able to against Alabama the last two seasons, I think they'll be able to beat 24.
Will Muschamp is familiar with Nick Saban. Saban hired him at two different jobs. That only helps Malzahn prepare for a defense he's already proven he can beat. Now I know Auburn's offense is nothing like it was the last two seasons, but the better offense (2013) scored less than last year's offense, and that offense looked like a new team once they were lined up across an Alabama defense. Maybe it will click again this year.
4. It's in Jordan-Hare. Besides it being the Iron Bowl, this is by far the biggest game at Auburn this year. Auburn has had an atrocious home schedule this season, with multiple games at 11 am, including the Deep South's Oldest Rivalry. And while 2:30 isn't a night game, by the time the 4th quarter gets started, Jordan-Hare will be under the cover of night. If the game is close at all, the place will be electric.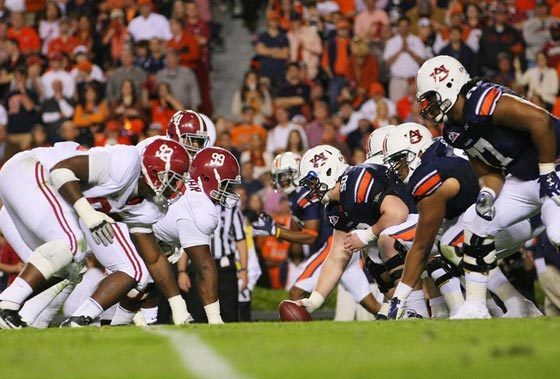 Auburn fans know that this one game can save everything. It's not about a championship. It's about being Auburn. It's about proving everybody wrong. It's about beating Alabama.
If Auburn can make some stops in the 1st quarter and get their offense in the endzone before Alabama's does, the Tigers will have a shot. The crowd will be on fire, and Cam will be Dabbing on the sideline.
This talented team that's had too many things not go their way, this team that has four of five losses by a touchdown, this team that knows they are better than what anybody outside of Auburn thinks, will believe they can beat Alabama.
I know they believe it right now. I believe it right now. Anything can happen in Jordan-Hare. Just ask Chris Davis. Just ask Ricardo Louis. Just ask Patrick Nix. Just ask Nick Saban.
Auburn 27, Alabama 24