Any optimism from me going into the Arkansas game is always very reserved. I may have told you that Arkansas only had two wins on the season in my game preview, but I also told you that their four losses were against decent or very good teams.
I also told you that it didn't matter if Auburn hadn't lost a game in 10 years and Arkansas hadn't won a game since Bobby Petrino fell off his motorcycle because the Razorbacks almost always plays Auburn close. And they'll usually do it in the most embarrassing of ways.
That's exactly how it appeared the day would go after Arkansas went up 14-0 very quickly in last Saturday's early game. The first drive was nearly flawless, which was followed by Auburn's attempt at breaking the world record for most dropped passes thrown directly at the hands. After a set of punts by both teams, the Razorbacks took the ball down the field with very little effort again. It was not good. Oh, and did I say there were a few dropped passes?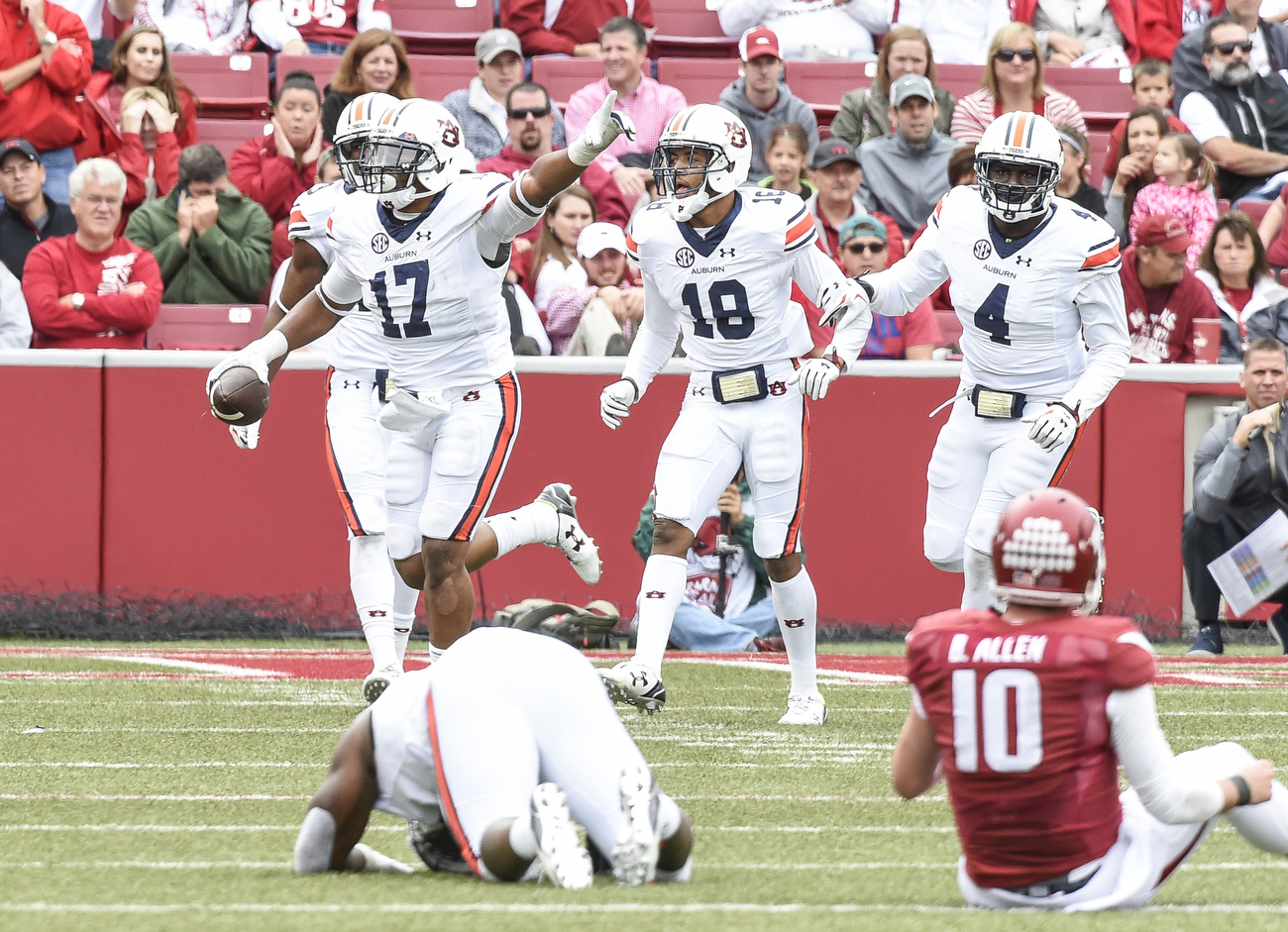 Who knew that it would take a pass that was not dropped by none other than linebacker Kris Frost to spark the Tigers' comeback. Just before the halftime, the offense started to click. It clicked so well, with a mixture of strong runs by Peyton Barber, short passes, and some excellent wildcatting by Kerryon Barber, that the Tigers drove 96 yards to cut the deficit to one touchdown right before halftime.
It was the general consensus that the defense played terribly in the 1st half, but if you remember what I just said… Auburn scored one touchdown right before halftime and the deficit was one touchdown. Yes, the two scoring drives by the Razorbacks were with ease for the most part, but the other three drives ended in punts and an interception. That's actually on the positive side of defensive things.
After the half, Auburn took the opening drive and scored. It was tied quickly and Auburn was in control. After some back and forth, with much better play from the offense including deep passes to receivers like Jason Smith, it appeared that Arkansas was going to slowly drive down the field and score a touchdown or a field goal as time expired.
As they've been known to do, the Auburn defense made a needed a stop late in the game to force the Hawgs to kick a field goal. They made it, giving Auburn less than a minute to make their own or go home.
After some typical jittery plays in a one minute drill, Sean White and Ricardo connected for two of the best catches (probably due to not great throws) that I have seen. All of the drops from Ricardo in the 1st half were forgiven as soon as Daniel Carlson made the field goal to send the game into overtime.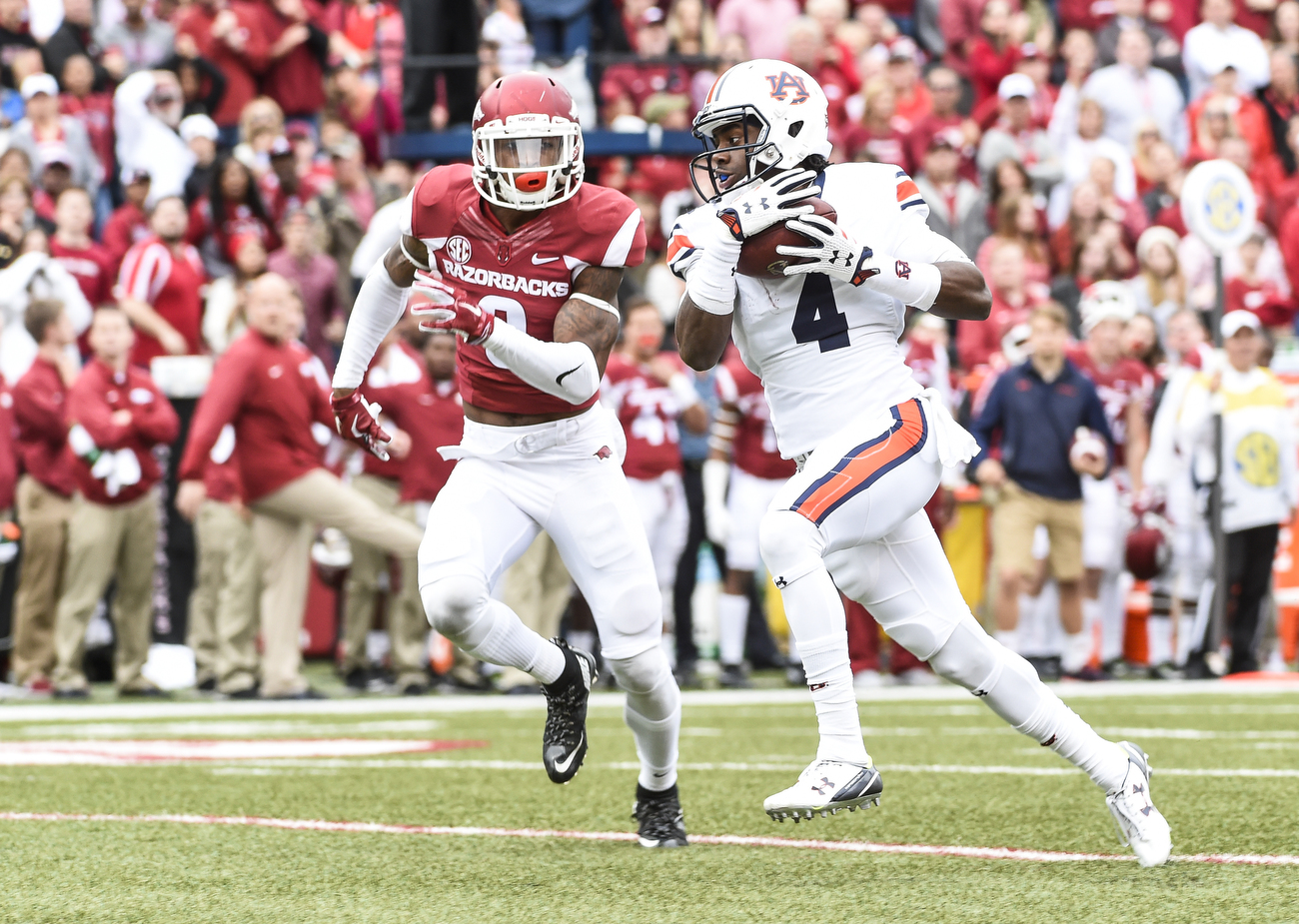 After Auburn scored in the first overtime session running the same play three times in a row, I knew it was over. When Arkansas was down to a 4th down inside the 10, I knew it was over. When Arkansas completed a pass to tie it up, it wasn't over.
When Arkansas scored quickly in the 2nd overtime, I knew it was over. When Auburn scored and then scored in the third overtime, including an easy 2-point conversion, I knew it was over. When Arkansas scored in one play, including an easy 2-point conversion. It wasn't over, but I knew it was over.
It was over. Auburn threw it in the endzone twice. One would've taken a great catch that was an inch from being made. One was broken up by good defense. And the final pass of the game was dropped/broken up as well. It was over.
Most people thought the game was over in the 1st quarter. Auburn turned it on and played good enough to win, but the drops were too much to overcome. Even with the atrocious start, Auburn was good enough to come back and control the game for the most part.
Once it got into multiple overtimes, someone had to lose, and it happened to be Auburn. I don't think any of the problems from the game will carry over. Auburn will just need to make sure the feeling of losing a game like that doesn't carry over. After that happened last year with the Texas A&M, I don't think that will happen.
This team feels a little more mature beyond their years, especially with the play of Sean White and Kerryon Johnson, and they'll know that a loss like that is sometimes just football and nothing else.
They are getting better every week, and there isn't a game left on the schedule that isn't winnable. On to Ole Miss.