The final week of the regular season play is over for most conferences. Real conferences will be playing their conference games this weekend. And since there aren't that many, week 14 was the last official week of the regular season 2013 War Blogle Pick 'em.
With 7 of 12 (58.3%) correct picks against the spread, The WarBlogler has taken Week 14 of the War Blogle Pick 'em at PickOrPlay.com. Wait, what?! I won the last week of the pick 'em? HAHA! I got 7 out of 12 and won the with tiebreaker. Y'all are terrible. Or was this on purpose? Thanks guys!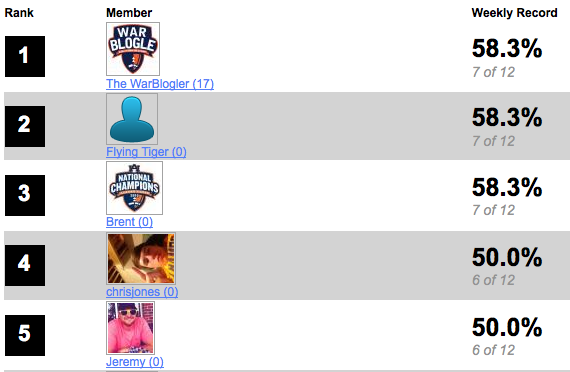 Even though the pick 'em is over, you can still follow my predictions each Thursday. I was 10-3 (not against the spread) last week, and with my stellar 7-5 record against the spread, I ended up at exactly 50% for the season. War Eagle.