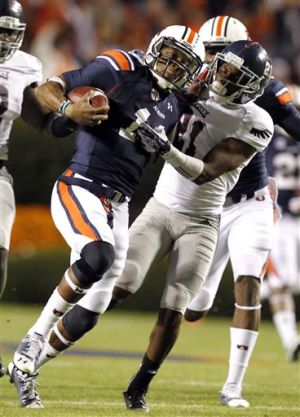 It was what is was supposed to be, like Western Carolina, a boring win. Given recent games of the last two seasons, boring wins are always welcome. I like seeing a crowd leave because it's 38-7 at halftime. I like not realizing that Kiehl Frazier played almost the entire 4th quarter at quarterback because I was too busy looking at stuff around the stadium. I like all of that.
The only slight negative of the game was Nick Marshall leaving early to a shoulder injury. He's fine, don't worry. Given the way the game was going, I had to point out to the entire section around me that he was hurt. It got a little real for a second, but then he ran off the field, and we were back to talking about plays from the Texas A&M game and how much Auburn will beat Alabama by this year. No really.
As I said in my game preview, I wanted this game to be just like Western Carolina. I knew it wouldn't be the exact same because Marshall would play some before Jeremy Johnson came in. It just so happened, though. that he had to come in because of Marshall's shoulder. He's fine, don't worry.
I also knew the game wouldn't be the exact same because of FAU's talent level being a little higher than Western Carolina's. That showed when the quarterback ran for a few yards and was able to outrun Auburn's 2nd string defense for a score a few minutes before halftime. From them on, the game was a blur to me.
You may have read me mention 100 times that this game was my 100th straight in Jordan-Hare Stadium. So after FAU scored their lone touchdown, I headed to section 1 and proceeded to attempt to take a picture of one play from every section. By halftime, I had gotten to section 10. By the end of the 3rd quarter, I had gotten to section 40 or so. I should have had plenty of time to get the two upper decks (32 sections) in the 4th quarter, right? Nope.
Gus, unknowing of my quest, told whoever was playing quarterback at the time to run the play clock dry, so I finished the West upper deck with about 2:30 left in the game, which didn't give me time to get to the East upper deck. Oh well, maybe in game 200.
I will put the 46 lower bowl pictures I got into some sort of sped-up montage so you can feel like you're watching the game in a full sprint around the stadium. You should also expect a bevy of common and very arbitrary stats from the 100 games I consecutively attended in the next day or so. Get ready.
Through September and October, Auburn lost one game. It was the first road game of a team still finding themselves in the toughest place to play with a pouring rain. It wouldn't happen today, but all we can worry about now is November. Four SEC games await. Two on the road and two at home. It starts Saturday in Fayetteville. I like bacon.