25. Auburn 29 vs. Georgia 26 – Nov. 11, 2000
Note: This game was #18 in the 2010 edition and #21 in the 2015 edition of the list.

How I Remember It: There isn't much more than the game winning QB sneak that I visually remember about this game. I do remember Auburn being down early and taking the lead in the 4th before Georgia kicked a field goal in the last few seconds to send it to overtime. I'm not positive, but I think Rudi had a pretty good game, and I know Ben Leard scored the game winner.
This was my first Georgia game as an Auburn student, and I wish I remembered more, but for some reason I don't.
What Really Happened: Georgia came into the game ranked #13 in the nation. Auburn was ranked 23rd. Both teams had 2 losses and were still in contention for their division title.
Georgia took a 13-3 lead into halftime as Damon Duval kicked a 48-yarder as the first half expired.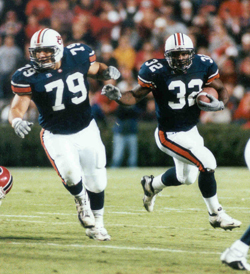 In the 2nd half, Auburn scored 20 unanswered points to take a 23-13 lead in the 4th quarter, but as remembered Georgia scored 10 points including a field goal with 40 seconds left in the game.
Georgia could only a muster a field goal in their offensive possession of overtime giving Auburn the chance to win it with a touchdown. Rudi had a few hard runs to get the Tigers down to the goal-line. Then Georgia native, Ben Leard, followed his offensive line into the endzone for the overtime win.
Fun Fact: The home team had lost the previous nine meetings of this series until the Tigers won this one at Jordan-Hare. This win also gave Auburn an undefeated season at home for the 2000 season.
Why did I pick this game? Both teams were ranked, both teams were playing to stay alive in the SEC Championship race, and both teams had comebacks to stay in the game. However, an overtime win over Georgia definitely has enough clout to get into the top 30 by itself. Spoiler alert! An overtime loss to Georgia could make the Top 30 as well.
Play of the Game: Ben Leard's QB sneak in overtime gave the Tigers a 29-26 victory over the rival Bulldogs.
Player of the Game: Rudi Johnson rushed for 152 yards in his final game at Jordan-Hare.
Quote of the Game: "I can't explain how good it feels to win this game or win, period. It means a lot to the team.  The emotion of the game for me was a great deal.  It wasn't a grudge match to me. I grew up loving Georgia.  I won't be able to surpass this." – Ben Leard
National Story and Box Score: USA Today
Full Game:
You can view the rest of the 2020 edition of this list here.