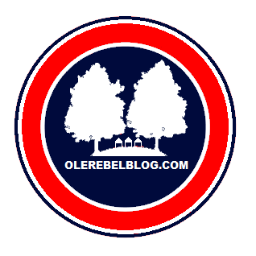 We have a first for the "Other Sideline" series this week. Dave Bevan of OleRebelBlog.com (@OleRebelBlog) actually ASKED to be the feautured guest. I know, I'm as surprised as you that someone wanted to do this thing. Dave is originally from the Delta of Mississippi, and has lived around the Oxford area at times. Now he resides somewhere in the hills of Alabama. He attended college in Alabama, and that's all he'll give away.


1. What's the first thing that comes to mind when an Ole Miss fan thinks of Auburn football right now?
I would have to say… Rebel fans see Auburn as similar to Ole Miss. Both programs are in a "re-building" stage. Both programs are getting well know for their offensive play.
2. Was the loss to Alabama last week a buzzkill for Ole Miss fans, or were most expecting it to happen?
It was. I think more so for the players (you can imagine how Bo Wallace feels). Everyone had high expectations going into the game. Some fans felt that they would beat Alabama by a few points. Others were expecting a loss, but a close game. No one expected a shutout.
3. What are your thoughts on the scandal with Ole Miss's former recruiting coordinator possibly stealing signals for Alabama during the game?
This was great. Our site was one of the first to cover the story. It instantly became a success. The article alone, exceeded 80,000 views in less than 24 hours, and linked through countless sport sites and forums.
It was really fun getting the Bammers all riled up over nothing. In groups, they swarmed with their torches and pitchforks, attacking our site.
Honestly, I never thought he did anything unlawful. If it was of true importance, I'm sure the NCAA would do their investigations. Or, maybe Saban has more power than we thought? I dunno.
Our coach showed great respect for Siskey on the matter. We intend to do the same now.
4. Who are two generally unknown Rebels that Auburn fans should worry about?
I'm going to go with freshmen, one on offense and one on defense.
Evan Engram is a very talented freshman tight end. It is a great change to see a tight end (on our side) who can cause mismatches and execute downfield receptions.
Tony Conner is, as expected, a fantastic safety. He really stood out in the Vanderbilt game, intercepting their first drive. He also showed a great performance in the Alabama game, with 7 tackles (one for a loss).
5. Name two past and two present Auburn Tigers that scare you and why?
Past: Of course, you have to mention Cam Newton. In that year y'all had him, he really put the fear in the entire SEC. The funny part about Newton's tenure was how bad he got under Alabama fans' skin. Bama fans always like to point the finger at other fan bases for making excuses for a loss. But, when you take them out of their "national title bubble", the rivers come pouring.
Then their is Bo Jackson, who puts Cam to shame. Bo, was an all around athlete, and that kind of talent does not come around often.
Present: I see Sammie Coates and Tre Mason putting up big numbers. Mason had a big game against LSU (2 TDs and 132 yards rushing). Coates is a definite concern on our relative weak secondary.
6. Where do you see each team having an advantage against the other?
For Ole Miss, it will be putting numbers on Auburn's defense (something they were prevented from doing last week). Auburn is giving up just as much yardage on defense, as they are putting up on offense. All of the factors have an atmosphere of producing a high scoring game, for both teams.
As for Auburn, as silly as it could sound, it is having the luxury of coming off a bye week and having home field advantage. Trust me, it would feel more comforting to have this game at home, coming off the beating we took last week.
This is our third straight away game. We are ready to go home.
7. Whatchall going with this week? The Rebels, the Black Bears, the Land Sharks, or the Dark Horses? Any new ones we don't know about yet?
Haha…Two-shay.
Well, if you want me to elaborate to your fan base on which each stand for, I'd be glad to (leaving out the Dark Horses).
Of course, everyone knows Colonel Reb was replaced by the Black Bear a few years back. There are still a lot of fans sensitive that their colonel was stripped from them, and won't embrace the new mascot. Then, you have some that are starting to become a fan of the (yes) Louisiana Black Bear. You will see that in more of the younger generations.
As far as, the Landsharks. It is not a term used for the whole team. It is used to describe our defense. The name came around in 2008 (the Houston Nutt years). It was created by the late Tony Fein. He described our defense as a squad hungry like sharks. Jerrell Powe and Fein would then throw up the signature fin gesture after making a big defensive play. It quickly grew amongst other players and the fans.
Afterwards, it became a silly term, out of retaliation of the mascot change. Now, it is used out of sure respect for Tony Fein, who passed away not long after his college career.
And yes, we allow Marshall to use the fin gesture from time to time. He's getting better at it. It went from a moose to a shark after some lessons. By the way, is he allowed back in town this year?
8. What's your score prediction for this game?
I would be really surprised if it is not a close and a high scoring game. Honestly, I could see this game being the first over time game in the SEC this season. So with that, I say the Rebels pull through with the win, 45-38 the final.
9. Where will Auburn and Ole Miss end up this season?
This season, I see Auburn doing much like Ole Miss did in 2012. Shocking everyone with where they came from, to now. I can see Auburn finishing the regular season 6-6 or maybe even 7-5. Which would make them bowl eligible. Should be no complaints there from the Auburn community, compared to last year.
For Ole Miss, our expectations are higher than last year. We want to see our team go 8-4, 9-3 would be remarkable. After the loss to Alabama, it's impossible to compete for the West. So, we will say maybe next year on that. But, if we go back to Birmingham again this year, it will be a big disappointment.
10. Have you ever made a Batman/Mr. Freeze pun. If so, why would you ever do that to your credibility?
Hahaha…we may have…[scratching head]…I may have to go back into my archives. I might find one with Hugh as Mr. Freeze. I'll get back with you on that.