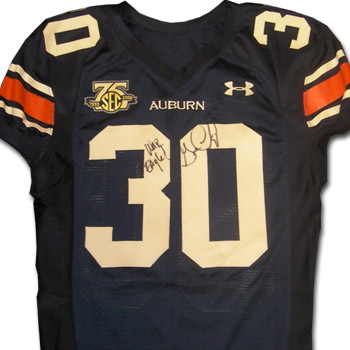 This coming Saturday, I will have completed thirty years of life on this great Earth. In these thirty years, I have witnessed many great sporting moments, but none are greater than those that involved the Auburn Tigers.
As you may or may not know, I love a countdown. Actually, I loathe others' countdowns because they are usually very wrong, but I love doing countdowns (proof). So for the next five days, I am going to count down through my top thirty Auburn moments of my thirty years (that's six a day for you liberal arts majors).
These moments may have come during a loss, and they may have ended up being insignificant in the long run, but at the time they made me lose my gourd. If they made me convulse in pleasure, dance like no one was watching, cause week-long hoarseness, or for whatever reason just stick out in my mind as a memory from childhood, they were up for this countdown. I also had to have seen them live in person or on TV, so that will nix some of the ones from my earlier years, which means there are no Bo moments. Side note: his first year at Auburn was my year of birth. Coincidence?
There were certain games that had many great moments, like the LSU interception game or the "Sack Brodie" game, but I'm keeping this countdown for singular plays that linger on in my now thirty-year-old brain. Oh, and they won't all be football moments, but obviously most will.  Let's get to it…
---
30. Ronnie Brown runs over Jason Allen (2004, 22 years old)
There were many awesome moments from the 34-10 win over #10 Tennessee in 2004, but this one definitely stuck out above the rest. Auburn was going into their first tough road game of the season and dominated the Vols from start to finish. This play pretty much summed up the entire game, and the entire 2004 season. I witnessed this play in person in my only trip to Knoxville so far.
---
29. Tim Carter's 100-yard kickoff return against LSU (2000, 18 years old)
It was my freshman year at Auburn, and LSU had just scored to pull within three in the 3rd quarter of a back-and-forth game. Then, the only person who could probably outrun Onterrio McCalebb, Mr. Tim Carter, kicked LSU in the teeth and told them to stay down. It seems like most of the longest and most historic runs in Auburn history came against LSU, as you will see more of in this countdown. I witnessed this play from the student section in Jordan-Hare Stadium.
---
28. Neiko Thorpe stops Northwestern's fake FG attempt (2010, 27 years old)
In terms of the way I acted when this happened, it could probably be up in the top five. Rarely have I screamed in tongues like I did when this terrible game was finally over. As you'll remember, Auburn beat Northwestern 65 times in this game, and once the referees had run out of reasons to keep the game going, Northwestern tried and failed at a fake FG in overtime. I watched this play from my recliner with six-month-old Baby Blogle in my lap.
---
27. Karlos Dansby's interception/lateral against North Carolina (2001, 19 years old)
I'll be honest, this would be much higher on the list if Auburn had won this game because it's one of the most athletic plays you'll ever see. I'm still not sure why Dansby wasn't called for a forward lateral (the flag was waved off). Maybe it's because he never had possession of the ball. I still can't believe we lost to North Carolina… in football. I witnessed this play in person at the Georgia Dome.
---
26. Junior Rosegreen's hit on Reggie Brown (2004, 22 years old)
Yes, Reggie Brown was technically defenseless, and yes, he did get hurt during the play (he was fine just after), but this completely legal hit will always be up there with one of my favorites. Like Ronnie's run over Jason Allen, this hit summed up the domination of Georgia in 2004 as well. I witnessed this play from the Auburn student section.
---
25. Kenny Irons's 74-yard touchdown run at LSU (2005, 23 years old)
Before the game, Irons jumped in front of an ESPN camera and stated that he would go for 200 yards that night. Well he did, plus a few more. This run was a good chunk of those, and for the time hushed the LSU crowd.
I remember almost falling down many rows of bleachers because of how retarded (I'm sorry, that's the only word that can be used) I acted during and after this run. I also remember a drunk frat guy accidentally shaking and spilling his water bottle all over some snotty old lady. I promptly reminded her that it was just water and that we had just scored a touchdown… in a nice way. Obviously, I witnessed this play from the Auburn section of Death Valley.
Check back tomorrow for numbers 19-24, and throughout the rest of the week for the remainder of the countdown. Oh, and you know, if you wanted to send me a birthday present, you could donate to the 'Blogle, or email me and I'll give you an address of where you can not send a bomb.