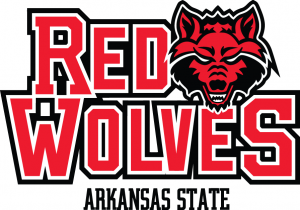 If Disney was looking for a story for their next heartwarming football movie, the Arkansas State situation could be a candidate. You've got the overachieving little guy who took a chance on a new coach from their home state. One year later, that coach leaves the to take a job at a bigger school. And as fate would have it, the schedule puts them up against each other in his first season at the big school. That's the only thing that really worries me about this game.
Sure, Arkansas State is not your typical cupcake team anymore. They've definitely become a formidable opponent, winning their conference and their first bowl game ever last season. They also happened to have four 100-yard rushers last week. Yes, the opponent was Arkansas Pine-Bluff, but I'm not even sure how you do that.
There's plenty to worry about with the Red Wolves, but you have to think that Malzahn wants this win just as much, if not more than they do. He knows there will be a little bit of the revenge factor coming from the other side, but he knows that a loss to a Sun Belt would have the natives as restless as they were they last season.
I'm sure the same can be said for the other four guys that came to Auburn from Arkansas State this season: Kodi Burns (GA), JB Grimes (OL), Rhett Lashlee (OC), and Ryan Russell (S&C). But as Kodi Burns told me on this week's podcast, Malzahn and the staff have been business as usual. That's exactly what you want to hear, but I'm sure the human aspect is going to be a factor.
Speaking of that, there are tons of other storylines and parallels with this game:
Obviously the whole Gus and other coaches thing.
Michael Dyer is not at either school now, but given that he played at both, it's worth mentioning.
The first game Cam Newton played as Auburn Tiger was against Arkansas State.
Cam's head coach at Blinn Junior College, Brad Franchione, attended Arkansas State.
Former Auburn QB, Barrett Trotter, briefly attended Arkansas State as a GA before taking a scouting job with the St. Louis Rams.
And this is where a few other weird parallels come in (thanks to reader Mark K.):
In their first year at Auburn, three of the last four coaches have taken on their former team. Terry Bowden – Samford (1993), Tommy Tuberville – Ole Miss (1999), Gus Malzahn – Arkansas State (2013).
In 1993 and 2013, the game with Bowden and Malzahn's former team both came in the 2nd game of the season.
In 1993 and 2013, both seasons were coming off an Alabama national championship and an Iron Bowl shutout.
Crazy, right?
When it really comes down to it, Disney storyline included, we're talking about the SEC and the Sun Belt here. The only real SEC talent playing for Arkansas State is RB David Oku, who was recruited by Auburn, picked Tennessee, and was kicked off the team two years in to his career. He was one of the four 100-yard rushers, and should be the main threat.
As I've said many times, though, Gus's offense levels the playing field and takes talent out of it for a while. But here's the thing: Auburn has the inventor of the offense. Arkansas State will be running a more conventional version of it, but there should be a lot of familiarity there. That only works in Auburn's favor.
The first game jitters are gone for Auburn. The first win is under their belt and it's all about winning more games right now. Nick Marshall will continue to get more comfortable and do a little bit more of what he did late in last week's game. The running backs will continue to pound it inside and out and the defense will lock down a basic version of the offense they've been practicing against all summer.
It may have the same feel as last week for about a quarter, and Arkansas State will probably score on their first drive, but depth of SEC talent will win out in the end.
Auburn 38, Arkansas State 17