The first week of college football is over. We're 1/12th of the way through most teams' regular season schedule. It's almost over, you guys. No, but really. It's just beginning and we're already giving out prizes.
With 91.7% (92 PUHCENT!) of his picks being correct against the spread, Fatrasta has taken Week 1 of the War Blogle Pick 'em at PickOrPlay.com. Now that you know he is good at a few things: eating, rasta-ing, and picking football games, you should follow him to help with your picks in the future. You can also follow my predictions each Thursday. I was 12-1 last week (not against the spread). Nevermind the 7-5 record against the spread.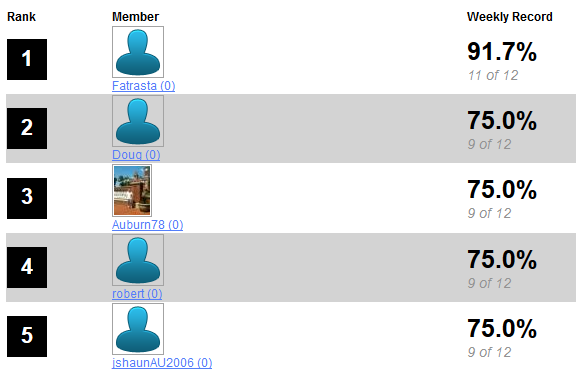 Also, there's been a slight change in the overall winner policy. Instead of doing an overall winner taken from the best score at season's end, I am going to take all weekly winners and pull one at random. I know people won't be able to remember to pick each week so it would just get all messy and confusing. This way, you can miss weeks and still have a chance at the major prize at the end of the season.
So go ahead and get your picks in for this week (details on how to join), or wait around and see what I and EA NCAA Football 14 say on Thursday.