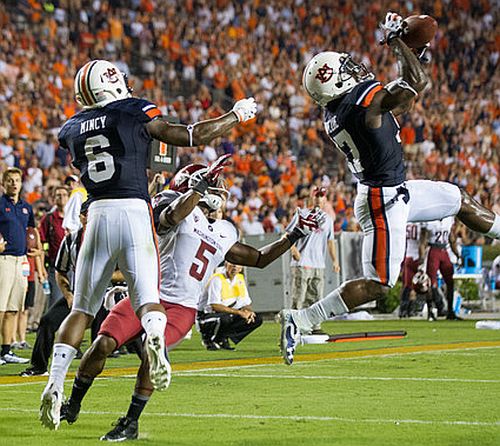 For most of the off-season I had somewhat cautious optimism about this matchup. I respect Mike Leach and his offense because I know that, like Gus's offense, it really doesn't matter who you have out there playing. The system just works.
As we got closer and closer, my SEC ego took over and I began to expect a blowout. They Pac-12, man. We SEC. That sentiment is what my game preview was all about, and normally it would be relevant, but with it being the first game with a new head coach, a new staff, and a new quarterback, some bumps should have been expected. Because the bumps definitely happened.
In what seems like the 800th time in a row, the opposing team took the opening kickoff down and scored on their first drive. I wasn't surprised because in Leach's offense, if you have a quarterback with decent accuracy and a quick trigger with a few receivers that can catch and hold on to the ball, it is almost indefensible. The defense has to play the catch and tackle game, and then hope the defensive line can cause the quarterback to throw some errant passes.
For most of the first half, the Cougars' offense was clicking. Leach called draws at perfect times and the defense seemed to be on their heels against one of the toughest types of offenses to defend. This wasn't really an issue of not tackling. It wasn't an issue of missed assignments, for the most part, it was their offense working. Auburn made adjustments to make it stop working in the 2nd half.
The defensive line, especially freshman Montravius Adams, started to rattle the quarterback, which caused him to throw on the run and throw deep into traffic. It was because of that pressure that Robenson Therezie was able to match the total number of interceptions in 2012 in this game alone. He also had 7 tackles. This was good enough to get him the SEC Defensive Player of the Week honor. Josh Holsey also added one interception as well putting Auburn over the 2012 total in one game.
The Cougars scored 21 points in the first half to just 3 in the second half. They also had over 30 of their passes broken up or dropped. The secondary buckled down in the 2nd half. That's something to dwell on. Not the first half of a bunch of quick, indefensible passes. When they had to, they kept the Cougars out of the endzone. That's what matters.
The Auburn offense sputtered a little in the first half, Nick Marshall overthrew receivers, and receivers dropped the ones he didn't overthrow. but big plays picked up the mistakes and put Auburn in the endzone. Mason returned his second kickoff for a TD in his 3-year Auburn career, and O-Town Killa Corey Grant had the longest run and first touchdown of his career. The running game is fine, but I'd like to see more of Cameron Artis-Payne outside of the Wildcat formation.
It almost appeared to me that Marshall didn't want to tuck and run at first, which caused him to throw where he shouldn't have, but once he realized his legs were still there, he was able to pick up some first downs on plays where nobody was open.
The Tigers weren't able to get in the endzone in the second half, but seemed to find a bit of their identity with longer sustained drives that ultimately resulted in field goals.
The bottom line is that this was the first game of the season. Everybody needs a little time to figure stuff out. That's what Auburn did. They figured it out and put a team away. Last season they would have been put away. It's a new day. On to Arkansas State…