On this date, 120 years ago, the Auburn football team (actually the football team from Agricultural & Mechanical College) took on the team from the University of Alabama at Lakeview Park in Birmingham, AL. It was their first ever meeting. The men from Auburn won that game by the score of 32-22.
In a what turned out to be a terrible decision, ESPN did not the cover the game, so we don't have an video of the event to see. Luckily a few amateur photographers had their cell phones and were able to snap a few shots. Unfortunately, cell phones only took black and white pictures back then. Here are a few: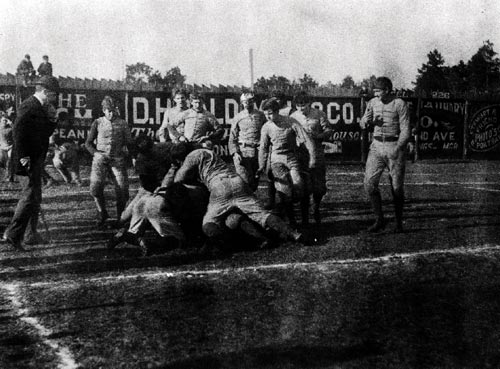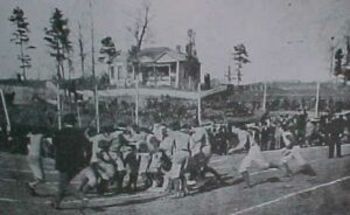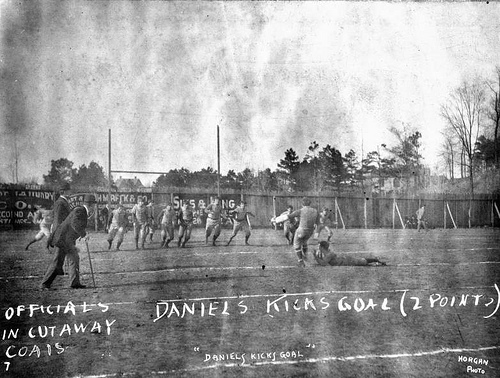 Because football seasons were a little bit different back then, the men of Auburn took on Alabama again in November later that year, the only time two games in this series have been played in the same year. They won that game, too, with a jolly old score of 40-16.
The first thirteen years belonged to the men of Auburn as they held a 7-4-1 record against those in crimson. Then the two teams didn't play for over 40 years. Then Alabama won a ton of games from the late 50's to the early 80's (Auburn was 6-21 against the Tide during this time), then Auburn turned it around and currently owns a 17-15 advantage since Pat Dye's second year on the Plains. It's pretty amazing that the current series record is as close as 42-34-1 given the Dark Ages of 1959-1981.
So take this day and remind your Alabama brethren that this is a day of great remembrance. The men of Auburn won the first game that would soon be named the Iron Bowl, and that's history that wasn't made up.