As you undoubtedly know by now, the point of these weekly posts is to give you a brief synopsis of Auburn's history with that week's opponent and also give you plenty of reason to get your hate started. Most say that the Deep South's Oldest Rivalry is a friendly rivalry, a rivalry of brothers. That sentiment most likely comes from the fact that two of most iconic figures in both programs' history actually attended the other school. UGA coach Vince Dooley played at Auburn, while Auburn coach Pat Dye played at Georgia. That's where it ends for me.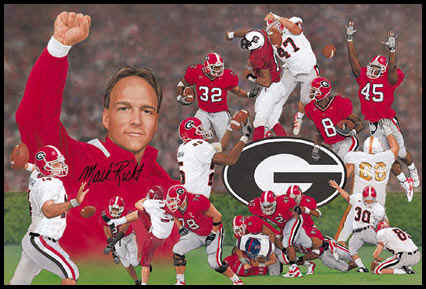 If there was no University of Alabama (man, can you imagine?), Georgia would top my hate list by a huge margin. I've said it once before, but their fans are just like Alabama fans in another state. Except in Georgia, they don't really have another team to temper the flames. Georgia Tech is never really a threat to do anything to the Dawgs so basically the whole state is run amok with what only sixty or so percent of our state acts like.
Grown men bark and paint bulldogs on their heads, while the classy ones wear red pants. Red pants. They run on opposing team's fields and steal their grass. They have full on choreographed team dances. And did you know they have bars? Lots of bars. Plus, and this is a big one, did you know R.E.M. came from there? Yeah, that band!! WOOOOOO!!!!! I feel like I'm losing my religion just thinking about the fun they have over in Athens.
But really, let's think of reasons to hate their actual football team. Well, did you know that Georgia wins 10 games a lot? You may have heard. Still looking for that to actually turn into anything, though. And you want to talk about cocky, man are they cocky. About what? Yeah, I don't know. I guess it all goes back to that only real team in the state thing. They need an Auburn.
Mark Richt is such a good guy, you know? It's just hard not to pull for him. I mean, he's so nice to his players. So nice that they can do whatever they want. Literally. You want an iPod? Take it. That guy doesn't even update his. It was still on iOS 2 and he was listening to some old Soulja Boy. We've moved on from that, star player. Get his laptop, too. He ain't going to class.
SEC EAST CHAMPS!! SEC EAST CHAMPS!! SEC EAST CHAMPS!!
Last year, I compiled a set of videos that will get you pumped, with a few that will get you mad. Rather than repost them here, I'll just send you over there.
I do want to specifically bring up 2010, when most, if not all of their team ran on the field following a play that specifically targeted Nick Fairley in hopes that a pile would form allowing players to take shots at him. Let's watch it. Let's watch Georgia be Georgia.
I realize this is a big jumbled mess of negativity, but that's what Georgia does to you. They give you the shakes, they take away all coherent thought, and they just confuse you. You wonder why they are so cocky. You wonder what they have to brag about, yet for those of us that live in Alabama, they are too far away verbally beatdown at the water cooler. IT'S JUST SO FRUSTRATING!!!!
A lot of Auburn's players are from Georgia. I've actually seen a few of their fans brag about that. Ok, yippee. Guess what that means, though. It meant they wanted to get out of your state. Good job.
Now admittedly, Georgia is having the better season. It's easy to when you play nobody. And it's going to be a struggle for Auburn to get a win this weekend. However, I made the statement a month ago that Auburn would beat either Texas A&M or Georgia. Well one of those didn't happen so the other has to happen.
It's a night game in Jordan-Hare. It's the 2nd biggest rivalry on the schedule. It's a different game. If you pack the stadium, if you forget what you've seen this year, and just worry about beating Georgia, it can happen. But let's be nice to them. I don't think I can stand to see Aaron Murray cry again.