I love Pat Dye. Like really love him. When I think of Auburn I think of Pat Dye. He is everything that represents Auburn the university, the football program, and the family. He is hard-nosed, likes to work hard, likes to get dirty, and he loves Auburn. He also gave the best locker room speeches known to man.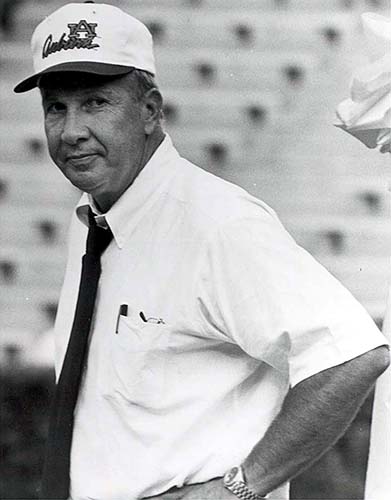 I probably won't ever get to really sit and down talk with him. There was that time I bumped into him at the 2002 Georgia game after Tiger Walk, and just looked at him and said "Pat Dye," but that's probably the closest I'll ever get. But when I noticed that someone named Missy Dye McDonald tweeted me the other day, and I realized it was his daughter, I figured I could get some really good insight on the man behind the man. I figured correctly.
Missy was more than gracious (a natural Auburn trait) to answer some questions about her dad, what he was like after games, and how Auburn has affected their lives. There are some really good stories and generally unknown facts in her responses. You should definitely have a read.
1. Where were you born? Where was your dad working at the time?
Ft. Benning, GA when dad played for the World Champion DoughBoys in the Army. Mom was rushed from his home football game to the military hospital in the military police car, close call…her friend brought her clothes back to the game to let him know what happened…guess you could call me his "football baby."


2. How old were you when Coach Dye took the job at Auburn?
Moved from Laramie, Wyoming (U of Wyoming) middle of my high school senior year. I'm a graduate of Auburn High School '81.
3. What was Coach Dye like after a long day on the practice field?
Spent. He gave it his all everyday. He still made time for us, in his garden, cooking, yardwork, fishing, hunting, watching tv, going to the movies with all of us…tired or not. We often entertained folks at the house….coaches, donors, family and friends.
4. What was he like after a win/loss?
Not a man of many words. He was quiet either way. After games he would watch football games or entertain donors at the house. After a loss, he was hurting because he hates to lose, but was onto the next game prep whether a win or loss.
5. What was he like after a win/loss against Alabama?
Having coached at Alabama under Coach Bryant for nine years, dad felt the weight of the Auburn/Alabama game and understood the consequences of a win or loss. He was thrilled to win and HATES to lose.
6. Based on his actions, what do you think was the biggest win of his career?
Tough one, certainly being the last coach/team to defeat Coach Bryant in his 2nd year but "First Time Ever" possibly was the pinnacle win. Beating Michigan for the National Championship could've been the pinnacle win he was denied…
7. What was the family's mood after Coach Dye left the program?
My siblings and I cried pretty hard upon announcing his retirement, especially my older brother Pat Jr. and I, who were with Dad every year he coached. Dad told me he was only gonna coach one more year (1993) anyway, but wanted to do what was best for Auburn University, so he retired 1992.
With his health issues at the time we all were in agreement, but we all grieved in our own way and time. I still miss seeing him on the sidelines but Auburn has been so good to him.
Assistant to the President is his official title now. He promotes Auburn University, fundraises for various schools on campus among other responsibilities.
8. How vested is Coach Dye with the current program? How does he handle watching road games on tv?
Whenever coaches call him for consultation, he's answers their questions. He doesnt micro-manage like some would expect, and only answers when called.
Road games, he watches on tv and doesnt really care for a lot of people being around and talking during games. He turns on "film watching" mode, still the coach in him I suppose.
9. What did it mean to Coach Dye and your family to have the field at Jordan-Hare named after him?
Ever since I can remember, Dad had me out in the garden he kept wherever we lived to help him work it. He has his Japanese Maple garden now he's cultivating. Dad grew up on a farm growing cotton, fruit, vegetables. Simply put, he loves diggin in the dirt. When he arrived at Auburn, one of his desires was to enhance the field at Jordan-Hare with landscaping, etc.
When approached, Auburn gave him a choice to have the field named after him or the football complex. Naturally he chose the field rather than concrete. Dad is deeply honored. Of course our family is proud for him and grateful to Auburn University for honoring him.
10. As a whole, what does Auburn mean to your family?
On Christmas Day 1980, dad called a family meeting which included everyone but Pat Jr. (at UGA on golf scholarship). He told us that the U. of Wyoming gave him a choice to sign an extended contract or resign because his name came up for the UGA job first, then the Auburn job once Coach Dooley decided to stay at UGA. Dad said he resigned because he knew he was gonna coach somewhere, just didnt know where at the time. (Coach Bryant was asking him not to go to Auburn but to come to U of ALa since he was planning to retire).
The next thing we knew, he and Mom flew to Auburn for the infamous interview. Bearing in mind that Dad was not even the top name on the list, but as fate would have it he won their hearts in the job interview. Auburn didnt have to hire him. He was up against the likes of legendary coaches Dan Reeves, Jackie Sherill, and several more who had proven records.
The opportunity Auburn gave dad was what he had worked for all of his life; not because of money (he didn't even ask about money), but because he knew he could give the Auburn family, in his words, hope, and build up not only the football program but Auburn University.
I think we can honestly say he accomplished his goals. All of my siblings and myself are Auburn graduates. There is no place like it on earth. My youngest daughter, Manie watched videos of Auburn games from the time she could walk. Her term of endearment for my Dad is "Daddy Auburn." My brother, Pat Jr. gave seed money to start a scholarship in 2005 called "Pat Dye for Excellence Scholarship" for student athletes. We are a part of the Auburn family and always will be…War Eagle!!
Missy has agreed to answer more questions, so if you have any for her, post them in the comments and I'll get then over to her.