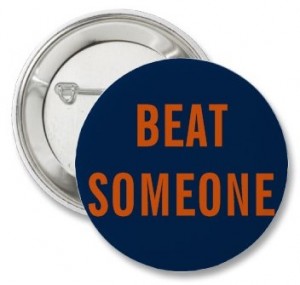 For those that have lost interest in the Auburn football program for the 2012 season and have spent their weekends hunting or shopping or whatever, do I have the best news for you! Auburn won a football game this weekend!!! Come on back! We got this thing rolling again! Better days are here to stay!
Yes, the win came against the worst team in one of the worst conferences in FBS, but they won. All you said was that you wanted to win, and that's what they did. You've been saying you want a coach that wins, too. Well that's good because we already have one of those. Chizik won this weekend, so that makes him a winner. Problem solved! No turnover. Yay! But seriously folks….
They say everybody's favorite player is the backup quarterback. In Auburn's case this season, it was actually the 3rd-string quarterback, and those feelings have never been stronger. However, just like always, people get ahead of themselves and expect that guy, in this case Jonathan Wallace, to turn it all around in a snap, and they usually get proven wrong in the first drive or so. That's not to say that I wasn't pulling for Wallace to succeed or that he didn't have a good game, but I just get tired of that crowd.
It was the same way with Brandon Cox/Jason Campbell and Chris Todd/Kodi Burns. It causes people to pick sides and pull for or against one guy. Guess what, they all play for Auburn, pull for whoever is out there, and shutup until I say otherwise. Sorry, I had to get that out.
After a pretty slow first half where we saw more questionable play-calling (QB draw on 3rd-and-12 from inside the 10 yard line), Tre Mason and Onterrio McCalebb were fed the rock over and over and over. It finally worked. The SEC depth and talent took over the WAC (whack!) depth and talent from the Aggies. By halfway through the 3rd quarter, the Auburn offense could do whatever they wanted.
Other than a missed tackle that fueled the lone scoring drive, the defense played very well. They were literally one play from a shutout. I don't care who you're playing. Shutouts are tough to come by, and especially a week after you gave up 63 points.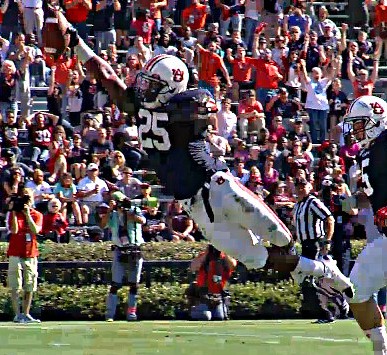 The highlight of the day, and probably the season, came from Daren Bates when he picked up a fumble, rumbled down the field, stole a New Mexico State Aggie's manhood at the 10-yard line, and dove into the endzone. It got a flag, and drew the ire of Chizik, but I don't care. If you make a run like that and then blow up some dude like he did, you can cartwheel into the end zone for all I care. He was tired so he was just laying out. Yeah, that's it.
The special teams were probably the most infuriating unit of the day. How Cody Parkey missed that simple little field goal is beyond me. It's what he's paid, I mean, it's what he's on scholarship to do. I can do it in my sleep. Seriously, just kick it through the uprights. Note: you may remember that my score prediction for the game was 45-7. A missed field goal made the actual score 42-7, so I may be going a little hard on Cody. <3 U Cody.
The offense played like a balanced unit for most of the day. Wallace got some good playing time, but was able to let the experienced running backs take most of the pressure. He's going to have to throw it more to beat Georgia, though, who will be expecting the run all day.
The defense, likely benefiting from extra time on the sideline due to less 3-and-outs from the offense, played the best they had in a while, especially in terms of getting of the field. The special teams were ok… I guess.
It was what Auburn needed. They played an inferior opponent and they beat them like an inferior opponent. Now Auburn must use this game as a springboard to end the season and play spoiler for their two best rivals. Spoiler Alert: they'll beat at least one.