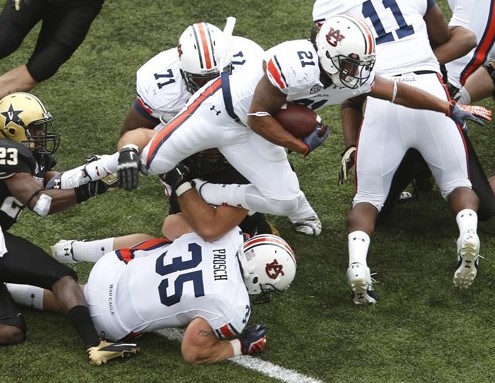 I don't care how bad Auburn has played. I don't care if Vanderbilt is having their best season in history. Auburn should never, ever lose to the Commodores in football. Therefore, when it does happen, you know something is wrong in the universe.
A fanbase, a school, a team that shows the lack of enthusiasm that I saw in Nashville this past Saturday does not deserve to win anything. I know Auburn travels well, but when the fanbase of a 1-5 team takes over your stadium and is louder than you throughout the entire game, you do not deserve to win anything. You really shouldn't even be allowed to be in the SEC, but we need your grades so I know you'll always have a spot.
Alright, on to Auburn, who allowed the most undeserving team in the SEC to beat them…
Once again, the problems all, 150%, completely, and utterly go back to play-calling. I don't know if Chizik is handcuffing or if Loeffler has full control, but whatever it is lacks flow. Have I said this before? I think I have.
All Auburn had to do was run the ball up the middle. Tre Mason has been one bright spot on the team, and he continues to show it every week. I know I'm beating a dead horse by saying this, but apparently it's not getting through. Multiple times on Saturday, Tre would have a big run, sometimes 15, 20, 30 yards a pop, and what does whoever is calling plays do? They put in Wallace for an obvious Wildcat, or they do some speed sweep on the very next play. For the record, I'm fine with Wallace playing more, but when you're getting in a groove running the ball, don't break it up.
Quit trying to run what you think is balanced. Quit trying to be cute. Run the ball up the middle with Tre Mason (and Prosch blocking) until you score a few touchdowns, get the opponent on their heels, and then you can play around and find out what else might work.
At this point, everybody in the world knows what is going to be called. For example: if Jaylon Denson goes in motion, the ball will be run to the opposite side from where he ultimately sets up. It happened at least five times Saturday. Go look it up, watch the game.
I'll be honest with you folks, up until a few weeks ago, I was never completely sold on Tre being the every down guy who could be the dude to get Auburn some wins. I think it all had to do with me putting too much stock in his 3-star recruiting ranking, but that feeling is gone now. His ability to turn nothing into something last Saturday showed me that he can and should be great when all is said and done.
You know how many carries he's had in the 4th quarter this season? He's averaging two. Two carries per 4th quarter. That is not correctly assessing game time talent. Run him ragged. He said yesterday that he wants it.
As I've said before, I'm not the "Fire Whoever/Whomever" type, but all I know is that Loeffler is the offensive coordinator and the offense is the sole reason Auburn is losing games this year.
As a whole, the defense and their progression throughout the season is fine. Sure there were come frustrating missed tackles Saturday that could have allowed some dude from Vandy to literally moonwalk into the endzone, but when you continue to carry the entire team, things are going to eventually break for a drive or two.
Cassanova McKinzy should be everybody's new favorite player. Finally given a shot to play most of the game, Mr. Chick-Fil-A himself took over. He had something like 13 tackles, a fumble recovery, and was responsible for a big 4th down stop that gave the offense a chance to go win it in the end. That obviously didn't happen, but Cass did his part.
At this point, we know the season is lost. That doesn't mean we stop cheering for or supporting the team. Watch each game, just as excited as if Auburn was undefeated, and hope for a win. If they get it, great. Celebrate for a day or two, punch a Bama fan, or however you like to do it, then just move on and hope we win the next one. If not, well it's just another loss. It can't get much worse.