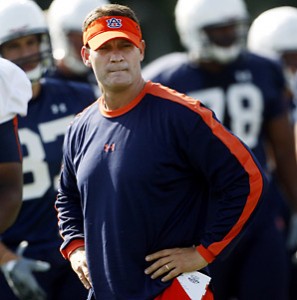 Gene Chizik has a lot on his mind these days: finding a way to win a football game, who may be the next Offens… I mean figuring out how to move the ball, and finding a way to win a football game. So you wouldn't expect him to have too much time to read or respond to emails that are not from prospective Offens… I mean you wouldn't expect him to have too much time to respond to emails. Not so.
Friend of the Blogles, we'll call her Lindsay, decided to send Gene an email earlier this week letting him know that she was still behind him and the team. Here is that email.
Coach Chizik,

Please tell the players that though losing is never fun, WE BELIEVE IN THEM. At least I do. I believe in Auburn, I believe in your program, and I believe in each of those young men who do what it takes to earn the right to play football at Auburn. We are a family and family sticks together.

I was there Saturday. I was cheering. I will keep cheering. Hang in there and tell the team that the AU Family is behind them.

War Eagle,
Lindsay, '05
Mere hours later, Gene Chizik responded:
Lindsay,

I just wanted to send you a quick email to thank you for taking the time to write and show your support. Auburn has the best fans in the country, and your email is even further confirmation of that. The coaches, players and I couldn't be more appreciative of the members of the Auburn family who give us their unwavering support week after week, win or lose. Auburn has always been great, and continues to be – thanks in large part to diehard fans such as yourself who bleed orange and blue. We are working hard this week, and are looking forward to Saturday's game. Thanks again.

God Bless and War Eagle!
Gene Chizik
It may be canned, but at least he took the time to copy and paste and hit 'Send.' Or maybe it is real and unique. What do you think?