This post is sponsored by DISH – currently the only nationwide provider of the SEC Network, launching 8/14/14*.
ESPNU is currently in the middle of their Top 25 College Football Games of 2013 countdown. So far, Auburn has been represented once for their win in College Station over Johnny Manziel and Texas A&M. That game came in at #17.
We also already knew that three more Auburn games made the countdown, and that they were all in the top 5. We just didn't know where they would fall.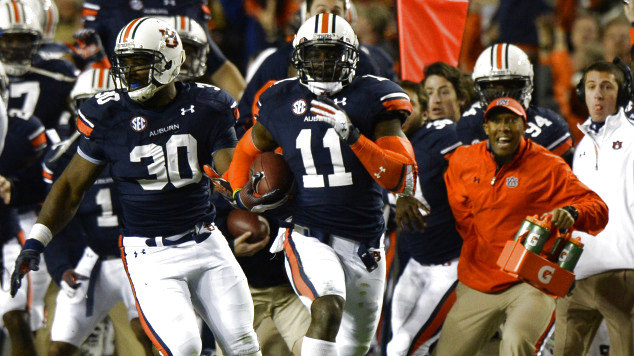 The three games were Auburn's win over Georgia, Auburn's win over Alabama, and Auburn's loss to Florida State. ESPN left these games up to a fan vote and left us to wait and see where those games fell in the countdown.
However, late last night I was doing some investigating on my DVR scheduled recordings on DISH (currently, the only national provider with the SEC Network* when it launches!), and found that the TV listings had already been updated with the top 5 games. I thought I had found a national secret and was so excited to tell all of you, but this morning I went to the old ESPN article and found that they had updated the post with the top 5. As expected, the three Auburn games took up the top 3 spots.
Here is the full top 5 with their scheduled airings (times listed are EDT). Schedule your DVRs accordingly, or sit at home on the weekend and watch them all. Football is almost here. You need to get ready.

*As of 6/13/14