It's hard to think about anything other than Auburn right now. It doesn't matter who the opponent is during the next few weeks. The problem with Auburn right now is Auburn. However, sticking with the longstanding tradition (six weeks) of these "It's <insert opponent here> Week…" posts, let's talk a little history and a little hate to get you ready for the Black Rebel Bears.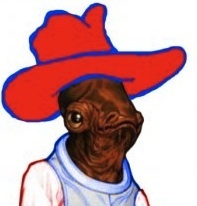 Auburn and Ole Miss have faced off 36 times since 1928. That's a lot less than I thought it would be, but they only played twice in the 80's and barely at all before then. Auburn owns a 27-9 advantage in the series, with a 17-4 record since the two teams started playing annually in 1990. The Tigers are also 12-2 when the games were played in Oxford. That's quite strong.
Not to mention that those two losses came to 9-win teams against Auburn teams that ended up 5-7 (2008) and 5-5-1 (1992). The bottom line is, I guess, that the only times that Auburn lost to Ole Miss in the modern era is when Ole Miss was decidedly the better team and Auburn was having a bad year. Well, we kind of know that one of those has been true through five games this year.
Given Auburn's pretty stellar overall record with the Rebel Black Land Sharks, it's kind of hard to find anything to hate. I mean, Houston Nutt just wasn't the same as he was at Arkansas when he planted the seed for the curse that we just saw this past weekend. David Cutcliffe, well, where is he now? Oh… wait, there was that one time. That time I threw up a little in Jordan-Hare and it wasn't due to alcohol.
In 2003, Auburn started off 0-2 after being ranked preseason #1 by a few publications. They went on to turn the season around a little with five straight wins, including back-to-back top ten wins over Tennessee and Arkansas. By the 10th game of the season, Auburn was 6-3. That's when Eli Manning and the #20 Ole Miss Rebels came to town.
The game was the back and forth the whole way, but Manning put together a drive near the end of the 4th quarter and took a 24-20 lead with around two minutes to go. Jason Campbell put together his own drive, with the help of Ben Obomanu on a 51-yard pass play, getting down to the Ole Miss 2-yard line. Then, this happened…
I jumped so hard and high, only to have that terrible feeling of doubt and neglect and remorse and hate take over, that it literally made me throw up a little. Ok, so a tiny bit of vomit came up and I had to spit, but it was still there.
You all know that the next play pretty much ended the same way, and Auburn lost to Ole Miss. This, and only this, is the worst Ole Miss memory I have, and is the reason I don't take them as the cupcake that they usually are. I know they don't have an Eli Manning anymore, but that memory is still burned into my head. It won't go away.
So, win Auburn. Do it for Jason Campbell. Do it for Ben Obomanu. Do it for 2003. Dang it, do it because I said so, and I'm tired of this.
Oh, and by the way, I've been through the Grove two or three times. I don't get it. I've tried to look at it objectively, but it just looks like a bunch of tailgates you're not invited to. There's no room to just walk up and hang out. Therefore, it's boring and overblown to me. Maybe you're just a loser that nobody wants to hang out with, Blogler. Yeah, maybe. Thanks for the page hit.