On September 15, 2010, Gene Chizik spoke to the student body at an impromptu pep rally. It was Clemson week. That night, he asked the students to embody the two words that would become the motto, the mantra, and the attitude behind that national championship season. He asked them to be "ALL IN."

Auburn went on to beat Clemson that weekend and every other team that season. As the wins racked up for Auburn, Clemson fans hung on to the idea that they had played the good Tigers as hard, if not harder than any other opponent. Add that to the fact that Auburn fans constantly remind them that their program was basically created as a carbon copy of Auburn (via Walter Riggs), and it pushed them to look for anything to latch onto in terms of besting Auburn. That, of course, meant complaining that Gene Chizik had stolen "ALL IN" from their coach, and ex-Alabama wide receiver, Dabo Swinney.
Stolen is such a harsh and incorrect word, but yes, Dabo did use "ALL IN" at Clemson before Chizik was even the coach at Auburn. Here's the proof:
In this video that was posted in June of 2009, Dabo talks about "ALL IN" and where it came from. He says he started using it when he was named the interim coach in 2008. Tommy Tuberville was still the coach at Auburn at that time.
The extremely plain and simple Clemson fan site, tigersallin.com, was registered on 10/18/2008, only five days after Dabo was named interim head coach, more than a year before Chizik was hired at Auburn, and almost two years before Chizik would speak to students in the aforementioned pep rally.
The "ALL IN" Anthem was uploaded to YouTube by "ClemsonTigersFam" in August of 2010, a month before Chizik's call to action.
So yes, before Auburn put up billboards, before Chizik named his book, and before T-WILL wrote his song, Clemson was using "ALL IN." No question.
BUT….
Before Dabo created his foundation, before the city of Clemson opened a coffee shop, and before Clemson created a magnet, Auburn was using "ALL IN" … sorta.
In this photo of the 2005 Iron Bowl game day shirt from Tiger Rags, Aubie (or I'm not sure if that's just a tiger) is holding four kings in a friendly game of poker with the Alabama elephant. The four signified the number of consecutive wins over Alabama once the Tigers ended up beating the Tide that year.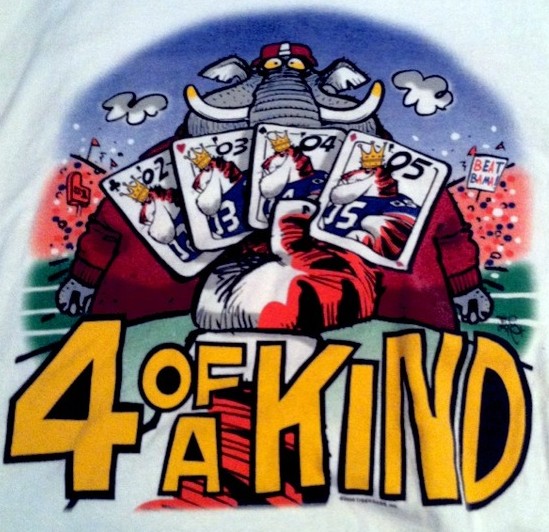 I've played a little bit of poker in my day, but I would by no means label myself an expert. However, I do know that not many hands will beat 4-of-a-kind. In fact, if I ever was dealt a hand of that stature, I would immediately go all in.
And would you look at that, that's what the back of the game day shirt says: "TIGERS AULL IN!" Sure, there's the slightly cheesy play on the AU, but it's still there. Auburn was "ALL IN" back in 2005, while Dabo Swinney was a measly wide receivers coach.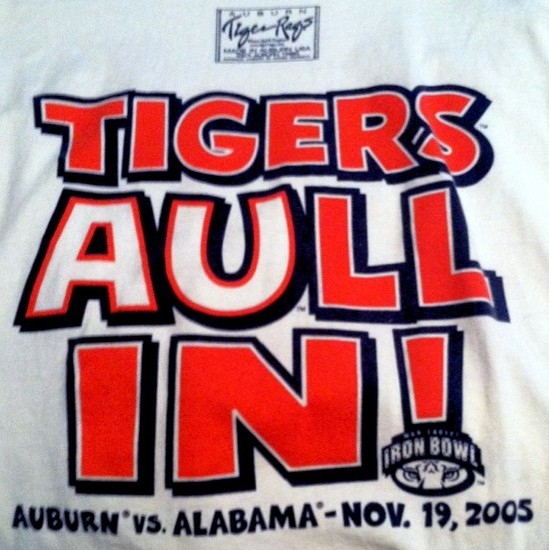 Sorry, Clemson. Maybe one original thought will come from your program one day. Oh wait, you did come up with "how to give up 70 points to a Big East team." #clempson
Now as for Tennessee and UL-Monroe, they are just straight up copying.
Pics and heads up from @tef9610.