From time to time, I tend to peruse old blogles in search for typos or just to simply get all nostalgic. A few weeks ago, I came across something that I meant to bring up months ago…
If you've ever been to a smoky barber shop or eaten at a local sandwich shop (outside of Auburn), you have no doubt seen a picture or painting of Bear Bryant leaning up against a goal post during his team's pregame warmups. You may have even seen it on this guy's back. Of course he's usually wearing a checkered – not houndstooth – hat, but that's another story.
As seen in my vlog from the 2011 Iron Bowl, I actually came across someone (around the 6:30 mark), maybe the ghost of Bear Bryant, leaning up against a post in Jordan-Hare Stadium, in almost the exact same fashion as the Bear himself.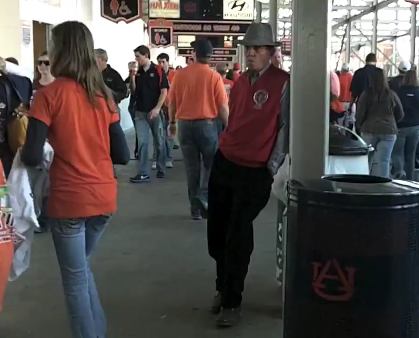 There he was in his houndstooth hat and crimson vest, watching over the too-large crowd wearing Trent Richardson jerseys file into the visiting team's section. He didn't make a move. He just watched. He scowled when he saw one do something that wasn't the honorable thing to do. The corner of his lip curled up when he saw the Houndstooth twins (who didn't actually go to Alabama).
Oh whatever, this old guy knew exactly what he was doing. He wanted people to look at him in that hat and imagine him as the Bear. He wanted Auburn fans to look at him and get intimidated. I watched him for a while. He never moved. He wasn't waiting on anyone. He was leaning up against the post waiting for people to see him.
For that afternoon, he was Bear Bryant, and he was the reason for the outcome of the game… or that's what his mama told him.