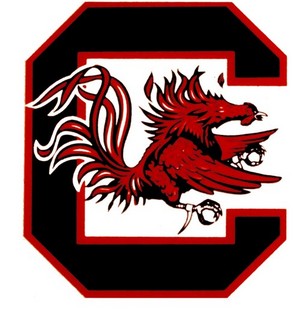 By now, you probably know how I work. I rarely think that Auburn should lose a game (because I'm a fan), but that doesn't make me blind or delusional. I've seen some pretty crazy things happen to think that the Tigers never have a shot.
You also probably know that if the team that Auburn is playing is getting uber-hyped, I'll temper those "expert expectations" in a heartbeat. It looks like I'm going to have to do it to the Gamecocks again this year.
In last season's South Carolina Preview, I admitted that Marcus Lattimore was a very good football player. I admitted it many times. At that point in the season he was 2nd in the SEC in total rushing yards. However, I also took the time to check his overall rushing stats and realized that he had also run the ball many, many more times than anyone else in league. What did that mean? It meant that he had more yards because he had more attempts, and when you looked at his average yards per carry he was actually the 10th best back in the league. Fast forward one year and the stats are the same, except that Lattimore actually leads the SEC in rushing yards this year.
Again, I know he's good. I'd take him. But people put too much stock in the number of yards he gains. I mean, if I ran the ball 100 times in a game, I could probably get more yards than you'd expect. Well maybe not me, but someone else you wouldn't expect to be good would. You can't just see a high number and think that he's unstoppable. Actually, he is very stoppable because teams obviously stop him for shorter gains than other backs. Just because he is the offense, doesn't mean that he's the best running back in the SEC.
Let's compare Lattimore numbers to, hmm I don't know, let's say Dyer. Lattimore leads the SEC with 611 yards. He also leads the SEC in rushing attempts with 107. That number is 30 more than the next guy on the list, by the way. Given Lattimore's high number of attempts, his average yards per carry is 5.7, which is 6th best in the league. Michael Dyer has run the ball 62 times for 426 yards, third best in the SEC. His average is 6.9, second best in the league (with a 50 attempts minimum).
If we took Michael Dyer's average and paired it with the number of times Lattimore has run the ball, Dyer would have gained 738 yards. That's 127 yards more than Lattimore. Just saying….
Of course, the Gamecocks have another threat in Alshon Jeffrey, or so last year would have you believe. I looked up the stats for receptions and receiving yards in the SEC. Jeffrey was nowhere to be found in the top 10 list of receptions, and is 9th in receiving yards. He also has one touchdown catch this season. Emory Blake just chuckled.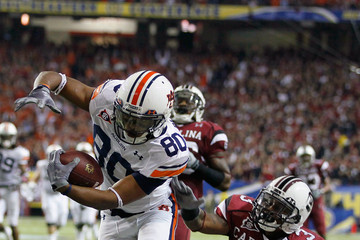 Like Lattimore, I know he's good, but apparently defenses have been renting out Rod Woodson to cover Jeffrey this season. Well that, or the fact that Stephen Garcia still apparently plays for the Gamecocks and is responsible for getting him the ball. Yeah, just checked and he's still there, turning the ball over in league-leading fashion (7 INTs).
Now I know I've just downplayed the Gamecock's offense like there was no tomorrow, and I know Auburn's defense is just the defense to make me look really stupid, but at this point last season we all thought Auburn's defense was bad as well. That was until they held Lattimore to 33 yards. I'm not expecting the same tomorrow given that the game is in Columbia, and Auburn's defense this year has looked far worse than it ever was last year, but I don't see Lattimore running up and down the field (because that's not the type of back he is), and I don't see Jeffrey breaking free and catching TD passes left and right (because he hasn't done it all season).
South Carolina's defense is nothing special, and Auburn's offense has the ability to score a ton of points on them. Last week wasn't a true showing of the Auburn offense, and the 2nd half of the Clemson game was just an anomaly. If Dyer gets the ball at least 20-25 times he will show the nation who the best back in the SEC will be for the next two (hopefully) years. We've seen what can happen when Emory gets the ball in his hands and we've seen what the running game can do when the offense is clicking. Now it just needs to happen all at once.
I know a lot of Auburn fans are scared about tomorrow. I know a lot of people expect to get blown out. That won't happen. South Carolina has and always will look stupid (there's no other way to put it) when they are expected to win. Auburn has the talent and ability to hang with the Gamecocks. A good combination of both of those will give the Tigers a win.
It will be close, but not too close.
Auburn 34, South Carolina 24