The Mailbag questions this week were all what you'd expect them to be: lots of yelling about Yeldon, queries about offensive coordinators and defensive coordinators, and the need for insight on the mysterious 3-headed, winged running back that Auburn has secretly obtained. In fact, out of the twenty-or-so emails I received, every single one of them asked about those three things. Nothing else. Here are a few random ones I selected.
Truman (loved your show by the way) wants to know about the rumors surrounding a certain recruit's recent flip-flop…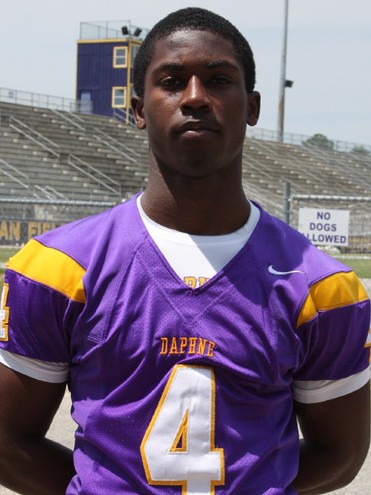 How do you feel about T.J. Yeldon's sudden flip? Do you feel it was an orchestrated lie all along; or do you believe they used unsavory recruiting methods to get him to switch?
I kind of already wrote about my feelings on Yeldon's decision and how it affects me in my critically-acclaimed piece entitled "Watch Your Mouth When it Comes to Bashing Recruits," but I do feel the need to elaborate. If he doesn't want to go to Auburn, then I don't want him to. If he was persuaded by any means to pick our rival school, then let him go.
I know I live in a dream world, but I would like for all of Auburn's players to grow up Auburn fans and would never consider the school in Tuscaloosa. I know that will never be the case, but when it comes down to choosing the two, and they end up going over there in the end, let him go. We'll have fun beating him.
Now as far as there being some big orchestrated plan to lure Auburn into thinking they had him, only to switch at the last minute, I don't think that's the case at all. There are crazy things similar to that scenario that do happen, but when it comes down to it, things are usually pretty cut and dry and boring.
What likely happened was that he just succumbed to the pressure from Alabama, his friends, his family, and losing a free Camaro…or something like that. Yeldon has a teammate that is going to Alabama who most likely persuaded him to go up there with him. Malzahn leaving could have had an effect because Yeldon is enrolling in January. Alabama probably told him that Auburn still may not know what kind of offense they would be running by the time he enrolled there, so he might as well go to Alabama where he would know. It basically doesn't matter that they don't have an offensive coordinator right now because Saban will always run the same offense.
As Chizik says, I'm worried about that the players who are here, and Yeldon is not here, so I've moved on.
---
T.J. (no not that one) is intrigued by the idea of the Chiz being Auburn's defensive coordinator…
After hearing all about the practices with Chizik running the defense and how great it's been according to the players, what would be the downside to Chizik just taking over as DC next year?
The only downside I see would be that it would take time from his other head coaching duties. That means in the game, in practice, and in off-the-field preparation. Chizik is not as much of a CEO has Tuberville was, but he still definitely is one in his own right. He, like most head coaches, likes to hire good coaches and let them do their job.
On top of that, it's very rare for a head coach to double as a defensive coordinator. You see it with offensive coordinators all the time, but defense is a different beast. The offense runs set plays that you've practiced all year. The defense will sometimes require chalk-boarding on the sideline. This would obviously not be the best thing for a head coach. He needs to be a few yards on the field overseeing it all.
I would like to see Chizik push his schemes and philosophy on the next defensive coordinator a little bit more than he did with Roof because as you said, the players seem to like it, and any Auburn fan who remembers 2004 would definitely like it as well.
---
David wants to talk about offensive coordinators…
With USM naming Ellis Johnson as it's HC, how likely is it that AU hires Blake Anderson as OC? Is this a good fit? Who are the other candidates?
According to the guys who cover this kind of thing, Anderson is tops on the list. At USM he ran a fast-paced offense, but it was pretty much Larry Fedora's system. I'm not exactly sure if he'll be a good fit, and that's my only problem. I trust Chizik will make a good hire because he always has, but we just don't know a lot about this guy, and neither do recruits.
I always, always, always want a guy with a known name; a name known for good things, obviously. Malzahn was a good known name. He was a main reason for Chizik's first good recruiting class. Kids knew him and they knew what kind of offense they were getting. If you were to tell a 17 year old, you'll be running an offense from a guy they've never heard of whose best stop so far is Southern Miss, that might not be too attractive.
I don't have any idea what Anderson would turn out to be at Auburn. He may be better than Gus. I would just like, for recruiting and excitement sake, to get a guy we've seen succeed at a national level.
---
@ImALegendKiller, a personal friend, wants to know about the legend that is the #3 back…
Who's the mysterious #3 back for bowl game? Ladarious Phillips? I hope we get to see the big fella tote the rock. Like a bear on a bicycle; weird and magical.
This was the most asked question in this week's mailbag, but this one wins for creativity. If you're confused at what he may be talking about, Curtis Luper hinted earlier this week that there may be a surprise at the running back position behind McCalebb and Mason for the bowl game.
First off, don't rule me out for this. I've been working pretty hard over the last few weeks, and I think I've finally convinced Coach Chiz to give me a shot. I'm also trying to talk Lutzenkirchen into doing that whole scene from Rudy where the players take their jerseys and lay them on the coach's desk. Still waiting to hear back from him though…
But seriously, anytime a coach says anything like this, it probably isn't that big of a deal. I suspect it's more than likely going to be Quan Bray or maybe Trovon Reed. If there was some big huge secret weapon, don't you think we would have used him already? I learned long ago, after many years of watching WCW. The surprise is never going to be as exciting as you imagined or want it to be. Basically, don't get your hopes up.