There have been stories all week reporting Jay Gouge's decision on what to do when/if the Toomer's oaks die (thanks Harvey). Last night, Auburn Vice President of Alumni Affairs, Debbie Shaw, sent out an email to all Auburn alumni giving an official update on what has happened and what will happen in the whole process.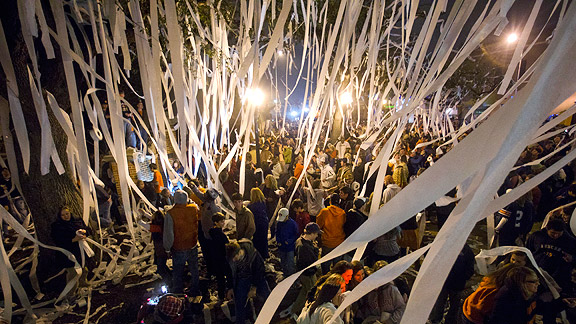 Based off of the input from the survey you probably filled out over the holidays, new trees will be planted, but during the 3-5 years it will take for them to take root and grow in their new spot, there will be a temporary structure placed at the intersection of College Street and Magnolia Avenue for rolling. I'm interested to see what that will be and how they will protect the trees from rolling when rolling a temporary structure will be happening so closely to them. I guess we'll learn of that in another email.
As for last night's email, here it is:
Dear Members of the Auburn Family,

I hope you are having a wonderful new year! As always, there are many exciting things happening on the Plains.

I want to give you an update on plans to keep the tradition alive at Toomer's Corner. University experts plan to evaluate the health of the oaks this spring. As you are aware, chances of their survival are not good. For that reason, the university is moving forward with contingency plans.

In November, President Gogue asked me to chair the Committee to Determine the Future of Rolling Toomer's Corner, a group comprised of university experts, students and alumni, along with several key representatives from the City of Auburn. Our charge was to determine the best option for the future of rolling the corner. Many of you participated in a survey before the holidays and provided valuable input to assist our decision. Thank you for taking the time to do so.

Based on the feedback from you and the expertise of the members, the committee recommended replacing the current oaks—should they die—with one or more large trees. This option would provide the shortest pause in the tradition of rolling the trees, likely only 3-5 years. This week, President Gogue gave his approval for the plan.

As a temporary measure, the university will work with the City of Auburn to create an attractive structure that can be rolled while the roots of the new trees are established.

Many decisions must still be made in the coming months. We will continue to keep you posted on new developments through the Toomer's Oaks website at www.auburn.edu/oaks.

Thank you for your support of Auburn University.

War Eagle!

Dr. Debbie L. Shaw '84
Vice President of Alumni Affairs and Executive Director of the Auburn Alumni Association
What do you think? Do you agree with this decision?