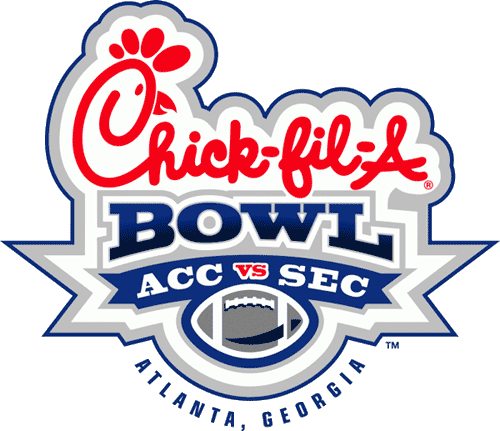 A lot has changed since Auburn last played a football game. Ted Roof "left" the coaching staff, Gus Malzahn will be a head coach next year, and Michael Dyer has some work to do if he wants to play in the Georgia Dome… next year. Needless to say, this is going to be a different Auburn team with a different vibe tomorrow night in the Chick-fil-A Bowl. But after the struggles this season, is that such a bad thing?
Let's just be honest, the defense hasn't been a real Auburn defense in three years. In fact, the last time the Auburn defense was really, really good was 2004 when Gene Chizik was running the show. Of course, there were some experienced, soon-to-be Pro Bowlers on that team, but we all know Chizik can coach defense.
All week the defensive players have talked about how intense Chizik has been with them. Eltoro Freeman showed his helmet in the Bowl Edition of "Auburn Football: Every Day" and it looked like it had been hit with a blue baseball bat. He said that was the main difference in Chizik coaching and what they were used to during this past season. I don't know about you, but I love to hear that. I'm not sure how much improvement can be made by one man in only few weeks time, but it sounds like the players have bought in and are enjoying the current situation.
Malzahn has one foot out the door, but in a very admirable move is sticking around for one more game with the Tigers. Part of me thinks he's going to go all out and empty the playbook, but I don't think Chizik is going to allow that fully. This isn't just a throw away game. A bowl win is huge for the next season.
Then again, this is a good chance to see what we have for next season. What was called for most of the season wasn't working, and given that not many of the players running those plays are going anywhere, this would be a good chance to shake it up and see what other options we have.
Malzahn did say that there would be a few wrinkles at quarterback. I'm not really sure what that means. Is Frazier going to play more and throw more? Will Moseley throw an interception that isn't a pick-6? I kid. Either way, a wrinkle of some kind is needed, so that's good to hear.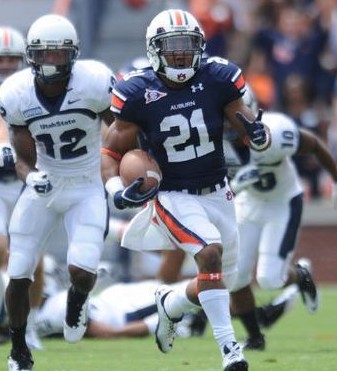 There will definitely be a big wrinkle at the running back position. With Michael Dyer's suspension, we're going to get to see what Tre Mason can do with more of a load on his shoulders. Earlier in the season, it seemed as if he was going to be a big time player, but as the season went along, he sort of disappeared. Not in a Travante Stallworth falling off the face of the Earth sort of disappearance, but he definitely didn't play the part I thought he would. He seems to be pretty excited by this chance, and he definitely runs in that fearless, Kenny Irons sort of way, so I'm ready to see what he can do as the man.
Luper teased that there would be a surprise running back for the game, but Malzahn spoiled that this week by saying that Quan Bray will line up back there some. That's exactly who I thought Luper meant, but we'll see how much he plays. I assume he'll only be in there for a trick play or if things aren't going well for Mason and McCalebb.
Virginia comes in after their best season in years, boasting wins over Florida State and Miami. I understand beating those teams is great for a team like Virginia, but this isn't the 90's. Wake Forest beat Florida State. Miami lost to Maryland. Come on, man.
This is where I also mention that Virginia beat Idaho by one point in OT because of a failed and unneeded two-point conversion. Yes, I know Auburn had the Utah State fiasco, but the Aggies were a bowl team, and ended up proving they were a legit team. Idaho?
Auburn wasn't exactly a bunch of world beaters over the last month of the season, but you'd have to think the talent level will be big enough for the Tigers to get the win. Virginia's defense is stout, but nothing like an SEC defense. If Auburn can be anything but inept on offense, with a lot of guys like Mason getting their shot, they should be able to impose their will on the Cavaliers.
There's a sense of freshness on defense, there's a desire to close things out right for Malzahn's Auburn career, and there's the need to get a head start on next season's success. As I said, there have been lots of changes since we last saw the Tigers. Some of those changes were needed, some we'd wish they hadn't happened, but it sounds like the players are welcoming the change and new opportunity.
Auburn's offense will look like 2009: fast, exciting, and successful, but just no Cam Newton. Virginia won't know what hit them by the 2nd quarter, as Auburn will have their best game of the season. These young boys want out of the cage, and they'll run wild once the door is opened.
Auburn 34, Virginia 14