Jack weighs in on the Cam Newton situation and gives us a little info from his insider. I'm not saying that what he says is the end-all, be-all truth, but he told me all of this Friday, a good 100 hours before the report about the NCAA speaking with Jody Wright came out today. Considering his source told him about Wright, it's hard to deny the rest. What do you think?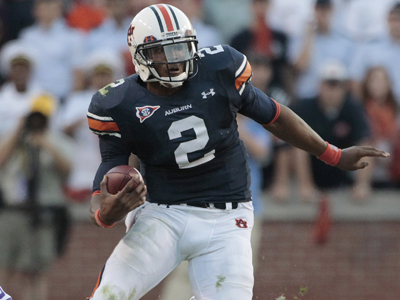 Shoot the Messenger
by JackTheRabbit
Auburn gets a much needed break this weekend, but since the 'Blogler doesn't take a break, I will (from discussing on field performance).
Instead of previewing a team that we aren't playing this week I'd like to share some more thoughts on the sCAMdal. Basically what I'd like to do is compile truth and rumors of the situation that I've collected over the weeks and fill you in on my understanding of what's going on. I have collected some pretty solid information from a source of a source of a source. I think the 'Blogler should tweet it. Maybe he'll inadvertently destroy the entire economy this time (sorry Washington but you're just too slow).
First, allow me to share my prediction for what I think the next few weeks will bring, then I'll get to the good stuff, I promise.
The post-season will reveal a lot about Auburn's stance on Cam's innocence. I'll set up a few hypotheticals for you. If Auburn wins out and makes it to the BCS National Championship Game then Auburn's chances of benching Newton if they believe he'll later be ruled ineligible will increase dramatically. Think about it. If Auburn really thinks they would have to vacate wins in the future then they have to ask themselves which wins really matter. Hypothetically, Auburn could get every game wiped away except the BCS Championship game if Cam doesn't play in that game.
I believe you'd see a similar instance if Auburn loses to Alabama, except Cam would sit in the SEC Championship game. Of course, if they don't believe they'll face forfeiture of wins then Cam will play in every game, which is what I expect and I'll tell you why.
DISCLAIMER: THIS INFORMATION WAS OBTAINED BY A SOURCE FROM A SOURCE THAT CLAIMS TO BE WORKING WITH THE SCHOOL ON THIS CASE. THEREFORE, IT IS HEARSAY AND I DO NOT CLAIM THAT IT IS ABSOLUTE TRUTH, SO IT SHOULD NOT BE CONSIDERED FACT. DRAW YOUR OWN INFERENCES FROM WHAT IS SAID AND GET OFF MY BACK.
What I was told basically said that Cecil Newton did seek out payment for Cam's commitment to Mississippi State without his son's knowledge. However, Cecil had a change of heart. There's some disagreement over why. Maybe it was because he didn't want to go against the NCAA, or maybe it was because he was afraid that someone would put together the issues with his church, etc. Either way, Cecil apparently decided against taking money for Cam's signature.
After making this decision, Cecil went to Gene Chizik and explained his situation. Gene and Cecil decided to go to the SEC and NCAA BEFORE Mississippi State and made sure that if Cam signed elsewhere then he'd be cleared to play. Both gave their consent and said that Cam would be eligible as long as he didn't sign with Mississippi State. Now you know why Cecil made the decision for Cam about where he would play football.
This whole situation would have died had it not been for Cam's success on the field. Now that Auburn was in contention for a national title and Cam was Heisman front-runner, someone decided to leak this information. It has been about timing since this entire deal was leaked.
Jody Wright was an assistant at Mississippi State during Mullen's first season, and surprisingly left to work as a grad assistant for Nick Saban before this season began. There is much speculation behind Mr. Wright as being the source that dug up this information and talked John Bond into taking it to the media. Who pushed Mr. Wright for the information isn't exactly known (*cough* Saban *cough*).
Once again, this is all information from a source that has been passed onto me from another source. Take everything relayed with a grain of salt, and see previous disclaimer. This explanation, however, seems to be the most solid idea behind what's going on. Feel free to shoot the messenger here (you won't be hurting my feelings), but remember I'm just doing what everyone else (Thayer Evans, ESPN) has been doing since the beginning.