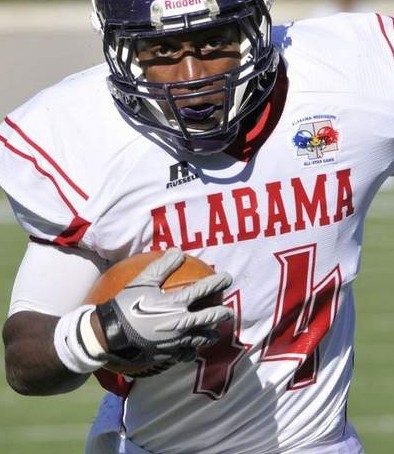 Over the past few years, college football recruiting has become a sport of it's own. With 24-7 coverage all year long, fans now have something to cheer, brag, or sulk about even when the fields are brown and unpainted. In a sense, this off-the-field competition had become just as fierce as a regular game day for those fans who have no offseason.
As the coverage gets better and better (or worse and worse), the number of those types of fans grows. For most of them, it's actually more of a competition of just getting the guy that the other team wanted as well. Who cares if he'll actually contribute quickly or pan out in the long run? Let's just hope he signs with us so we can point and laugh at the other team.
Auburn fans saw a lot of that yesterday as 5-star running back, T.J. Yeldon, de-committed from Auburn and committed to Alabama. As the message boards and Twitter blew up, I remained mostly silent on the whole thing. Was I bothered? Sure. Did I lose sleep over it? None.
I was actually more bothered by some of the reactions from the Auburn fans that didn't take the news too well. I saw some pretty ridiculous and crude tweets sent straight to Yeldon, as well as a few others that were just downright whiny. I'm sure the immediate and incessant bragging from Alabama fans was the cause, but we all need to remember a few things…
1. T.J. Yeldon is 17-18 years old. Why an adult would wish that a teenager gets hurt because of his college choice is beyond me. It's sad, and if you did it, you need to grow up. There are only a few things that make me say "It's just football" and this is one of those. He's still a kid, and has no idea what he's getting into. Don't blame him. Blame the pressure he's been given over the last few weeks by the grown men that could not stand that he was committed to Auburn.
2. T.J. Yeldon is 17-18 years old. I don't know about you, but when I was his age, I changed my mind on pretty much everything, all the time. I'm not saying there's a chance he could switch back to Auburn, but anyone who has ever been 17-18, should know that it's a definite possibility. I know fans of another school that read this blog will say I'm wishfully thinking, but I'm not. As far as I'm concerned, he'll play for Alabama next year.
3. He's flipped once, what says he won't again? Again, I don't expect this to happen, but through this whole thing, one thing has been proven: Yeldon, like most teenagers,  is a flip-flopper. Brent Calloway started with Alabama, switched to Auburn, and then was paid to go to Alabama, or something like that, so it's been done before. And it will happen again, possibly with Yeldon, or any other confused and pressured teenager.
4. If he did flip again, how dumb would you look? When I saw the people jumping all over Yeldon for switching to Alabama, I was reminded of something funny I saw on the television set last year. At an Alabama basketball game, the day after Brent Calloway switched to Auburn from Alabama, there was a student holding up a sign that said something about Calloway being Benedict Arnold. Now that student is forced to cheer for the guy and know that he likened him to the nation's most well-known betrayer. What if Yeldon switched back? Do you think he'd have the right to cheer for him as an Auburn Tiger?
5. Do you see who Auburn already has in the backfield? Michael Dyer (maybe), Onterrio McCalebb, Tre Mason, Mike Blakely, Corey Grant, and Jovon Robinson (incoming 4-star). I'm not going to act like Yeldon wouldn't have added or even topped this list in a year or so, but Auburn's running back corps is pretty strong as it is. If Dyer, for whatever reason, does not return, that will obviously make the loss of Yeldon sting a little worse, but then again, O-Mac, Tre La Soul, B-lake (I just made that up), O-town Killa, and Rob-dawg (made that one up too) are a fine bunch. I wouldn't be too worried about not having anything with Yeldon not being back there. We're good.
As I said, to most, the main reason this stings is that it's almost like a loss to Alabama. If Yeldon had gone to Tennessee or Florida, nobody would have cared that much. It's just another reason for Alabama fans to gloat to Auburn fans for the next few days. Regardless of the trash talk Auburn fans will hear, some of things that were said to the kid were downright ridiculous and uncalled for. Don't let the uneducated masses force you to act uneducated as well.