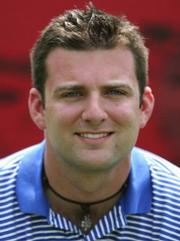 Travis Haney (Twitter, Blog), of the Post and Courier, was kind enough to answer this week's set of questions. Haney, 29, is in his second year covering University of South Carolina and Southeastern Conference athletics. He covered the Atlanta Braves and Major League Baseball for two years before joining The Post and Courier staff. Prior to that, he covered college sports, including the Gamecocks, for The Augusta Chronicle and the Anderson Independent-Mail.

1. What's the first thing SC fans think of when they think of Auburn football in 2010?
C'mon, you know the answer to that. Cameron Newton. He's giving opposing defenses something completely different to think about. Who knew Gus Malzahn could be the author of a top-ranked rushing offense. With Newton you can.
2. What are the Gamecocks' major concerns for this game and the rest of the season?
Rest of the season? They're just trying to get through this week. They're concerned about the number of big plays they've given up. Newton didn't throw many times last week, as you know, but you Darvin Adams is dangerous. If he gets behind the defense, he could provide a score to make the difference. Stephen Garcia hasn't been all that great (not just terrible, either), but you have to wonder about him going on the road. If South Carolina can run, that would obviously help him.
3. Besides the obvious, what are some of the other strengths of the 2010 squad?
I'm presuming the obvious is Lattimore. You have to mention him, just because the run game had been so bad (last in SEC past three years). Alshon Jeffery looks like a different guy, and he was a borderline All-SEC receiver a year ago. No one's even gotten close to covering him yet. The defensive line has been outstanding against the run and decent in pass rush.
4. Who are two players not named Lattimore and Garcia that the Tigers should look out for and why?
Again, Jeffery. I'll be surprised if Auburn can cover him. I think it's going to be a broken record all year. The guy is special – and, with teams ganging up to stop Lattimore, it opens things up for him. On defense, I'll say Devin Taylor. He's young – a redshirt sophomore – and lanky. He disrupts passing lanes and is getting to the QB. Honorable mention to Spencer Lanning, who has greatly improved as a punter (third in league) and hit a career-long 51-yard field goal a week ago.
5. What has the emergence of a running threat done for the confidence of the team and fans? Are they drinking the media's kool-aid yet?
The local media hasn't sampled any of the national media's Mountain Berry Kool-Aid. Look, everyone here has seen this before. Quick starts have ended in rapid fades. Until the Gamecocks win meaningful games in October and November, everyone is cautiously optimistic. But the running game is a big – I mean, big – piece of the puzzle. There was no balance before. Now there is.
6. Where do you expect these two teams to struggle/excel against each other?
Like I said, I don't think Auburn can cover Jeffery. I don't mean he'll have a 300-yard game, but he'll have 100 yards and a touchdown. I think it might be able to corral Lattimore, for the most part. But at what cost in the passing game? I really do think Auburn can hit a big play or two to Adams. So, it could wind up being Jeffery and Adams making plays to win the game. I'd be surprised if Auburn ran on South Carolina — at least got anywhere near its season average. The Gamecocks are salty, which is my favorite football term.
7. What do you think is the best and worst case scenarios for Gamecocks this Saturday?
Good: Gets off to a good start. No huddle bothers Auburn, limits crowd impact. Limits turnovers to fewer than two.
Best: Lattimore decides to go into Georgia mode. No stopping that team.
Bad: Newton proves to be more of a threat on the ground. Tons of turnovers, miscues. Offensive line, somewhat thin, falls apart.
Worst: Something like Tennessee '09 or Florida '08 when early turnovers created a gigantic hole.
8. Where do you see South Carolina ending up this season (record/bowl)?
8-4/5-3. Gator vs Penn State … win for 9-4. (9-3 or 10-2 is possible, sure, but Gamecocks have to show me that before I'll start believing it in September.)
9. Where do you see the Tigers ending up this season (record/bowl)?
Don't really want to mess with this one.
10. What is your prediction/analysis for the game?
Too early in the week. Still seeing how Gamecocks adjust to McKinley stuff, injury news.
11. Lastly, what are Carolina fan's overall feelings about Spurrier? Are they still caught up on his name, or do they really care about winning football games now, and would be willing to get rid of him if that doesn't happen regularly in the very near future?
Most fans still like him, recognize that the program is in far better position than it was before him. Some are getting frustrated. Everyone agrees that this season and next season are his last stands here. If it's not now (or 2011), it's never. Spurrier will probably agree to that, too.