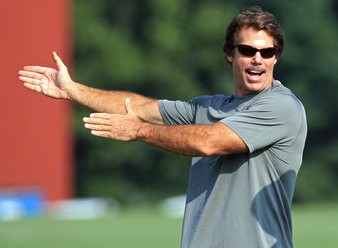 Moments ago, Atlanta Falcons head coach, Mike Smith, announced that his defensive coordinator, Brian VanGorder, had taken the same position at Auburn. Soon after, Auburn announced the same.
You may remember VanGorder from his time as the defensive coordinator at Georgia, which if you're like me, is gonna take a minute to get over. I know I live in a dream world where college football is all about loyalty and business is nowhere to be seen, but just give me a day or so, and I'll be okay.
This is a huge hire for Chizik and Auburn, and I know it. Just let me forget all those bad things I thought about when I saw him on the opposing sideline. He has been with the Falcons for the past few years, so I've grown to like him, so don't expect this Muschampian transition to last long.
In an attempt to learn as much about VanGorder in as little time as possible, I took to Wikipedia and YouTube. There I learned that he is a native of Michigan and played linebacker at Wayne State.
This is how he's spent his last decade:
2001-2004: Georgia (DC)
2005: Jacksonville Jaguars (LBs)
2006: Georgia Southern (HC)
2007: Atlanta Falcons (LBs)
2008-2012: Atlanta Falcons (DC)
There wasn't much on YouTube other than this interview given by the Falcons linebackers, which is actually kind of informative:
Oh and there was also this, which is good if you're a fan of an intense coach, but not good if you can read lips:
VanGorder's defenses have always been very good, and he's exactly what Auburn needs. I'm excited. I really am. But I'll be more excited once I get this out of my head. Expect more level-headed thoughts to come once that's happened.