As expected, Auburn has accepted an invitation to play in the Chick-fil-A Bowl. However, in a surprising twist, they will be facing the Virginia Cavaliers (8-3, 5-3, 2nd in ACC Coastal Division).
Typically, the Chick-fil-A Bowl consists of the #5 team from the SEC and the #2 team from the ACC. After their loss to Clemson last night, Virginia Tech looked to be Auburn's opponent. But with Virginia Tech being chosen as an at-large team by the Sugar Bowl, the Chick-fil-A Bowl was forced to choose another team from the ACC. They chose the Cavaliers.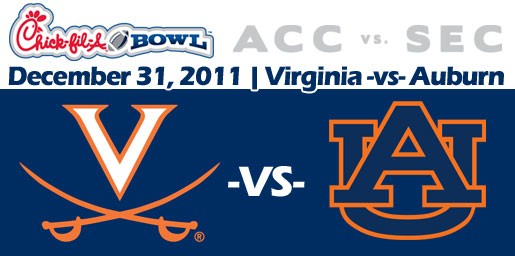 As far as Auburn is concerned, this at least looks like an easier match-up than playing Virginia Tech. It could also be a good chance to avenge the awfulness that was the season-opening loss (0-19) in 1998.
We now have over three weeks to talk about this match-up and how we hate the travesty that the BCS caused tonight, so for now this is it. Auburn, Virginia, Chick-fil-A Bowl, December 31, 2011, 6:30pm CT, ESPN. Let's do this.