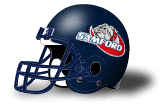 When it was announced earlier this year that the Georgia and Alabama games would be split by a Homecoming game against the Samford Bulldogs, I was, like most Auburn fans, confused and upset. You don't mess with Amen Corner. But since nobody asked me, Auburn is still playing Samford this week, and now that we're here, I'm all for it.
Note: "Amen Corner" can be still used to describe this three game stretch because Samford is a Baptist school. Props to @ImALegendKiller for the heads up on that.
Could you imagine the same Auburn team that showed up in Athens last week playing Alabama right now? I really don't even want to think about it. That's why I'm actually glad Auburn has Samford to get things back on track. However, as Chizik said, if Auburn plays like they did last week, they won't beat anybody and definitely can't take anybody lightly.
Then again, even though I respect Coach Pat Sullivan and Samford very much, this is still a Southern Conference team. The SoCon consists of teams like Elon, Chattanooga, Western Carolina, and Furman. Samford is currently 4-4 in the league. So while I respect them, that doesn't mean that they are very good, and let's just be honest, they shouldn't give Auburn any trouble.
Now since the opponent shouldn't much of a problem, the Tigers should be able to hold blocks long enough for a pass play to work, and maybe even open a hole for a running back to run through. The defense should be able to pressure the quarterback and cover the receivers soundly. I sound like Les Miles right now for some reason.
These are all things that Auburn must remember and figure out how to do again before the Iron Bowl. This game will be a great way to "reset' and get their heads back on straight after having them knocked off last week.
Normally you'd take this game as a chance to get some starters rested and give the freshman some experience. Well, our freshman have been playing all year, and our starters need to play. They need to remember what a successful play looks like.
It will be a great to see Coach Sullivan honored before the game, but I think he'll understand just as much as anyone that Auburn will be using this weekend's matchup to fine tune eveything, and I do mean everything, in hopes of salvaging a somewhat disappointing season with a win in the Iron Bowl.
Auburn 49, Samford 17